Review: Chapura KeySuite
By: Richard J. Dalton Jr.
November 12, 2003
Many companies allow customers to send in their wishes for software improvements. But Chapura provided my wish before I even asked them. I've always been mystified and annoyed at Palm's limitation of 15 categories, and I've searched for solutions. Then earlier this year I stumbled upon KeyContacts, which had answered my wish.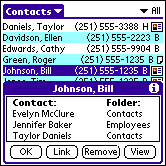 Allowing more than 15 categories has been essential for my job because I write about personal technology for a living, so in Microsoft Outlook I have dozens of categories from "Amazon" to "Wireless."
KeyContacts has been a godsend because it allows me to synchronize more than 250 categories. In June, Chapura released software for the three siblings of the Palm's contact application: the calendar (KeyDates), the to-do list (KeyTask) and notes (KeyNotes), all bundled in KeySuite, for an introductory price of $49.99 (regularly $79.95) at www.chapura.com.
It's expensive for a handheld application, but it's about as close to Outlook as you'll get on a Palm. I'm so hooked that shortly after installing KeySuite, I reset my four Palm buttons to start the KeySuite's programs, and I deleted the Palm counterparts.
Since four programs are a suite, it's easy to switch between any of them using a small arrow in the bottom left side of each screen. So users can assign just one Palm button to launch KeySuite, and reassign the remaining three buttons for other frequently used programs.
Chapura, based in Mobile, Ala., also makes PocketMirror, the basic Outlook synchronization software included with most Palm-powered handhelds. KeySuite offers far more options than the free software, including more fields, better synchronization of recurring tasks, synchronization with subfolders and the ability to associate contacts with any of the four applications.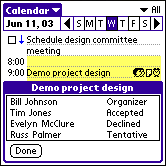 The most recent version hotsyncs with Outlook 2003, released last month. And it offers an excellent weekly planner view that shows events for the week in six equally sized panes, with the weekend pane split in half for Saturday and Sunday.
While KeyContacts is my favorite Palm application, KeyTasks is the clear No. 2 because it lets me easily work with multiple task lists. I use one for work and one for home.
Though Outlook will only set alarms for items in the main task folder, not subfolders, that's no problem with KeyTask because it hotsyncs with Outlook subfolders. On my work computer, I hotsync my Palm's work task list with Outlook's main task folder. On my home PC, I sync my Palm's home task list with Outlook's main task folder. That setup also means I won't receive Outlook alarms at home for my work tasks and vice versa.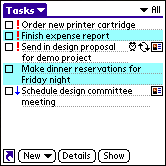 All four programs offer at least 250 categories, which I've found useful for all but KeyDates, as I never categorize appointments.
Additional fields in KeyContacts include "file as," department, assistant, birthday, anniversary, spouse and more. KeyTasks includes fields for the status, assignment of the task and billing, useful for professionals who bill by the hour, such as lawyers. KeyDates deftly emulates Outlook's handling of recurring appointments, and tasks can be set to recur as well. Events, tasks and notes can be linked to contacts. And contacts can be associated with each other as well. Users can set the default search field in KeyContacts: first name, last name, company or the "file as" field. KeyContacts can be set to search on any part of the field, using "Smart Look Up." So if I'm searching for "Dalton" and the contact is filed as "Richard Dalton" instead of "Dalton, Richard," it will still find it.
One downside is that the Smart Look Up is slow on my Palm IIIxe. (Yes, I've never felt the need to upgrade the latest and greatest Palm.) The problem is likely not an issue for OS 5 devices with much faster ARM processors.
The reason it's sluggish is that if I'm searching for, say, "Dalton," when I type a "d," it narrows the list to contacts with a "d" anywhere in the search field, and that takes a while. Meanwhile, I've already type "a," but it won't narrow the list to "da" until it narrows the list based on just the "d" alone. Each new character requires a short wait as the list is narrowed.
Still, I'm sold on KeySuite. Now I'm just waiting for KeyMail.

PROS

CONS

Handles recurring items better
Synchronizes more Outlook fields
Includes subfolders
Links contacts to items

Smart search is slow (on OS 4 devices)
Article Comments
(18 comments)
The following comments are owned by whoever posted them. PalmInfocenter is not responsible for them in any way.
Please Login or register here to add your comments.

Comments Closed
This article is no longer accepting new comments.