Review: PalmOne Mini USB Cradle
By: Kris Keilhack
August 6th, 2004
As the era of the Universal Connector (2001-2003) on Palm handhelds just about draws to a close, palmOne's final UC accessory has sort of flown under the radar, due in part to spotty retail availability, dwindling numbers of UC-enabled Palms and a high retail price. Unlike the regular in-the-box cradles, the Mini Cradle has a unique, modern design complete with built-in lighting and a silver metallic base.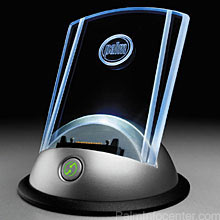 Installation
The Mini Cradle is plugged exactly like the standard palmOne USB cradle. I just unplugged my old cradle and plugged this one right in. I did notice immediately that the Mini cradle has two separate cables running from the rear of it-one is the USB cable and the other is for the AC plug. On the older Palm cradles, there is just a single USB/power combination cable that ends in a pigtail where the AC adapter is then inserted, slightly minimizing desk clutter.
Impressions
Let's face it, most folks are going to buy this cradle solely for the purposes of aesthetics. In this regard, the Mini cradle is a smashing success. The actual cradle base itself is dull silver plastic with a black rubberized coating on the bottom to keep it from sliding around a desktop. Size-wise it's about half of the size of an old Palm UC cradle. Its weight is less than the "old" m500 and later "H" or "E" USB cradles. In fact, it's even less than the newer OS5-era cradles (and I though those were light to begin with!)
The Universal Connector plug itself is black and the back plate of the cradle is a hazily translucent clear plastic. It's remarkably smudge & fingerprint-resistant and is illuminated by two bright white LEDs that are recessed into the base of the cradle. The overall effect is one of sleek modernity that's also very soothing to look at in a darkened room. I've yet to encounter anyone who didn't make a point of mentioning that "fancy" cradle on my desk. It's in no way tacky looking and exudes a sense of professionalism, which is probably why palmOne wants to charge the eye-popping sum of $50 for it!
All Hotsync and charging operations functioned perfectly. I have had some issues in the past with trying to get newer UC-enabled Palms to seat properly on the old cradle. Most notably, the Zire 71, T|C and Tungsten T series have all given me some problems. I am happy to report that it's a good bit easier to make a solid connection with my T3 on this cradle. It offers a faint "click" when latching onto the handheld as well. I have not had the opportunity to test any Palm other than a Zire 71 and my T3 on this cradle but both latched on with no difficulties. Speaking of the Zire 71, the green illuminated Hotsync button is especially useful for the particular Palm model, as it does not have a charging LED on the handheld itself. The cradle will work with any palmOne handheld that has the UC, which includes the: Tungsten C, W, T, T2, T3, m500 series, i705 and Zire 71.
My main complaint with this cradle is simply that it's too light. The thin plastic base just slides around with minimal pressure on my wooden desk. When initiating a Hotsync, I sometimes have to secure the cradle with one hand while pushing the sync button with my other hand. I've taken to letting the cradle rest against my speaker so that I can hit the sync button with one finger.
Conclusion This is what Palm should have been bundling with the OS5 UC units starting with the Tungsten T. It's about as stylish a product as I've ever seen from Palm Inc (aside from the original V) and is worth purchasing if you need a spare cradle and don't mind spending a few extra bills. PalmOne's $50 MSRP is just way too much money for this product, however, so I'd recommend taking a look around online for a better deal or grab it from the palmOne online store. I picked up mine on Amazon for around $30. If palmOne ever releases another UC enabled handheld in the future, it'd be nice to see include this cradle with it to give another small incentive to purchase a higher-priced Tungsten.

PROS

CONS

Amazing graphics and visual effects
Extremely stylish design. Very unique when compared to the old Palm USB cradle
Brighter than expected white LEDs make for a nice nightlight when room is darkened
Illuminated Hotsync button indicates when handheld is properly seated and charging.
Handy for Zire 71 owners!

Lightweight base slides around too easily.
Rather pricey for what you get (if purchased direct from PalmOne or at a retailer for the MSRP)
Huge "wall wart" AC plug & separate AC cord increases cable clutter.
Overall Rating: 8/10
Article Comments
(13 comments)
The following comments are owned by whoever posted them. PalmInfocenter is not responsible for them in any way.
Please Login or register here to add your comments.

Comments Closed
This article is no longer accepting new comments.