Astraware Releases Bubble Shuffle Word Game
Monday, February 09, 2009 5:37:12 AM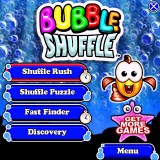 Astraware has released a new word game for Palm OS and Windows Mobile devices. Bubble Shuffle follows on from Bubble Babble in the 'Bubble' word game series and features the ever-friendly, fishy host, Wordsworth Smartygills.
Bubble Shuffle is a simple undersea-themed word-building game that challenges players to create words from a given set of bubble letters. The game begins with 4 letters to work from and increases over multiple levels to 7 letters. To progress from level to level players must create at least one word from all of the letters. Players can shuffle the bubbles as many times as they want, to help them find more words.
The game features 4 fun game modes - 2 timed, and 2 more relaxing untimed games, each with a variation on the basic gameplay. Wordsworth Smartygills guides you through how to play, and can provide hints and clues throughout the game just by tapping him. Bubble Shuffle includes 4 levels of difficulty, and advanced anagram-anglers are rewarded for finding more unusual and esoteric words, with the option of requiring rare words from the inbuilt extended dictionary!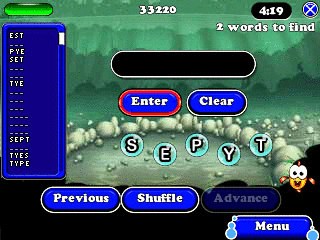 Players can earn a collection of colorful seahorse pets for Wordsworth by various achievements, from reaching new difficulty levels to the challenge of finding all of the possible words within the time limit.
Bubble Shuffle v1.00 is available now for Palm OS and Windows Mobile. The game comes with a free trial period and costs $9.95.
Leave a comment...

Click on the
Start New Comment button
below to begin a discussion.
You must be
registered
and
logged in
to add comments.