A Few New Treo 800w Accessories
Monday, November 10, 2008 2:18:22 PM

The PIC Accessory store has just added a few new additional accessories for the Treo 800w. First up is a new leather sleeve case from Palm. The protective leather case is molded to the Treo 800w's dimensions, while enabling you to still access all features. Its features a Nappa leather exterior and an optional belt clip. It sells for $29.99.
The store has also recently added a OEM sized extended battery for the Treo 800w. The Seidio 1350 mAh battery provides approximately 15% more capacity in the same sized package as Palm's original 1150 mAh unit. It sells for $39.95.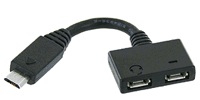 A number of new audio/power adapters specifically for the 800w are now in stock. The Palm Power/Audio Adapter offers two microUSB receptacles-one for power and one for audio. It lets you charge and talk simultaneously with two side-by-side microUSB ports. It retails for $14.95.
Palm's Mono Headset Adapter lets you use the Treo 800w with a standard 2.5mm mono headset or TTY device. It sells for $19.95.
Leave a comment...

Click on the
Start New Comment button
below to begin a discussion.
You must be
registered
and
logged in
to add comments.