Review: Proporta Aluminum-lined Flip Cover For Tungsten T5
By: Kent Pribbernow, PocketFactory.com
March 24th, 2005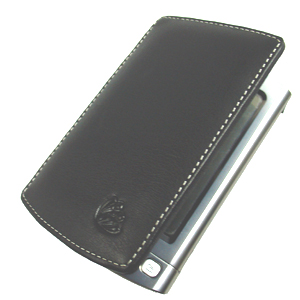 After encountering numerous defective Tungsten T5 flip covers, recently I set about searching for alternative solutions. Sadly few options exist at all, and only one company (to my knowledge) offers replacement T5 flip covers…Proporta. The folks at Proporta have developed a product that not only replaces the stock Tungsten T5 flip cover, but also surpasses it in many ways. After spending a few weeks using this product I am pleased to say it is a winner, and a product which I highly recommend.
Proporta's flip cover is an Aluminum-lined genuine leather cover that is designed to match the proportions of the original T5 flip cover down to the last stitch. It even attaches using the same rail mechanism found on the factory model. But as the name implies, this cover has a much different purpose. Whereas PalmOne's flip cover is merely simulated leather or pleather as some might call it, the Proporta solution is made of all genuine leather with a strip of aluminum sandwiched in between two layers of leather. A tiny window on the inside lining gives you a peek at the aluminum hidden beneath, proudly sporting the Proporta logo. This gives the cover a rock solid feel, and a sense of security to those using it. I'm confident this product could sustain a fairly nasty blow and still leave the LCD screen undamaged, though I don't recommend putting that to the test for curiosity sake.
The front of the cover has a padding material underneath which gives it a sort of "puffy" look as a cushion against minor bumps and blows the device may receive head-on. As I stated earlier, the cover uses the same rail system as the stock cover. To attach the cover you simply slide out the old PalmOne model, and slide in Aluminum-lined cover in exactly the same manner. That's all there is to it. I did notice however that like the PalmOne model, this cover also has a tendency to not lay flat against the T5, giving it the look of a door ajar. This improves over time and wear as the leather hinge begins to flex and relax, so it's not really a big deal. The cover is nearly twice the overall thickness of PalmOne's flip cover, which is the obvious result of two layers of leather and aluminum.
One thing I didn't like however is that the puffy front of the cover becomes obtrusive when flipped around, and prevents it from lying flat against the T5's backside. It can even muffle sounds coming from the rear-mounted speaker as well. Still, this too is rather a minor quibble and generally improves with wear as well.
Overall the Proporta T5 flip cover is a fantastic product which offers superb quality leather and critical protection from things that go bump in the night…or your back pocket. And at just $24.95, it is an absolute bargain for something that protects as well as improves the aesthetics of your handheld.
Article Comments
(4 comments)
The following comments are owned by whoever posted them. PalmInfocenter is not responsible for them in any way.
Please Login or register here to add your comments.