PHT Chooses the Treo 650 for Wireless Clinical Trials
Tuesday, October 25, 2005 11:20:43 AM
Palm today announced that PHT Corporation, one of its leading clinical trials customers, is using 1,500 Palm Treo 650 smartphones to collect and wirelessly transmit self-reported data from subjects using PHT's customized LogPad application in clinical trials across the globe. The application captures body diagrams, visual measurements and other data accurately and efficiently from subjects and sites around the globe.
Today's announcement puts PHT, which has deployed more than 20,000 Palm handheld devices in the past two years, at the forefront of smartphone use in clinical research. More than 70 biopharmaceutical and medical device companies, including 13 of the top 15 drug-development firms in the world, use PHT's market-leading electronic patient reported outcome (ePRO) solutions in more than 180 clinical studies worldwide.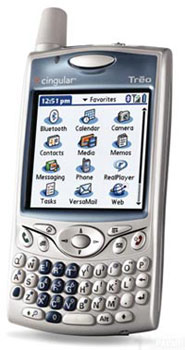 Recently, PHT deployed Treo 650 smartphones for use by asthma patients in the AIR2 clinical trial sponsored by Asthmatx, an innovative medical device manufacturer located in Mountain View, Calif. Asthmatx is the developer of the Alair System(R), which consists of a single-use device and a controller that delivers radiofrequency energy during an outpatient bronchoscopic procedure known as Bronchial Thermoplasty. In this pivotal clinical trial designed to establish the safety and efficacy of the Alair System for the treatment of asthma, a subset of patients will use Treo 650 smartphones to record daily information about their asthma symptoms. Patients using the Treo smartphone will use the device each morning and evening to record their asthma symptoms, medication use and the impact of their asthma on daily life during the clinical trial. The stored data is then automatically transmitted wirelessly to a secure central server. Researchers review the subject data over the web in real time, using PHT's StudyWorks application to track and manage subject enrollment, diary-completion compliance and subject safety information. PHT's LogPad application, implemented on the Treo 650 smartphones, features body diagrams, visual analog scales and other graphical data-collection screens that are intuitive and convenient for subjects to use.
PHT wanted an easy-to-use mobile wireless product that boosts the accuracy and efficiency of collecting and transmitting patient-reported data. The company chose the Treo 650 smartphone running on Palm OS because of its flexibility and the company's positive experience and history of building customized Palm OS applications. PHT primarily uses Cingular Wireless as its wireless service provider in the United States.
"The Treo smartphone is the best wireless device out there. We looked at other devices and found the graphical user interface on the Treo smartphone to be the most intuitive. It offers everything we expect from a Palm device," said Phil Lee, president and chief executive officer for PHT. "And the new memory architecture is a very useful feature, making it easier to preserve subject data even in the event of battery loss."
PHT's rapid growth has been fueled by the increasing adoption of ePRO systems by clinical-trial sponsors. Drug-development companies are finding electronic patient diaries offer tangible benefits, including measurable improvements in data quality through error reduction and decreased data variability. ePRO solutions also help streamline trial-management tasks, providing greater efficiencies for improved cycle time. The Food and Drug Administration (FDA) has expressed interest in automatically time-stamping patient data and in the high quality of data collected by electronic patient diaries. PHT's LogPad System has been used in more than 180 clinical trials across the globe, more than any other ePRO provider.
"Palm is proud of the strong relationship it has built with PHT over the years and the contributions to medical science that we are able to make by pooling our complementary strengths," said Tara Griffin, vice president, enterprise sales, for Palm. "It's exciting and encouraging to see the clinical trials market take advantage of the secure wireless capabilities of our converged devices so that researchers can capture, review and log high-quality subject data more quickly, reducing the time it takes an approved drug to safely get to market."
Article Comments
(12 comments)
The following comments are owned by whoever posted them. PalmInfocenter is not responsible for them in any way.
Please Login or register here to add your comments.