Seidio Releases New Treo 755p Extended Battery
Tuesday, October 30, 2007 9:44:49 AM
One of the few areas where the older, bulkier 650/700-series Treos possess a distinct advantage the newer, sleeker brethren is in the area of battery capacity. For example, the 700w/wx/p CDMA Treos of 2006 ship with a standard 1800mAh battery, as opposed to the 1600mAh battery found in this year's 755p. The GSM Treo 680 and 750 fare even worse with a feeble 1200mAh stock battery. Fortunately, aftermarket accessory specialist Seidio has come to the rescue yet again with a new extended battery for the Treo 755p that still fits under the stock Palm battery cover. While the previously available 2100mAh Treo 755p battery provided a reasonable boost over the standard battery, power users were still left wanting for a bit more talk time, especially if they upgraded to the 755p from an older 650 or 700-series device.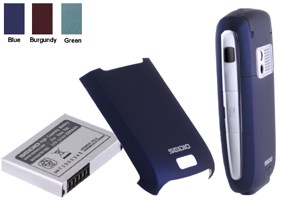 The newest Seidio extended battery provides Treo 755p users with approximately ~37% more juice versus the ~30% offered by the now-discontinued 2100mAh predecessor. Despite the power boost, the 755p's sleek formfactor and ability to utilize the original Palm battery cover are maintained. Due to a handful of reports of manufacturing discrepancies between 755p units, Seidio is providing a replacement 755p battery door at no additional charge with these batteries. These replacement doors offer a tighter fit with the aftermarket batteries and still have the rubberized paint coating and match the standard blue or burgundy Palm colors as well as a strange teal green color scheme.
The battery is available now directly from Seidio for $59.95 plus shipping.
For Treo 755p users who require more than 2200mAh, Seidio still offers their large 3200mAh battery bundled with a replacement "hump" battery door in both Treo 755pcolors for $69.95.
Article Comments
(1 comment)
The following comments are owned by whoever posted them. PalmInfocenter is not responsible for them in any way.
Please Login or register here to add your comments.