New Report Looks at the Early iPhone Impact
Tuesday, October 16, 2007 9:39:03 AM
The NPD Group has released the results of a new report on the initial purchasers of the iPhone. The study focuses on the casualties stemming from Apple's industry-changing iPhone release this past June. According to the abstract, purchasers of the first wave of iPhones were "ten times more ikely than other new phone buyers to have previously owned a Treo and three times more likely to have owned a T-Mobile branded phone, such as the popular Sidekick model". T-Mobile has no 3G network in place at this time, relying exclusively on its 2.5G EDGE coverage. Alltel has a considerable CDMA network footprint and numerous roaming agreements in place, but their own EVDO Axxess coverage is less than Verizon or Sprint.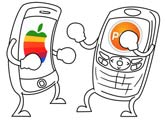 The report goes on to mention that Alltel and T-Mobile, two of the smaller national carriers, are reported to have suffered higher defection rates than Sprint and Verizon. The article goes on to say that Sprint and Verizon suffered fewer user defections due to widespread 3G EVDO networks and strong over-the-air app/game downloads and streaming music/TV/video offerings. For example, all Palm smartphone devices released on Sprint and Verizon in 2006 and 2007 have featured full EVDO capabilities, regardless of OS. One major strike against Apple's first-generation iPhone has been its lack of true 3G coverage and its relatively slow EDGE radio.
Ross Rubin, NPD's oft-quoted director of industry analysis, cites the BlackBerry's solid corporate e-mail integration as its saving grace in preserving much of its user base in the face of the Apple's glamorous, media-savvy offering. The article quotes Rubin as saying, "The iPhone's lack of corporate email support appears to make it less appetizing to current Blackberry owners".
Rubin goes on to say "The iPhone's Internet and media capabilities have resonated with consumers -- especially those who previously owned Treos and Sidekicks, Its advanced operating system makes it competitive with smartphones for many tasks, while its sleek design and lack of expandability is reminiscent of fashion phones."
Article Comments
(36 comments)
The following comments are owned by whoever posted them. PalmInfocenter is not responsible for them in any way.
Please Login or register here to add your comments.