Tech Center Labs TX Adapter for Treo Headset Review
By: Kris Keilhack
September 25, 2007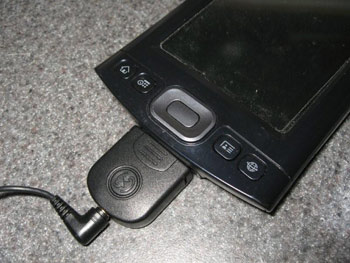 With the Palm TX approaching two years on the market and no new Palm PDAs on the horizon, Tech Center Labs brings us another delightfully innovative product to extend the functionality of Palm's recent handhelds. TCL's new Palm Treo Headset Adapter module is a nifty little gadget that can conceivably prepare Palm PDA users for an eventual upgrade to a Treo smartphone. Additionally, owners of both Palm PDAs and Treos can use the module to share a single headset such as our recently-reviewed Palm Stereo Headset Pro between their devices.
Overview
The module is simply a go-between from a Palm PDA's multi-function Multi Connector port to a 2.5mm stereo headset seen on the Treo line and many other smart and feature phones that conform to the same pin spec as Palm uses for their Treos. A little-known fact of the Multi Connector standard is that in addition to stereo audio output, it supports audio input on several Palm devices that do not have onboard microphones; namely the Tungsten T5 and Palm TX.
Design & Construction
Tech Center Labs (aka Tale Stuff, aka Gary Mayhak) has uses the same basic housing for the Treo Headset Adapter as they do for their first-generation TX/T5 external microphone (reviewed here) and vibrate/microphone combination modules.
As usual, this is a simple and straightforward plug'n play installation with driver installation required. Build quality is solid, if unspectacular, and on par with the other TCL modules. I'm of the personal opinion that the little 2.5mm jack on this module is likely to be more durable over the long haul than the much-maligned jack on the bottom of Palm's Treo models!
Testing Methodology
I used the same Palm Stereo Headset Pro recently reviewed for the duration of this test as well as my usual assortment of TX recording programs (SoundRec and Personal Audio Recorder Pro). In the interest of brevity, a detailed review of the audio output and recording capabilities of the Palm Stereo Headset Pro can be found here.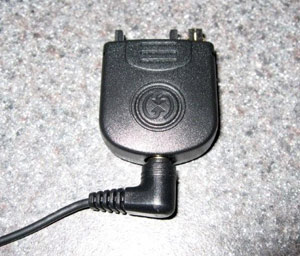 I only encountered a problem once where the sound continued to play through the TX's speaker instead of through the stereo headset. Simply removing and reseating the TCL module resolved the problem.
I noticed no discernible difference in audio quality while listening to a variety of high-bitrate MP3s with the Palm Stereo Headset Pro and PocketTunes Deluxe 4.03 on my TX with this adapter or when plugged directly into my Treo 700p. The sound quality of the Palm Headset Pro remained as uninspiring as ever but this is of course no fault of the TCL module's design. I also found all microphone and recording tests with SoundRec and PAR Pro 3.3 unaffected by the presence of the adapter. The module operates seamlessly with no conflicts with any of my TX's OS functions or 3rd party software.
Music aficionados will naturally prefer to go with their devices' standard 3.5mm stereo jack for high-quality headphone usage. Then, if desired, they can add one of TCL's stand-alone microphone modules (ideally the TCL mini bud mic) attached to the Multi Connector for audio capture purposes.
TCL maintains a list of useful links to a number freeware VOIP, voice command and sound recording applications on their website. I was unaware of the existence of several of the apps listed, so it's definitely worth checking into since the Palm TX and T5 do not include any bundled voice recorder, voice command or VOIP software. Time constraints (what else is new?!) prevented me from really delving into VOIP on my TX but this is definitely something I'd like to play with in the future as I feel it could really be a killer app for wi-fi-enabled Palm PDAs and this adapter would provide the TX with perfect functionality for such usage.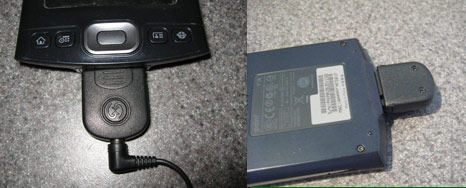 Compatibility & Availability
The TCL Treo Headset Adapter a standard Palm Athena/Multi Connector interface and works only on the Palm TX and T5. The Tungsten E2, being a lower-priced model, does not have the required DSP onboard for audio capture. It is available now for $17.95 + shipping direct from TCL (check for availability).
Pros:
Attractively priced, especially if you already own a suitable 2.5mm headset
Solid connection to the bottom of the TX/T5
Yet another attractive alternative for users hesitant to open their TX/T5 and perform a hardware mod
A good workaround for TX/T5 users who suffer from a damaged 3.5mm headphone jack
Cons:
Of limited value to PDA users who are unconcerned with audio capture on their devices
Potentially lost or damaged when left permanently attached to the Palm device
Obscures the TX/T5's charger port when in use
Conclusion
This is first and foremost still a niche or specialty accessory for a certain type of PDA user and TCL makes no pretentions about mass-market appeal for these cool little gadgets. That said, for VOIP and dictation functionality, this adapter is hard to beat given its ability to consolidate both stereo sound output and audio input in a single headset.
My Rating:

3.5 / 5
Article Comments
(7 comments)
The following comments are owned by whoever posted them. PalmInfocenter is not responsible for them in any way.
Please Login or register here to add your comments.