Palm Stereo Headset Review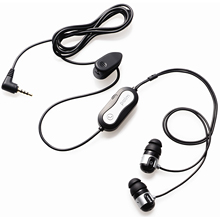 By: Kris Keilhack
July, 27, 2007
Aside from the small square screens, my longest-standing complaint with Palm's Treo line is the frustrating lack of an industry-standard 3.5mm stereo headphone jack. While de rigeur on nearly all other types of portable consumer electronics released since the original Sony Walkman, the vast majority of mp3-playing feature phones and smartphones on the market still forego the popular 3.5mm design in favor of a 2.5mm jack, A2DP, or some sort of USB to headphone adapter.
Palm has at least made some attempt to mitigate this critical flaw in recent Windows Mobile-powered Treos by incorporating stereo A2DP connectivity (standard on Treo 750 and available via ROM update on Verizon's 700w/wx and with the release of today's featured product, the new Palm Stereo Headset Pro. The Palm 2-in-1 Stereo Headset Pro combines a pair of comfortable stereo ear buds with an integrated microphone module.
In the Box
I purchased my Palm Headset Pro online as an open box item a good bit below Palm's rather high MSRP of $49.99. As a result, I cannot comment on the Palm retail packaging. Palm's web site does not indicate anything else being included in the retail package such as a carrying case or 3.5mm adapter.
Testing Methodology
I tested the new Palm Headset Pro over a period of three weeks on my Treo 700p. I played a variety of high-bitrate (256k minimum) MP3s and Ogg Vorbis files with Pocket Tunes Deluxe v4.0.3. I also watched a few short video clips and movie trailers with CorePlayer and Kinoma 4.2 EX.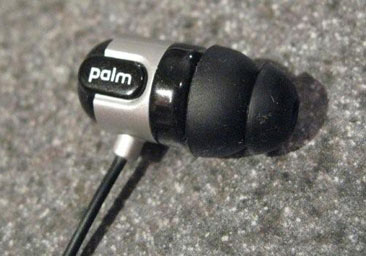 For comparison purposes, I used an older pair of Sony Fontopia MDR-EX51LP earbuds and my personal favorite Shure E3C earbuds connected to the Treo via Palm's own Stereo Headphone Adapter (reviewed here).
Initial Impressions, Build Quality & Styling
When I first saw a picture of these 'phones, I couldn't believe that this was a Palm product and not something from Sony, Sennheiser, or Shure! The styling is a sleek black and silver combination with the soft rubber flanges of the ear buds mimicking very high-end audiophile-grade headphones!
In fact, the only deviation on these new Palm cans from a pair of "regular" bud-style headphones is in the cord's in-line microphone + control module. There is a small silver call answer/hangup button integrated to the rear panel of the module and a knurled volume knob that's bit on the tough side to turn on the right hand side. Finally, the small "mute" switch is located above the microphone opening on the front panel. The control module's design is clean, uncluttered, and effective, though I'd like to see everything made a bit larger for easier actuation, as well as a microphone port on either side of the unit for maximum voice pickup performance.
Sound Quality & Comfort
This is by far the most important category for a pair of headphones, regardless of price. Despite Palm's claims that the Headset Pro is designed to "deliver amazing sound quality for digital audio content" with "…rich, dynamic stereo sound through the high-performance earpieces", I found the sound quality rather disappointing at times. At best I can only describe the aural capabilities of the Palm headphones as decent but ultimately underwhelming.
Fans of hard-hitting rock, rap, techno or action movie soundtracks should certainly look elsewhere. The Head Pro delivers fairly robust bass performance at low volumes but distorts in nearly all instances of boosting the volume to louder levels. When given milder volume levels the headphones do indeed reproduce the low end of the sonic spectrum and perform much more capably. Unfortunately, the highs and midrange become cloudy and lost amidst the buzzing bass. Additionally, delicate woodwinds or percussive effects and even secondary bits of film dialogue simply become lost in the clatter.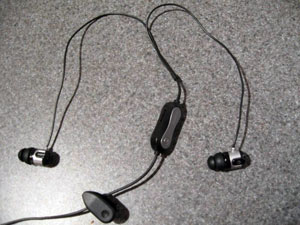 When used strictly for music playback, these $50 Palm-branded 'phones cannot approach my less expensive Sony Fontopias in sound quality or comfort. And at the higher-end of the scale, my Shure E3Cs blow the Palm unit away in fidelity and comfort (if not ease of insertion). If I had to guess, I'd say the sound produced by this Palm unit is on par with the older iPod bundled earbuds or any pair of random $10-$15 aftermarket headphones. However, I found the Palm headphones to work capably while listening to voice-intensive MobiTV broadcasts, talk radio shows, podcasts, and certain pieces of lighter music fare such as oldies rock or jazz.
Extended testing did reveal several very pleasant surprises with these headphones. I found them exceedingly comfortable to wear for extended periods of time as well as easy to insert or remove. Easier, in fact, than the notoriously aggravating Shure E-series ear buds. Stereo separation was also good on the Palm 'buds. They also do a good job of blocking out ambient noise, as I am fortunate that the average-sized ear buds fit my average-sized ears perfectly. I can imagine that other users might not be so lucky; unfortunately, Palm does not include additional sizes of buds in the package.
Microphone Quality
My informal testing centered on using the headset in a variety of everyday situations. I usually use an original Palm Treo Bluetooth headset when I talk on my Treo in the car. Most callers said they could not tell a difference in how I sounded between this wired headset, my standard Bluetooth headset and an old Jabra wired headset I keep in the car. I did appreciate the louder volume on this headset but I still don't care to give up the wireless convenience of Bluetooth for this tangle of cords. Making a handful of non-phone call audio recordings using my 700p's standard Voice Recorder app as well as the latest versions of mVoice (5.4.3) and CallRec (4.1), reveals the headset's small but effective microphone to capture crisp, clear sound.
After a few days I noticed that the mic module kept getting twisted around and tangled in the folds of my shirt. It was especially prone to entanglement when I wore a tie while testing the headset the other day.
Compatibility
The Palm Stereo Headset Pro is compatible with the full line of Palm Treos from the 650 onward. Do note that it is not compatible with the Treo 600 or earlier Handspring Treos.

Pricing & Availability
The Palm Stereo Headset Pro is available now from the Palm's web store, retail stores, and kiosks with an MSRP of $49.99. Through August 31st, the Palm online store is running a special promotion where purchasers of the Stereo Headset Pro receive a free 1gb miniSD card with fullsizse SD adapter.
Conclusion
Ultimately, there are no fatal flaws with this nicely-designed combo unit but on the other hand there are not many reasons to recommend it at the regular $50.00 price tag either. I feel that Palm has crafted a nice little pair of headsets that go a long way towards addressing a particular shortcoming in the Treo design that shouldn't exist to begin with. Palm's continued insistence on omitting a standard 3.5mm stereo headphone jack from even its flagship Treo devices is especially mind-boggling considering nearly all Palm handhelds since 2002's Tungsten T have had a stereo headphone jack standard. Let's hope that the next wave of Treo devices brings more to the table in regards to audio output capabilities.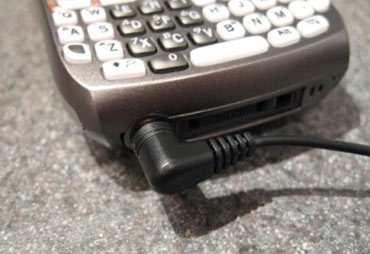 I can cautiously recommend a purchase of this particular headphone to Treo owners if they can score this product at a considerable discount from Palm's MSRP. With Softick's AudioGateway still a work in progress, Palm OS Treo users who do a considerable amount of multimedia playback have few alternatives. Only a handful of similar hybrid 2.5mm solutions are on the market from Seidio and a few other manufacturers. Windows Mobile Treo users are still best served by using their devices' wireless A2DP Bluetooth capabilities if possible.
Pros:
Stylish design and reasonably high build quality construction
Guaranteed compatibility and wide availability due to being an official Palm accessory.
Comfortable to wear for extended periods of time
Cons:
Lackluster sound quality
Small microphone module can easily get obstructed in clothing
MSRP is quite pricey considering the mediocre performance
My Rating:

3 / 5
Article Comments
(12 comments)
The following comments are owned by whoever posted them. PalmInfocenter is not responsible for them in any way.
Please Login or register here to add your comments.