Boxwave Armor Case for the Palm TX & T5 Review
By: Ron
aka
twrock
January 30th, 2006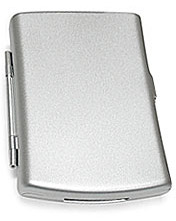 Call me crazy, but even though I thought the Brando Metal case was a good buy, I decided to try another more "form-fitting" case. I thought this might solve both of my complaints about the Brando case: thickness and rattle. It did solve the rattle, but the moment I held the Boxwave Armor Case, I knew I had made a mistake. (I bought it via mail order.)
The Boxwave case is truly form fitting, leaving very little extra space in the case. The front cover is flat, but that doesn't actually reduce the overall thickness (vs. the Brando case). Because there are two layers of neoprene inside the back of the case, there was no rattle. So far so good, but that is where the benefits ended.
The build quality of the Boxwave case not as good as the Brando case. The aluminum does not feel as high grade, and the case bends too easily. In fact, it was seriously bent in shipping, but I was able to easily and completely bend it back straight with my fingers. Like the Brando case, there are cutouts everywhere you need them. However, unlike the Brando case, the front cover aluminum was not smoothly bent around at the top right corner, leaving the unit prone to easily being bent from pressure on the front cover.
Another problem with this case was that the addition of another layer of firm neoprene and the resulting tightness means the case tends to gap open very slightly along the edge when closed. This also means some of the foam in the back of the case needed to be trimmed to avoid interfering with closing the case completely. Again, I would suggest case manufacturers consider a mix of foam densities to remedy this problem.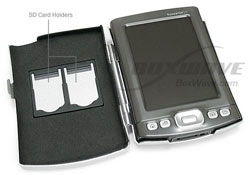 The Boxwave Armor case is anodized, giving it a shiny brushed aluminum look. The TX is held in via the same kind of rail as in the Brando case. The front cover latch hooks over a bump of plastic like the Brando case as well. There is also a removable swivel beltclip and two SD card slots inside the front cover.
Pro's: form-fitting, tight (no rattle), two card slots
Con's: not so great build quality
My rating: 6/10
Additional note: Boxwave has a product that I recommend highly to any Palm user. It is their "Battery Adapter for miniSync". It uses four AA batteries to provide a charge to your Palm via a USB plug (so you must use your Palm's USB charging cable as well). The advantage this has over the dedicated chargers is that it can be used to power any USB device.
Article Comments
(3 comments)
The following comments are owned by whoever posted them. PalmInfocenter is not responsible for them in any way.
Please Login or register here to add your comments.