MyBible 4 Review for Palm OS
By: Dr. Henry Kong
March 7th, 2006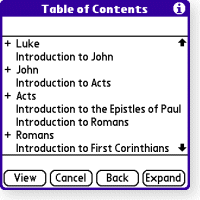 Recently, I moved from my Sony Ericsson's P910i phone to the Xplore PDA Phone, I took a second look at Laridian's Mybible 4 for Palm OS, a program which i did a review ages ago. How surprised I was that Mybible 4 is miles ahead of the older version.
As I scanned through Laridian's offerings, I decided to go for AT Roberston's NT Word Pictures, New Bible Commentary and Tyndale's Bible Dictionary as these modules will give me a good 'study bible' on the go. I must add that Mybible runs fast on the card; so do their add-on modules.
For the christian, a good bible that you use all the time is so important. Not only to your IT lifestyle but to your faith as well. Use the one that is suits you best. I am looking at the Mybible 4 not just a tool to use, not even just a study bible but one that grows with me like a journal - making notes, highlighting stuff, linking it with my daily reading, Prayer Partner... a great investment of time and faith.
It's like the PC bible. First it was a novelty, then a tool; but now I cannot prepare a lesson or sermon without using it. I started with the Navigator's Wordsearch program (in diskettes then) and later enjoyed the full Logos CD bible library a lot. I am still using the Navigator's Lessonmaker with lots of add-ons (including Life Application bible) and currently using Swordsearcher for fast and easy search, cut and paste to my Power Point slides.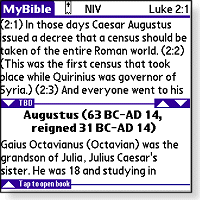 I must say that I am pretty amazed with Mybible 4 - it has retained the look and feel of the original Scripture program but has made it faster, with more features and add-ons. Mybible 4 also retains the original ease of use - tap on the left top corner, hit the book you want, and you have the choice of hitting the chapter/verse for those who want a handsfree use. Or use the stylus (chapter dot verse eg 3.16) - I liked the stylus. The best thing about it is that everything can be on the SD card at the \palm\launcher folder and still runs speedily. The multiple screens that you can sync with your main text is nice. When the silkscreen area is closed, you can use the full screen and run 3 split screens at once.
After paying for the program, you can stop right there and download the free versions of the bible: ASV (very good), KJV (my favorite - it's free now, but I had to pay for it), WEB, Youngs, Darby etc. Many would probably buy NIV or NKJV; if I had to buy more bibles, I will get the Message - imho it is so today. In these bibles, the word of Christ comes in red and you can highlight any version with a marker like you would on your own bible - very nice!
Another useful feature is the personal notes that you can put on any passage. It is thoughtful and useful features like this that will make your eletronic bible as useful, if not more useful than the print copy. It is one that will grow in usefulness through the years, not just a software; but an investment in faith and learning.
There is a huge and ever growing library that supports this bible engine and gets better and better. For example, add-ons like Daily Reader, Memorize and Prayer Partner can pull or paste verses out of Mybible4 with hyper-links. The split views that sync with the text is a real plus factor; it adds value to just simple bible reading, making Mybible4 into a study bible on the go.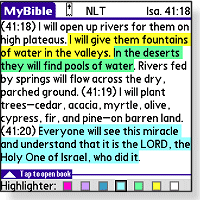 The concordance search is great - what is the point of having a bible software without a search function? It is a feature that I'll be lost without. Another feature is bookmarking, something I havent seem to find a need for.
Robertson's NT Word Pictures is the first add-on module that I would get after purchasing Mybible4. As a gospel preacher for over 40 years, AT Robertson's NT Word Pictures is an essential tool not only for my study but preaching of the word. It brings out the original Greek text to give the passage its true interpretation and meaning. If there is only one add-on you can afford, go for this one.
Most add-ons work more or less the same way.
Put the file in your SD card at the palm/launcher folder
Run Mybible 4 (important to have latest version as some add-ons will not run). Just goto www.laridian.com, log in and download your update - thanks to Laridian who makes this so hassle free)
Split your screen and choose RWP.
Now each time you goto a verse, you can peek below and see what the passage is all about in its pristine background and meaning. What you hold in this file is actually 6 big fat hairy volumes on the shelf. Another feature of this add-on is introduction and background information of every book in the New Testament. Bottom-line, RWP is great for preachers, teachers and bible students who need to know the original meaning of the Greek text for deeper study. For the average christian, this may be overkill.
Summary
Although there are may free PDA bibles, imho it is worth paying for Mybible because Laridian keeps working and improving it. This is the PDA bible I am now using, one that I would readily recommend to my church members and all who are serious about the bible.
About the author
Dr. Henry Kong has been a full-time minister for 40 years with the Church of Christ in Singapore. You can read more about his tech experiences here.
Article Comments
(7 comments)
The following comments are owned by whoever posted them. PalmInfocenter is not responsible for them in any way.
Please Login or register here to add your comments.