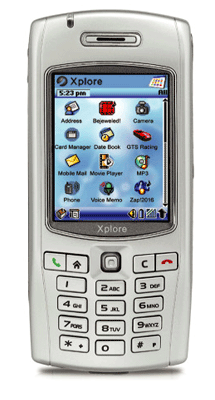 Xplore M68 Smartphone Review
By: Paddy Tan
March 20, 2006
The Xplore M68 smartphone from GSPDA is a Palm OS smartphone primarily sold in the Asian and European markets. GSPDA had previously announced they were going to bring their M-series smartphones to North America, however nothing ever materialized in the US besides the press release.
The Xplore M68 smartphone was first announced in February 2005. I had seen this model available in several mobilephone retail stores when I was on a business trip in Europe. So I made the trip to Tronic International (the distributors for Xplore phones in Singapore) to see how it would stack up against other smartphone contenders.
What initially impressed me most was that the Palm OS had been customised for a more phone centric interface making it very easy to perform the basic calls functions one handed. The use of a five-way jog dial results in an excellent initial experience. Mind you, some smartphones are neither phone-centric nor PDA-centric, making it very difficult to operate, which frustrates users. The M68 can alternate between the classic Palm launcher and GSPDA's more phone centric interface.
When I first saw the pictures posted on the Net, I immediately felt it looked too plastic and not as aesthetically pleasing as the Treo series. But upon seeing the actual thing and holding it, all thoughts about it being too 'plastic' were gone.
In fact, I found that the material used for its body was a good choice. It provides a very good grip and doesn't feel as 'oily' as other phones after some use. At a size of 49.5 x 109 x 22.5 mm (1.9 x 4.3 x .88 Inches) and 127g (4.48 oz), it may feel kinda thick and a tad heavy to some users but as an ex-treo 600 user myself, this phone feels right giving it a very sturdy look. Not forgetting its 170 hours standby time, the 3.7V 1350mAh Li-Polymer battery contributes a fair amount of weight and size too.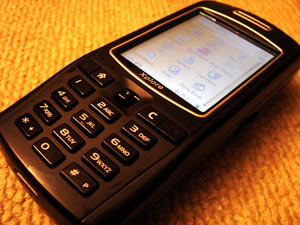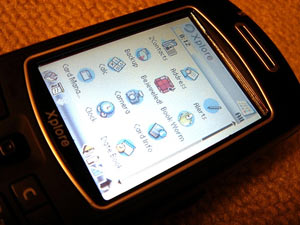 The buttons of the Xplore M68 aren't the prettiest buttons found on a smartphone as they are quite plain and simple looking. However, they give good feedback when pressed and perhaps to me, I see it more as a business smartphone than a multimedia entertainment smartphone so it does not really bother me that they look 'stiff'. The buttons are illuminated by a blue-tint backlight.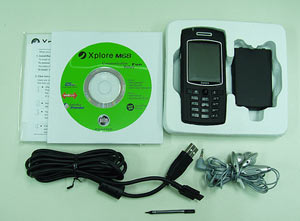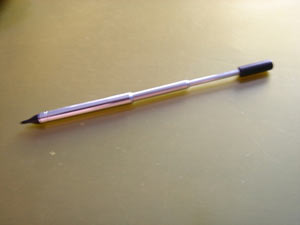 I almost couldn't find the stylus when I first had the unit, until I located it at the bottom right corner. It is similar to the 'toothpick' retractable styli included with many Sony Clie PDAs. When fully extended, it is about 9.4cm. When retracted, it is only 5.5cm long but I didn't have a problem writing on the screen with it despite having rather large hands.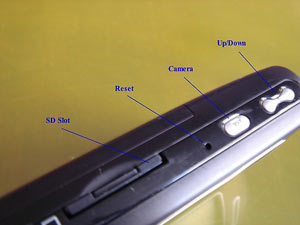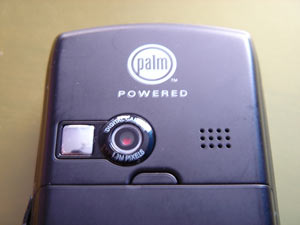 Camera
It has 1.3 megapixel digital camera on the back of the unit. The quality of the shots are quite good as it ties in very well with the program that comes with it. You can pretty much leave everything to the 'Auto' settings to give you the best quality images. On the same image, you can see that there is a speaker just next to the camera. The sound quality is okay and doesn't suffer the same fate as other smartphones' speakers that are too loud to be audible.
SPECIFICATIONS

Size & Weight:
49.5 x 109 x 22.5 mm (1.9 x 4.3 x .88 Inches); 127g (4.48 oz)
Processor:
ARM 9 OMAP 168 Mhz
Operating System:
Palm OS Garnet v5.4
Memory:
32 MB RAM / 64 SDRAM flash memory
Expansion:
SD/MMC memory slot
Screen:
176x220 pixel; 2.2 inch, 65k-color; transflective (D-TFD)
Audio:
2.5mm headset jack; rear speaker
Power:
Rechargable Li-Ion Poly, 1350 mAh (4 hrs talk/170 hours standby)
Connectivity:
Tri-Band GSM radio (900/1800/1900), Class 10 GPRS,
HotSync-Connector, IrDA, Bluetooth (v1.1)
Software
The Xplore M68 runs Palm OS Garnet v5.4. All of the built in apps support the 176x220 screen size, a few third party software programs support this size as well, but most games do not.
I'd like to say GSPDA did a wonderful job integrating the many functions of the smartphone. Pressing the Up or Down buttons immediately gives you all the basic programs. And with the press of the 'Home' button (next to the jog dial), you will see this screen: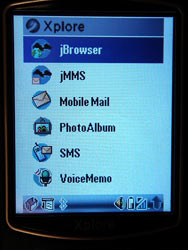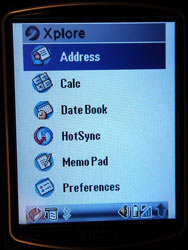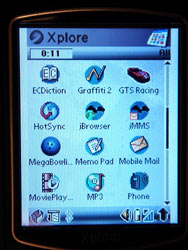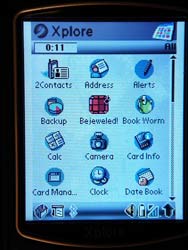 There are quite a handful of popular games that come with this smartphone; Bejeweled, Bookworm, GTS Racing, MegaBowling, Zap!2016 and also applications like QuickPoint, QuickSheet, QuickWord, and for mutlimedia there are also jMMS, jBrowser MoviePlay, MP3, PhotoAlbum, Ringtone, ECDiction, VoiceMemo.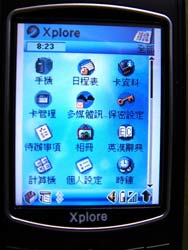 ECDiction is a very handy program for English to Chinese translation when you change your langugage under Preferences from 'English' to 'Chinese'. This smartphone caters very strongly to the Chinese users too as it can be seen later with some of the smart applications and preferences it uses. Furthermore you can go into the main Preferences and you can just change to a Chinese localized OS and English easily.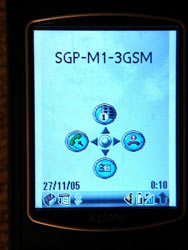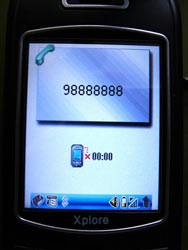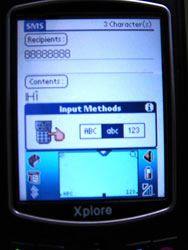 Unlike other smartphones, Xplore does not come with any T9 programs to help with the text prediction used for SMS use. It took me a while to get myself familiarised with the use of the different 'Input Methods'. After a while, I can do it quite fast. You have the option to tap in input via the phone keypad or use the onscreen graffiti handwriting area.
'Backup' is one of the many useful programs that you can use for free since it is bundled on the Xplore M68. A simple click and run is all it takes for this program to backup and restore your files.
It also includes Mobile Mail for POP3 and IMAP email. This is PalmSource's version of Mail for Palm OS 5.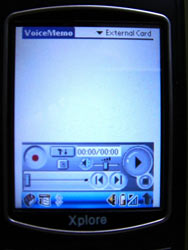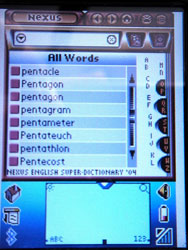 The Xplore M68 also includes a Voice Memo application. It is very straightforward, just click and record. The rear speaker provides good quality playback. You can save the recordings to either Internal or to SD/MMC card or if you like, and you can send clips via Bluetooth connection where the file sent will be in AMR format. Which can be played back on my laptop by Quicktime player.
At first look, the Camera program looks complicated but very quickly I am able to master it very well. Its Auto setting is one of the best, you just don't have to worry much if Automatic setting will give you any lousy pictures or not. Basically, it gets the job done well.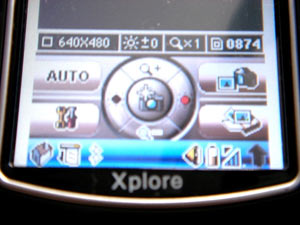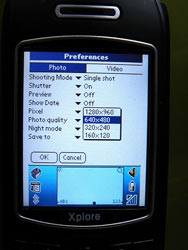 At the Camera icon, you can select the Video application too. Just press on the jog dial and you can start shooting pictures or video. Simple as that. You can also go under Preferences to select the Shooting mode, shutter sound, Preview, Date, Pixel (from 176x120 to 1280x960) for pictures. The most lovely thing is you can choose where the newly captured images or videos are saved to. Go for Internal if you can as the playback of videos will be better without much jerkiness.
After you are done with the photo shooting, you can view the images under the program Photo Album. It gives you a nice thumbnail or detailed views.
There is also a MP3 program for listening to audio, however it is extremely basic and most will opt for something more feature-full such as Pocket Tunes.
Conclusions
The GSPDA Xplore M68 Smartphone is a good buy with its many features including GPRS Class 10, Bluetooth, Tri-band, a 1.3 Megapixel camera and with a standard SD/MMC card slot for external storage too. On top of that, it comes bundled with several programs. It has a very competitive price of only $699 Singapore Dollars ($430~ USD) which is less than half the price of my previous Treo 600, and it doesn't even have Bluetooth built in.
For myself, I see it more as a business centric device where I can use it to read any document on the go with Quickoffice. One thing for sure, I will not edit any lengthy documents on this screen. Nothing beats editing documents on a laptop. To have a bigger screen is a plus but it also directly affects the battery life and the device's size and weight.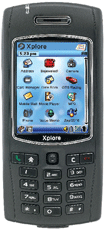 The battery stamina is decent for a smartphone and should cover me some travel distance and use before I need to go for another charge. It does include a USB cable for me to juice it up on the road from my laptop.
There are a few things that I dislike about the Xplore M68. One is the location of the stylus, for someone like me, it's bound to go missing within two months of use as I am used to have it on the top left or right. Or either that, I will just use my finger to write if it does go missing or I just may not bring it out...haha! I can't paste a BAK2u label on the stylus too.
Another con is, a utility to do switch from portrait to landscape screen orientation doesn't come standard, otherwise it would be perfect to have a wider screen to read e-books and watch movies.
Lastly, if it only it had a button mapping program so that I can map some of the buttons to Address, To Do, Date Book etc for faster access. Using the Palm OS for many years makes one accustomed to having these buttons standard.
Overall, I am very satisfied with this purchase despite some of its software 'flaws' but I believe there are some other third party programs that one can use to get around them. One thing for sure is that the hardware is almost top notch, and it's a good investment given its low retail price. Overall, I give the Xplore M68 4 out of 5 stars.
-----
About the author
Paddy Tan runs a Lost & Found service company, BAK2u that makes it easy for Good Samaritans and police posts to return your valued items when misplaced, in Singapore or anywhere in the world. BAK2u services are about getting your misplaced items back to you making the entire process a seamless and hassle free experience. The finder will just need to visit the website www.bak2u.com to report or call a toll free number with the label's Unique ID numbers. The valued items will be promptly picked up and return to the owner.
Article Comments
(43 comments)
The following comments are owned by whoever posted them. PalmInfocenter is not responsible for them in any way.
Please Login or register here to add your comments.