Palm Celebrates 10-year Anniversary of the Pilot
Monday, March 27, 2006 9:12:56 AM
Ten years ago, Palm, captured the imagination of road warriors everywhere with the first Pilot connected organizer, a mighty 5.7-ounce combination of calendar, contacts, to-do lists and notes. Today, having shipped more than 34 million mobile-computing products, the company continues to improve the lives of people and businesses the world over, staying true to one guiding vision: The future of personal computing is mobile computing.

The original Pilot organizer, which sold for $299, owed its success largely to two breakthrough features: Its ability to synchronize easily with a computer and its unprecedented ease of use -- something often called the Palm experience. As time went on, Palm stayed true to its design philosophy while continuing to innovate, adding numerous new functions such as email and wireless and multimedia capabilities, from images to music. Today's top-of-the-line product is the Treo smartphone, which combines the best of a handheld computer with a great phone and email experience on some of the world's largest carrier networks.
Over the past decade, Palm products have collected data in space, survived a Mount Everest climb, closed million-dollar deals, entertained young and old, and won the hearts of customers around the globe. From doctors and real estate agents to students, celebrities and CEOs, people have grown to rely on Palm products in work and play.
Multimedia components -- including audio, photos, and a Palm timeline -- are available at www.palm.com/anniversary. The audio component includes reflections from Palm's founders, industry analysts, and long-time Palm employees. You can also check out PalmInfocenter's Pilot 1000 Retrospective.
"The first Pilot organizer was such a runaway success, even we were a bit surprised," said Ed Colligan, Palm president and chief executive officer. "But in one of my first conversations with Jeff Hawkins he convinced me that the future of personal computing -- REAL personal computing -- was going to be in these highly mobile devices. That's why he designed the Pilot. And that vision still holds today. The Pilot and its many Palm successors have become an extension of millions of people's lives -- keeping them connected to their work and home, letting them do email and browse the web on the go, allowing them to keep all their favorite files, music, photos and videos with them. I'm enormously proud of what we've accomplished, and I'm even more excited about what's yet to come."
Loyal Customers and Developers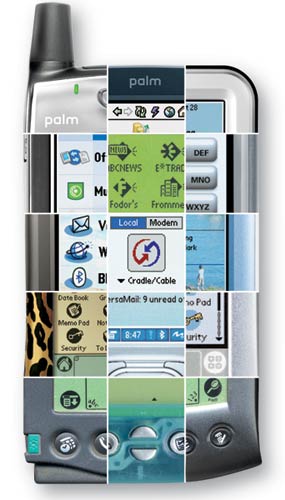 Palm has many important constituencies to thank for its success, including:
Customers, who have bought more than 34 million Palm devices over the years, including 3 million smartphones. Among these are individual consumers who stay organized and in touch with important information. For many of them, the Palm V handheld -- with sleek style as well as productivity capabilities -- was the first Palm product to charm gadget fans and trendsetters, marking a tipping point for mainstream market adoption. Other customers hail from business and service settings, such as doctors who use decision-support software to improve patient care at the point of care, at the patient's side.
Developers, who support Palm products with innovative consumer and enterprise software applications that today number more than 29,000 for the Palm OS(R) platform alone, plus hardware peripherals such as keyboards, GPS devices and barcode readers. When Palm expanded its platform choices for smartphones to include the Windows Mobile(R) platform, its developer community grew again.
Retail partners, distributors and resellers, who have sold Palm handheld computers and Treo smartphones the world over. Palm still works with many of the original retailers it began working with in 1996, including Circuit City, CompUSA, J&R, Fry's and Staples. Palm also has a 10-year history with distributors Ingram and Tech Data, as well as resellers, such as CDW, PC Connection and PC Mall.
Carrier partners, representing the largest mobile operators and distributors around the world.
Employees, who have worked passionately to deliver on the company's vision that the future of personal computing is mobile computing.
All of these constituencies have inspired the company and helped it determine its product roadmap.
Today, while Palm continues to offer a wide range of mobile-computing products, from simple and inviting $99 organizers to powerful mobile computers with wireless capabilities, it is focusing its investment in smartphones. These powerful phones let customers check email, access personal information such as contacts and calendar, listen to music and take and share photos, plus, with additional software, watch live television, listen to podcasts or post to personal blogs.
Palm also has attracted a growing number of enterprise users. More than 8,000 organizations have standardized on the Treo smartphone using GoodLink from Good Technology for email. Currently, 40 percent of the Fortune 1000 companies use Treo smartphones, and an additional 35 percent are in testing or trials. Frost & Sullivan recently found that mobile professionals are choosing Treo smartphones over competitive offerings for its abundant business-ready applications, high degree of flexibility, choice of operating systems, and power and convenience.
Palm Factoids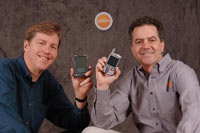 Palm's early leaders remain involved in the company's success. Jeff Hawkins helps guide Palm's product roadmap. Donna Dubinsky is a board member. Colligan, now president and chief executive officer, was employee No. 20.
Palm sold 1 million Pilot organizers in the product's first 18 months an adoption rate faster than the IBM PC, Macintosh and even the microwave oven.
The original Pilot was the first mobile device that worked as a companion to a PC, so customers could synchronize their information and take it with them.
The first Pilot was built on a processor similar to those used by standard traffic lights and was powered by two AAA batteries (which lasted three months).
Palm products have touched people's lives, appearing in Broadway shows, major Hollywood movies, reality TV, New Yorker cartoons, and on the red carpet.
Palm broke new ground, creating many industry product firsts -- including the industry's first integrated wireless handheld to provide email and Internet access, and the first color handheld under $99.
Source: Palm Inc Press Release
Article Comments
(5 comments)
The following comments are owned by whoever posted them. PalmInfocenter is not responsible for them in any way.
Please Login or register here to add your comments.