Palm PDF v1.2 Released
Friday, March 31, 2006 9:12:50 AM
PalmPDF v1.2 is now ready for download. MetaViewSoft has released an update for their open-source, native Adobe PDF file document viewer for Palm OS.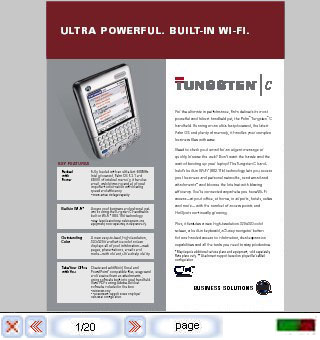 PalmPDF from MetaViewSoft enables users to view native Adobe PDF documents on your mobile device. It has support for anti-alaising and truetype fonts and five way navigation. It is based on the open source Xpdf program.
v1.2 updates include:
bugfix: Zodiac key handling
bugifx: reworked renderer import to avoid app loosing (on reset, on NVFS) when renderer was moved to card
bugfix: path creation for PalmPDF's folder
reworked button layout for easier skinning
search next button
button to toggle between move, mark and zoom with stylus (zoom isn't implemented yet)
can read pdf files which where converted by Adobe Acrobat for PalmOS (.pdb) when transfered to the card (the files are usually stored in "/PALM/Launcher" or "Applications")
shows also the internal volume on TX
added a scratchpad to store text parts from the PDF file
added a bookmark list to store user defined bookmarks for a PDF file
support for hyperlinks in PDF files (switch to mark and tap and drag a little bit)
Leave a comment...

Click on the
Start New Comment button
below to begin a discussion.
You must be
registered
and
logged in
to add comments.