Third party Palm Cradle Reviews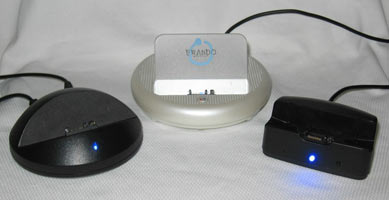 Reviews by: Ron (twrock)
April 17th, 2006
This review covers three third-party cradles compatible with the Palm TX (and some other Palm models as well that use the new athena style connecto; see the compatibility details for each cradle). The three cradles are the Brando WorkShop Tungsten T5 USB Cradle, the Alpinetop Palm TX USB Sync and Charge Cradle / Dock, and the Brando WorkShop Palm Music Dock. I will review them in the order that I received them. -Ron
Brando Tungsten T5 - TX USB Cradle
The Brando WorkShop Tungsten T5 USB Cradle is the smallest and most basic of Brando's cradles. It is specifically designed for the Tungsten T5 and the Palm TX handhelds only. This results in one of the biggest advantages of this particular cradle, its tight fit. The TX is held firmly in the cradle, and due to a lip of plastic on the front and the two grooves in the back, the unit can only be inserted "correctly". There is some real piece of mind that comes from knowing that you aren't about to break off some little piece of plastic as you push down to slide the unit into place. I did however find one problem that this created after prolonged use. The sharp corners on the cradle that framed the D-pad were starting to cause scratching on my TX case. A couple of seconds with a file and the problem was solved, but it should not have happened to begin with.
The cradle integrates the charging circuit with the USB hotsync cable, drawing a charge from your computer's USB port. This works well and reduces the clutter of an extra cord. It also has a very bright blue LED to indicate the cradle is plugged in. I would have to say that the LED is "glaringly" bright, much brighter than I wanted. Opening the case revealed a couple of metal weights that give the unit some much-needed stability. But the unit lacked any kind of rubber feet to keep it from easily sliding around my desktop. There is no integrated hotsync button in this unit; you have to manually activate ae hotsync via your handheld.
Another frustration for me has been the angle of the TX handheld as it sits in the cradle. It is nearly vertical. That's fine if the cradle is placed a little further away from you on your desktop, but not easy to work with if you keep it close. Since the PDA sits at the front edge of the cradle, I think it would not create any additional instability to have angled it back further and would make it easier to see and to tap the screen in the right place.
One of other biggest advantages of this cradle is that if you keep your TX in a metal case that mounts via the side rail, you don't have to remove the TX from your case before plugging it into the cradle. That might seem like no big deal until you have to do it every time you want to hotsync or charge your PDA.
For those inclined to modify their electronics, you will be happy to know that all of the pins are present in the plug. But you will be unhappy to learn that many of the tabs on the back side of plug have been cut off and the stubs and the remaining tabs are hard to access due to the copious amount of hot glued used to hold everything in place. I was able to add a hotsync button, but it was quite difficult.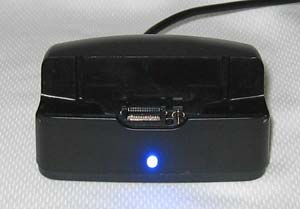 Details:
Available from Brando Workshop
Dimensions: 7.9 cm wide x 5.8 cm deep x 3.7 cm tall
Cost: US $22.00 (HK $160.00)
Compatible with: Palm TX, Tungsten T5
Pros:
Compact
Single cable
Tight fit and easy alignment
Weighted
Compatible with many metal cases

Cons:
Too vertical
No hotsync switch
Slides around easily (no rubber feet)
Scratches the T|X case (easily resolved)

Alpinetop Palm USB Sync and Charge Cradle
The Palm TX USB Sync and Charge Cradle / Dock by Alpinetop.com is a nice unit, particularly at its apparently continuously discounted price point (see note about pricing below). Beauty is in the eye of the beholder, but I do like the domed shape and think it looks quite nice sitting on my desktop. Of course this circular shape means that the cradle occupies a larger footprint. The entire bottom of the unit is covered with a piece of foam that provides some, but not a lot of friction to hold the cradle in place on your desktop. There is no additionally weight added to the unit.
This unit ships with a separate charger that is compatible with 100-240 volts and 50-60 hertz. The blue LED light only shines when the charger is plugged in, but the TX should receive a trickle-charge through the USB cable even if the charger is not plugged in. The LED would be overly bright if it wasn't recessed in a hole. This limits the light to a pleasant glow unless you look straight down into the hole. This unit also has an integrated hotsync button. That's good, but it is poorly designed. The placement of the button is on the back right side of the unit, and cannot be seen without turning the unit around. Additionally, the button is very small, protrudes very little, and is difficult to press. You definitely have to either use two hands, or squeeze the unit with one hand from both sides to activate a hotsync.
The TX sits in the cradle at a nice angle, leaning back enough to make it easy to see the screen and tap the right spot. The TX leans back against a thin piece of foam that helps align things as you plug in your PDA. But there is nothing to help you align your PDA from side to side, so you have to exercise at least some caution as you push the TX onto the plug. It was possible to plug my TX into this cradle without removing the metal case, but it really doesn't work very well. The case's front cover has to remain partially covering the screen because of how far forward the back of the case has to swing. Removing the case makes more sense.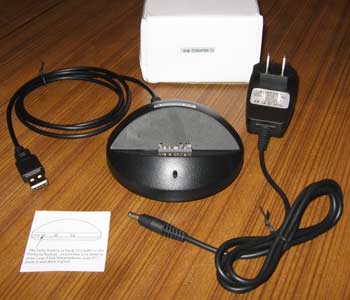 Because the plug has most of the additional pins removed, modification options are limited. Interestingly, the two pins necessary to add an external microphone are present.
Note: Alpinetop.com seems to perpetually discount this particular cradle. I've visited their website a few times since I got the cradle, and it has always been on sale for US$9.99. According to them, it supposedly retails for US$30.95, and I have also seen them say that "our price" is $15.99 while selling the unit for a $9.99 "discount price".
Details:
Available from Aplinetop.com
Dimensions: 10.1 cm diameter x 4.3 cm tall (domed)
Price: US $9.99-15.99 (see note above)
Compatible with: Palm TX, Tungsten T5, Tungsten E2

Pros:
Looks nice
Includes separate charger
Hotsync button
Cons:
Poorly implemented hotsync button
Light weight
Aligning the T|X a bit difficult
Brando Palm Music Dock
The Brando WorkShop Palm Music Dock is a different cradle implementation altogether and a very nice one at that. Not only does it include standard charging and hotsyncing functionality, but it also integrates stereo amplification and speakers.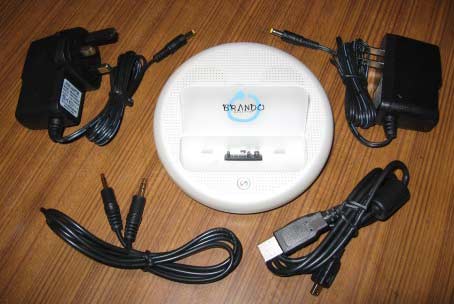 The Music Dock is circular in shape, slants upward from the front to the back, and is the largest of the units I evaluated. It is also "metallic" white instead of the more standard black color. The differences didn't stop there. Not only did it come with an AC charging unit, but it also included a detachable USB sync cable, a 3.5mm audio cable and a volume control. The audio cable is for plugging in other music players such as an MP3 player.
My evaluation unit came with both a "standard" 110 volt charger as well as a 220 volt adapter for use in Hong Kong. I assume that you will usually only get the adapter for the area in which you live.
Comparatively, this unit is heavy, and that is a good thing when it comes to cradles. The weight is primarily due to the speakers, but there are other components in the case such as small circuit boards. The weight coupled with four rubber feet made this unit the least likely to slide around.
The blue power LED will light up when either the USB cable or the AC charger is plugged in. Once again, it is one of those overly bright LED's, but fortunately it is recessed in a hole. It shines up into the piece of opaque plastic that sits behind the PDA and provides proper spacing for plugging the Palm TX in and for the PDA to lean back against. It also helps in seeing the location of the plug while trying to align your PDA. When the TX is plugged in, you can see the glow of blue light along the sides of this piece of plastic. The angle at which the TX leans back is also good.
The hotsync button is front and center, just where it belongs, and is of a decently large size. Unfortunately it is difficult to push, so difficult that the cradle will tip forward before it finally makes proper contact to activate the hotsync. I think I'll add an additional "foot" at the front edge to keep it from tipping forward, but it is a problem without one.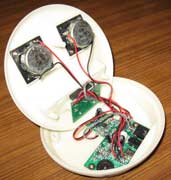 What makes the unit most different from other cradles is the stereo sound. When I first saw the speaker size through the grill, I figured that the speakers were too small and couldn't possible provide any decent sound. But they do surprisingly well. No, they aren't going to compete with anyone's Bose stereo system, but they work very well for "bedside" listening. They provide better bass sound than my laptop speakers. At the highest volume setting there is some distortion, but that comes as no surprise. Plugging other PDA's or MP3 players via the audio cord provides equally good sound. The volume control is handy for making quick adjustments to the volume without turning on your Palm.
Although it might be obvious, it should be noted that you must plug in either the USB cable or the AC charger to get any sound out of the cradle. So this means that if you plug your PDA into the cradle without having one of those forms of power plugged in, you won't get any sound out of your T|X's internal speaker either. So don't make this mistake and start missing your alarms.
One very minor bug I discovered in my unit was that the left and right speakers were reversed. This isn't something that you would even notice while listening to music because the speakers are so close together, but I did find it a bit humorous.
This unit is ripe for modifying. All of the pins are present and easily accessible inside the case. Although not necessary, I really think this cradle would be improved by having a switched speaker out jack. That way you could route the sound to your computer or another set of external powered speakers and get even better sound. Of course you could just plug the audio cord into the T|X headphone jack and get the same result, but it isn't as elegant a solution as just "plug and play".
Details:
Available from Brando Workshop
Dimensions: 12 cm diameter x 3.8 cm tall (at the back; lower at the front)
Cost: US $32.00 (HK $280.00)
Compatible with: Palm TX, Tungsten T5, Tungsten E2, LifeDrive
Pros:
Relatively good stereo sound, including volume control
Integrated hotsync button
Heavy weight
Charging/power adapter
Good value for the extra features
Compatible with more units
Cons:
Hotsync button difficult to push
Aligning the TX a bit difficult
Must remove most cases
Article Comments
(31 comments)
The following comments are owned by whoever posted them. PalmInfocenter is not responsible for them in any way.
Please Login or register here to add your comments.