Konami's Frogger Released for Palm OS
Tuesday, August 28, 2007 9:55:26 AM
Konami, a developer of some of the most storied franchises in console and arcade gaming history, has finally released an official port of one of their titles for Palm OS devices. Frogger, the classic arcade hit from 1981 is now available for Palm OS-based Treos.
The game's simple but addictive gameplay consists of a screen filled with a highway on the lower half and a river at the upper half. The player must guide Frogger past the speeding vehicles roadway prior to crossing treacherous river obstacles such as crocodiles and logs to safely reach the other side.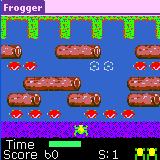 Frogger has enjoyed decades of popularity as one of the most popular and most often ported games of all time. It also holds the dubious distinction of being the final titles officially released for both the Sega Genesis and Super Nintendo consoles in 1998. In its original arcade incarnation, Frogger was developed by Konami and published by Sega. Frogger enjoyed something of a modern renaissance in 1997 when several superb 3D remakes of the game were released for the Windows 95 PCs and Sony's new Playstation. Its new Palm OS remake, the title is developed by Konami Digital Entertainment and published by Handmark.
The Palm OS version of Frogger requires 770k of available RAM. A trial download is unfortunately not available for download. The game's current version is 1.0.6. Konami's mobile game page does not even mention the existence of a Palm OS port of the title, though it is currently being heavily promoted by Handmark and Handango.
This title unfortunately looks to be intentionally limited to Palm OS Treos only. A supported device on Handango's page for the game lists only the Treo 600, 650, 680, 700p, and 755p with no mention of support for any Palm OS handheld. Handmark's page does have a headline reading "Frogger for Treo Smartphones and Palm Handhelds" but does not give a full device compatibility list. Assuming the above supported device list is correct, the game theoretically supports both 160x160 and 320x320 screen resolutions. There is no mention of 480x320 screen support even though the original arcade's vertically-oriented gameplay would ideally support this.
A full overview of the game along with some screenshots showcasing the fairly accurate graphics can be found at Handmark's Frogger page. Thee full registered version of Frogger can be purchased for $14.99.
Article Comments
(6 comments)
The following comments are owned by whoever posted them. PalmInfocenter is not responsible for them in any way.
Please Login or register here to add your comments.