Palm Cradle Kit Review
By: Kris Keilhack
May 31st, 2006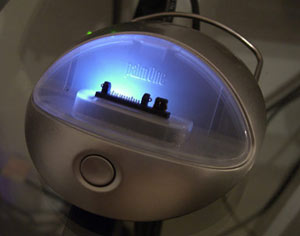 In the box:
The actual cradle. Its main features are a center-mounted Hotsync button, white LED lighting and an audio out connector for playing music through headphones/external speakers.
A 6í USB sync/charge cable identical to the one included with Palm devices.
A worldwide multi-voltage (110-240 volt), multi- frequency (50-60 Hz) international power supply. Do note that the adapter is slightly larger & thicker than the one Palm includes with their devices. This can be detached from the cradle and plugged directly into the bottom of Palmís devices for travel purposes.
Assorted global socket adapters (U.K., Europe, Australia, and U.S.) Iíve actually seen two versions of this AC adapter. Older variants (PalmOne?) had a larger AC adapter where the US plug clipped onto the adapter. Newer versions seem to feature a smaller AC adapter with the US plug built-in.
Upon initially installing this cradle, I was reminded of the excellent Palm mini UC cradle I reviewed a few years ago on PIC. This newer version is a bit more compact and less sturdily built. Its internal lighting is not as brilliantly bright as the old UC mini cradle either. A welcome addition to this cradle is a metal brace on the backside to keep the cords from curling up and to help resist sliding around on the desk. The connectors were fairly study but they can very occasionally become loose.
I found positioning my Tungsten T5 & Palm TX onto this cradle an easy enough affair. Removing it, unfortunately, takes two hands. I must hold the cradle base down with one hand and tilt my Palm forward with the other hand before the latching mechanisms release. I was wary of breaking something the first few times I undocked my Palm. Even today the unit seems to feel very fragile, after 6+ months of use.
Pros
The internal white LED lighting seems bright enough to use as a nightlight in a darkened room but does not distract me in the slightest when in use. My cradle may have a faulty LED as only one side of the cradle glows (see pictures for details). It looks cool and thatís good enough for me. It would be nice, however, if there was a different colored LED that illuminated when a device was attached & charging. That feature would go a long way towards mitigating the E2/T5/TXís regrettable lack of a charge LED.
The included accessories are appreciated and I now have two AC chargers for my Palm as well as a spare USB Hotsync cable to toss in my laptop bag. The International adapters will be appreciated whenever I have the opportunity to travel abroad.
Syncing & charging perform exactly like they do using direct cable connections to my devices. I much prefer pressing a button to initiate Hotsyncs vs. having to toggle it via the Palm itself.
Cons
As far as the audio out port, I performed some impromptu listening tests by playing several 192kbps MP3s:
#1 On my TX connected directly to my Klipsch Pro Media speakersí external line input
#2 From the Palm cradle connected directly to the speakers
#3 On my PC with Windows Media Player 10 through the same speakers
I found method #2ís audio quality far inferior to either of the other two methods. The TX is notorious for having rather cheap/noisy audio hardware but the Palm cradleís audio-out only exacerbates this problem. I noticed background interference and static/crackling in quiet passages of songs. If music is your thing then by all means skip this one in favor of the Brando Music Dock.
This cradle is also extraordinarily lightweight and tends to slip & slide around a desktop (mine is glass so itís even more slippery). The two-handed removal method isnít going to please many users used to the ďclassicĒ Palm III/V/UC cradles.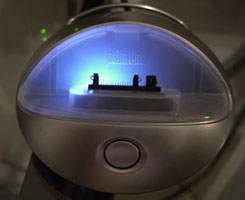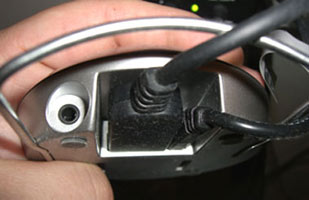 Compatibility
The Palm Cradle Kit is compatible with the Palm TX, Tungsten T|E2, Tungsten T5 and the LifeDrive.
I had no major issues using this cradle with my new Sena T5/TX leather flip case or with my PDAir aluminum hardcase. My old Rhinoskin aluminum hardcase protruded too much on the bottom to permit it to dock with this cradle.
Do note that the Treo 650 & 700 series smartphones are not compatible with this particular cradle. The Treos will work, however, with the charger & USB cable included in this kit so itís not a total loss. Palm does offer a separate bundle for the Treo 650/700w/700p at $10 more. It includes a slightly modified black cradle and the same accessories for Treo owners.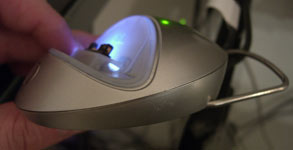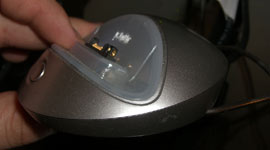 Conclusion
Overall, this is a fairly decent offering and about what most long-time Palm users expect from that companyís self-branded products --- stylish, decent build quality but one or two considerable design flaws and (usually) an overly high MSRP. The internal LED illumination is a very nice touch. The audio-out feature is essentially useless to me though a handful of users might find novelty value in it. Iíd gladly let Palm keep the international travel adapters, the LED lighting and the audio-out jack for a $20 lower MSRP and a larger/heavier base.
Overall rating:

3 / 5 stars
Price: $49.95 USD
(at Palmís current $49.95 price-if you can get it new for less than $40 dollars like I did from certain resellers then it gets an extra half-point)
Article Comments
(4 comments)
The following comments are owned by whoever posted them. PalmInfocenter is not responsible for them in any way.
Please Login or register here to add your comments.