Palm Treo Hardcase Review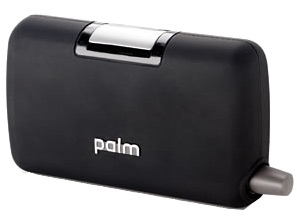 by: Kris Keilhack
June 22nd, 2006
I've long maintained that the original Palm V aluminum hard case is the best handheld enclosure ever produced. With a newly acquired 'naked' Treo 700p in my pocket I set out to find another case (preferably one I could obtain locally at retail) that had the style, sturdiness, and sleekness of that old V-series case.
Styling & Availability
Lost amidst the hoopla surrounding the launch of the Treo 700p were several new Palm-branded peripherals. The one that caught my eye on www.palm.com was this new Palm Treo hard case. I immediately noticed its bright orange packaging as well as a chromed version of the new "Palm" branding and logo. I purchased it at a local Computer chain store for the princely sum of $39.99 and began using it immediately to see if I had the makings of another Palm-branded hardcase legend in my hands.
Case Design & Construction
Palm's website states that this case is made from polycarbonate so I felt certain it would be both strong and lightweight. Palm also claims compatibility with all flavors of Treo 650s and 700s. Upon opening the package I was relieved to see that a strong latch mechanism kept the case securely shut. In my past experience with metal PDA cases (RhinoSkin T3, PalmOne Zire 72) case closure was achieved by merely overlapping two nubs of metal that usually became bent over time. This case definitely seems to a latch designed to last give its owner a lifespan measured in years instead of months!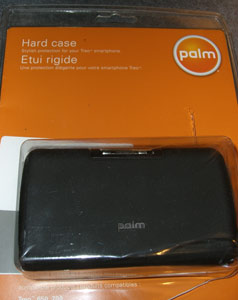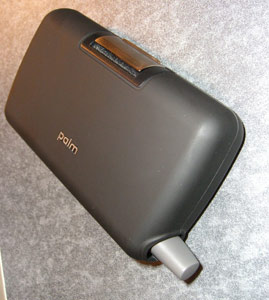 I was dismayed to find out that the case did not open more than ~45 degrees. Inserting and removing the Treo becomes a "drop the Treo in, drop the Treo out" routine. Also distressing was the utter lack of a way to secure the Treo to the interior of the case. Of course a handy user could work wonders with a knife and some adhesive Velcro but I'd rather see some sort of clasp to hold the Treo down within the case.
This is definitely a "carrying" case as opposed to a "live-in" case--the Treo has to be removed from the case every time it is used. This aspect alone is something of a letdown compared to the fantastic old Palm V case.
The interior lining seems to be the standard glued-in foam/neoprene interior lining used by many hardcases. No complaints here. I was dismayed to see that despite the case's thickness there was not even room for a single SD card or spare stylus in the case.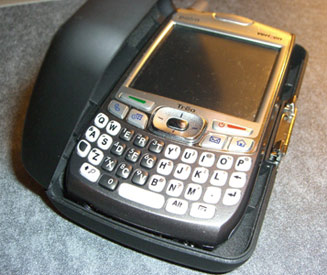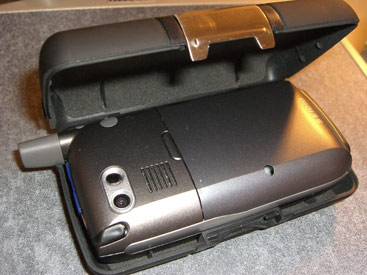 Pros:
Again, for a sub-$40 plastic case, build quality seems very high. Everything is nicely molded and I noticed no sharp edges or creaking corners on this case. Even the "snap" of the latch locking sounded pleasant.
The belt clip is a nice touch but it was rather flimsy on the two belts I used for testing. Honestly, this thing is just too big to carry on one's belt on a daily basis. I was very glad to see that Palm designed the belt clip to be easily removable. I never missed it once it had been removed.
Palm has come a long way since the dark days of the peeling blue Zire 72 paint. This is the same case that comes bundled with the 10th anniversary Black Tie Treo 650 and its exterior finish is befitting of something commemorating Palm's decade in the industry. The case was an absolute joy to "fondle". Even sweaty hands posed no problems. While I haven't had the case long enough it seems like the coating would repel moisture and hold up over time. For a comparison this material seems identical to what Motorola uses on their V325 cell phone or what is on the back of last year's LifeDrive aluminum case.
Cons:
In addition to the weak belt clip and the Three main factors kept me from being instantly won over with this case:
The lack of any means to charge my Treo while in the case. Since my time with the hard case predated the arrival of my Seidio 2400mAh battery I found myself having to remove the Treo from the case in order to plug it into my car charger. Not a fun thing to do three times per day. I also would like to see the headset jack exposed. Given the excellent overall rigidity of the case I think Palm's engineers could have permitted two small cutouts on the bottom of the case.
Secondly, the is no way to secure the Treo within the case. I nearly lost my Treo when trying to answer a call while carrying a bag. Opening the case is a decidedly two-handed affair. Removing the Treo from the case also requires both hands. I also had two or three instances where I ended my call and, due to being in a huge hurry, just stuffed the "naked" Treo back into my pants pocket rattling alongside the empty hard case
Finally, the case is just a tad on the thick side. I know this is a case designed for complete security but it was just a bit too thick to pocket with any Its girth combined with the rubberized coating on the exterior of the unit made it rather difficult to slide in and out of certain trouser pockets.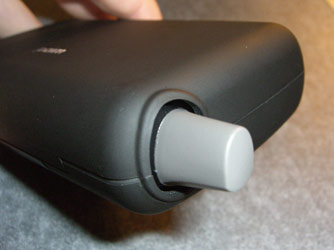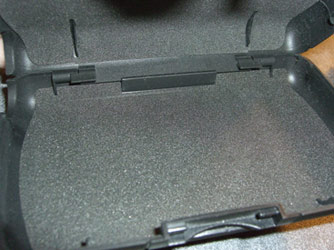 Conclusion
IF this case is kept closed most of the time and IF your pockets are big enough to accommodate it and IF you don't mind using two hands at all times to do any action involving opening, closing or handling the Treo then you might enjoy this product.
Otherwise, unless you're looking for a solid case that's smaller than an Otterbox and/or are very active in the course of a workday I'd recommend another style of Treo case. There are simply too many compromises here to be worth $40.
So the Palm V case-especially the limited edition anodized blue version-remains undefeated by numerous challengers in its six+ year reign. A pity, as this new Palm hard case was initially very impressive in several areas. It just ended up rather under whelming in daily usage.
Overall rating:

2.5 / 5 stars
Price: $39.95 USD
Palm Treo Hard case (compatible with Treo 600, 650, 700p, 700w)
Article Comments
(12 comments)
The following comments are owned by whoever posted them. PalmInfocenter is not responsible for them in any way.
Please Login or register here to add your comments.