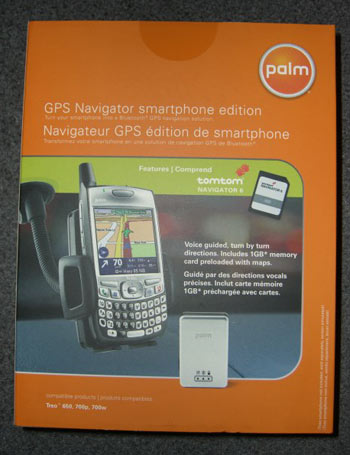 Palm GPS Navigator Smartphone Edition Review
by: Kris Keilhack
August 16, 2006
See our full section of Treo GPS Accessories.
History of Palm GPS Navigation + Earlier Devices
My first introduction to the world of portable GPS receivers was a first-generation Garmin Street Pilot in 2000. With its dim LCD screen, flaky PC-based map loading software and pricey proprietary memory cards and peripherals I gave up on personal GPS systems for several years. I decided to revisit the concept again in 2005 after getting lost one too many times while traveling. I had read some positive reviews of products by a Dutch company called TomTom, so when I saw they had partnered with PalmOne to come up with a complete kit I had to give it a shot.
My earlier purchase, the older PalmOne (3207NA) GPS Navigator Kit, features a Holux Bluetooth GPS receiver (the rebranded GR-230) that sometimes takes an eternity to lock onto satellites. This older Holux receiver, while featuring outstanding battery life, also has a tendency to suffer coverage dropouts and occasional Bluetooth pairing glitches. TomTom Navigator 5 software, even with its most recent update (5.201), has its fair share of quirks and officially does not support the Treo 700P. All of these factors set the stage perfectly for the introduction of a new generation of TomTom software and Palm's GPS hardware.
The new GPS Navigator Smartphone Edition is available now from Palm.com and the PIC store for $229.99 USD. I am uncertain what Palm's retail plans are for this product but I have seen earlier Palm GPS kits for sale at Office Depot and CompUSA. I'd also expect this bundle to be sold at Palm's retail stores and kiosks.
Packaging
For a change, someone has introduced a product where EVERYTHING is included in the box and that "someone" is Palm! Yes, Palm somehow has managed to outdo their previous bundle this time around. Upon opening the oversized box clad in Palm's new corporate color scheme, one cannot help but notice several printed pieces of documentation and a foldout starter guide. What a welcome touch in today's PDF documentation-centric world! Another nice touch was the consolidation of the nine (!) CDs of TomTom 5's map set onto a single DVD. The DVD also contains additional installable voices in any of twenty languages.
However, the most significant addition to this bundle is a 1gb MultiMedia card (MMC) that is pre-loaded with maps of the entire United States and Canada. Even better, both Windows Mobile and Palm OS executables of the TomTom Navigator app reside on this MMC, befitting Palm's new OS-agnostic outlook on life. This bundled MMC is a writable card so the user can add a few extra megabytes of extra files (be warned that this card auto-starts upon insertion) or update the maps down the road. To aid the user in transferring new maps to the SD/MMC cards, Palm thoughtfully bundles a mini card reader in the box. It's small, USB 2.0, and supports SD, MMC, RSMMC, and Mini-SD.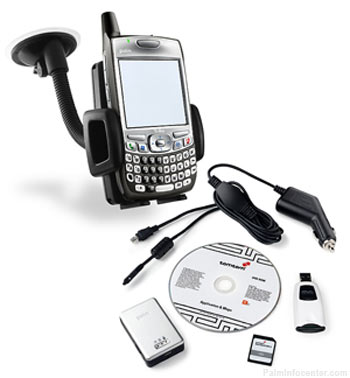 The rest of the box contents are fairly rudimentary: Windshield mount & cradle, adhesive dash mount, 12V DC combo charge cord for both the GPS receiver and Palm devices utilizing the Athena connector.
Now with the accessories out of the way I'll focus on the meat and potatoes of this kit, the GPS receiver and the TomTom software, below.
Hardware Design, Construction, and Performance
The new GPS unit, also produced by Holux for Palm and TomTom, is a bit smaller in all dimensions than its predecessor. It's also lighter and much more stylish; its sleek silver and black trim looks more modern than the humble CDMA Treo it's paired with!
Two nice touches reside on the underside of the unit: small rubber feet keep the unit from sliding around on a dashboard and there's a removable door concealing a user-replaceable 3,7V, 850mAh li-ion rechargeable battery. The unit is charged via the same mini-USB port that graces the older GR-230. I was actually hoping Palm would have modified Holux's original design enough to incorporate an Athena connector to make for a tidier plug arrangement or additional charging options for current Palm owners.
Build quality is good on this receiver--its light weight belies its solid construction. A nice "Palm" logo is embossed on the top panel. A row of colored LEDs provides satellite lock, Bluetooth pairing status, and battery life. The annoying rubber flap over the USB port of the GR-230 has thankfully been eliminated.
I haven't had the kit long enough to compare battery life but as long as the new GPS receiver lasts at least as long like its predecessor I'll be pleased. I managed to make it through an entire weeklong trip on a single charge with the old PalmOne receiver so I have high hopes for this new unit. The replaceable battery is a good touch, especially if new batteries can be purchased inexpensively online.
Satellite acquisition was fast and rock-solid. This can be attributed to the latest SiRFstar III chipset contained within. Even when indoor and relatively close to a window I had no problems locking onto at least four satellites. Acquiring satellites while driving at 60+ mph gave no troubles! As this moment my Treo is sitting in its cradle with the GPS receiver under my desk and I am showing full strength reception on seven satellites-superb! I never had a single instance of BT disconnections or pairing loss like I experienced with the older Holux model. I am not sure if this is attributable to the new Bluetooth 1.2 stack on the 700P, the newer technology in this GPS receiver, or both.
As stated earlier, Palm has carried several components of the earlier kit to their new Smartphone Edition. The windshield bracket & cradle, dash mount, and DC combo charge cord are all carryover items and are of excellent quality (the windshield mounting bracket is made in Germany!) These work precisely as expected but I really do not care to use any of the mounting hardware. I personally am not a big fan of windshield mounts as they scream, "steal me" to thieves and prying eyes. I actually keep my GPS receiver plugged on but sitting securely on a $10 Super Sticky Pad by HandStands. Then the Treo safely resides in my car's cupholder between the front seats while it charges.
I have an existing 2gb SD card and an internal card reader in my PC so the bundled memory card and reader are nice extras but rather useless for me personally. Most power users will already have similar equipment but it's still a wonderful touch by Palm for novice users to include them in the package. One can never have enough external storage and a spare SD/MMC reader is a great addition to one's travel bag!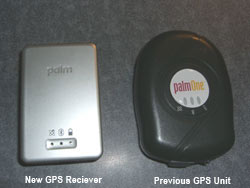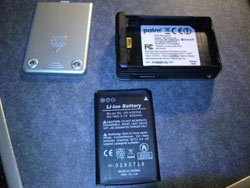 Software Part 1-Installation and Configuration
Herein exists the most compelling reason for owners of earlier Palm GPS solution to upgrade. For the time being, this Palm kit is the only way to acquire TomTom Navigator 6 software. While the pre-loaded MMC is the easiest way to begin using TT6, experienced users who prefer to use their own storage can still install the application into device memory and load as few or as many maps as they desire onto their own SD cards alongside other software programs and media files. With the rapidly plummeting price of 2gb and 4gb SD cards, this is a very realistic scenario for many users.
Palm and TomTom have drastically simplified the startup process with the inclusion of the pre-loaded 1gb MMC. I opened the package, installed the card into my Treo, activated the software wirelessly over my Treo's EVDO connection and began plotting a trip immediately. This PC-free install and setup makes the product non-threatening for inexperienced users but also perfect for impatient veterans like yours truly!
For the purposes of this review and the time constraints involved, I stuck with the pre-loaded MMC in my Treo. I did briefly test the TomTom software on the DVD and I had none of the issues trying to install maps or the application to my SD card like I did with the older TT5.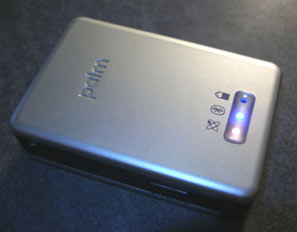 The only crash I experienced was during the initial setup menu. TomTom 6 handles incoming phone calls as well as frequent exiting and restarting of the program with aplomb.
I am intrigued to see if the software makes any Treo-specific system calls that would preclude it from functioning on a recent Palm PDA device such as the LifeDrive, TX or T5. I find it unfathomable that Palm would intentionally limit the potential audience for this device, as there are still many Palm OS diehards out there who do not yet own a Treo. Additionally the larger screens and expanded resolution of Palm's non-Treo devices would make for a perfect navigation platform. Had time not been such a factor I would have definitely tested this kit on my Palm TX. I don't see any technical reason that this needs to be solely a "smartphone edition".
Software Part 2-Features and Operation
A very pleasant surprise was the elimination of all of the bugs plaguing the version 5 release of TomTom Navigator, especially when running it on Treo 700P. The aggravation crash upon startup when toggling Bluetooth on is gone. Overall performance seems snappier than version 5.201 was on my 700P but it does lag in certain instances.
The entire TomTom Navigator application has received a mild but noticeable graphical facelift. The 3D map view features faster screen redraws and a nice sky gradient. There's an overall richer use of colors and aesthetic details throughout the onscreen menus.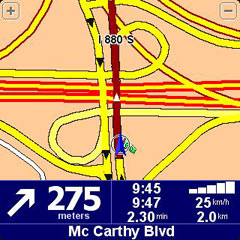 A number of improvements exist between TT5 and TT6. In the interest of saving space, I will comment on four improvements that were of the most interest to me:
1. It's now possible to plot a trip from point A to point B anywhere in the USA or Canada. Previously, TT5 would not let the user drive from NY to Florida since they were on separate "maps".
2. It is now possible to enter not only a point of interest or a point on the map as a destination but the actual latitude and longitude can be input as a destination. This feature was bizarrely absent on earlier TomTom versions and can be helpful for finding one's way to a rural location. This also improves the software's usefulness for non-automobile based travel such as hiking or biking.
3. Another huge improvement is that contact navigation is integrated into the TomTom application itself. Prior to version 6, a separate icon on the main launcher had to be selected in order to navigate to a contact's address. This was a kludge and felt very tacked-on to the Navigator application.
4. The base map of TT6 is vastly improved, expanded and updated over the previous version. With TT5 my subdivision's street didn't even exist (it was built after 2000) and several local businesses that opened in the past half-decade were absent. I'm glad to report that the map data in TT6 appears to be approximately two years old, give or take a year. TT6's Points of Interest (POIs) are also quite detailed and can be searched by proximity to one's current location, one's home address or the destination. POIs along the predefined route can also be displayed.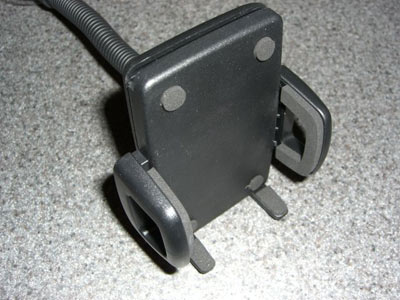 TomTom has seen fit to integrate a number of safety-related features (speed limit alert, grayed out menu options while in motion) to keep the lawyers happy and the litigation to a minimum. Being a daring individual with a blatant disregard for safety nets of all types, I just skipped over these parts of the program as I sought out the "fun" parts.
Another feature that I think I will grow to appreciate was the program asking if arrival time is a factor when calculating the route. Additionally, custom routes can be plotted by "fastest", "shortest", "Avoid freeways", "walking route", "bicycle route" or "limited speed".
The program also incorporates a dizzying amount of extra features available to subscribers of the mostly fee-based TomTom Plus services. I was unable to connect to the TT server to test these features even though most of them [weather, traffic reports, Safety Camera alerts, TomTom Buddies (geocaching with your friends, basically)] seem to be of dubious benefit. I suppose TomTom's servers are not yet ready to handle requests from Navigator 6 since it's such a new product.
Pros:
-Fantastic & comprehensive hardware bundle-everything's included
-A decent value considering the sum of the parts
-New GPS receiver is a huge improvement over earlier units
-Stylish receiver with excellent fit & finish in all components
-TomTom 6 is a huge step forward in polish and features from TT5
-Strong assortment of printed documentation
-Reasonably priced considering the quality of the components and the valuable extras
-Windows Mobile and Palm OS functionality in the same box
-Amazingly easy to get going-no PC required! Can install new maps quickly via SD card reader without having to Hotsync
Cons:
-GPS receiver should utilize Palm Athena/multi-connector for charging
-Experienced users may already own a memory card + reader and desire a lower MSRP
-A way to charge the GPS receiver outside of the car (PC USB cable or AC adapter) would be nice
-Palm is mum on compatibility with their non-Treo products (at the time of testing)
-TomTom Plus services were inoperative (at the time of testing)
-No support documentation or product info on tomtom.com (at the time of testing)
Conclusion
One of the best PDA accessories I've ever used and certainly Palm's best accessory release ever. Quite simply put, Palm may have found THE new killer app for its Treo line (Windows Mobile and Palm OS) with this stunning assemblage of goodies. It's a rare event when hardware and software mesh so seamlessly to perfectly to suit the needs of mobile travelers of all experience levels. Palm would be well served to aggressively market this package and the Treo's adaptability to navigational duties. I would also encourage Palm to offer a version of this bundle for their TX/LD/Tungsten models, especially for mobile users who might prefer a larger 320x480 screen.
My overall rating:    

4.5 / 5
(5/5 if TomTom's web site and support are quickly brought up to date for TT6 and/or if Palm OKs the software to run on non-Treo devices)
The new GPS Navigator Smartphone Edition is available now from Palm.com and the PIC store for $229.99 USD.
View PalmInfocenter's full selection of Treo GPS Accessories.
Article Comments
(49 comments)
The following comments are owned by whoever posted them. PalmInfocenter is not responsible for them in any way.
Please Login or register here to add your comments.