Google Maps Mobile Adds Location Tracking
Wednesday, November 28, 2007 4:23:53 PM
One of the best mobile applications just got a little better. The recently-released version 2.0 of Google Maps Mobile has added a new location-tracking feature - creatively titled "My Location" - that works without GPS, triangulating your position based on the feedback from nearby cell towers. According to Google, this works faster than GPS and has the added bonus of working indoors, where sat-nav gps does not. By hitting 0 on a compatible handset, Google Maps will display a blue dot to indicate your location.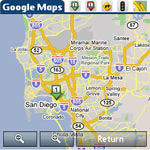 Accuracy and coverage varies wildly, according to initial user feedback, but Google claims that it will get better as more people start using the service:
"Google takes geo-contextual information [from anonymous GPS-readings, etc] and associates this information with the cell at that location to develop a database of cell locations. Based on this information, Google uses various algorithms to approximate your location relative to the cells nearest you. The accuracy of this information depends on how big an individual cell is. Thus, areas with a denser concentration of mobile towers allow for a more accurate My Location reading. Additionally, as our database of cell locations continues to improve, so too does the accuracy and coverage of the My Location feature."
The service - like so very many of Google's offerings - is still in beta and thus not yet available for all models of handset (including Palm OS Treos), but Treo 750 and 500v owners can give it a whirl by visiting this link on their browser: http://www.google.com/gmm. The Treo 700w/x is not currently supported.
Hopefully, Palm OS support is not too far off; while the download page for Palm OS states the latest version is 2.0, the supplied link is still serving up version 1.2.0.9.
Article Comments
(11 comments)
The following comments are owned by whoever posted them. PalmInfocenter is not responsible for them in any way.
Please Login or register here to add your comments.