EMEA Smartphone Q3 2006 Report
Tuesday, October 24, 2006 10:47:40 AM
Canalys has released their Q3 2006 EMEA smartphone market research report. The report found that EMEA (Europe, Middle East and Africa) smart mobile device shipments grew 11.7% year on year in Q3 2006, up from 10.6% in Q2. Converged devices grew 19.2%, while unconnected handhelds fall again, this time by 42.7%. Symbian still controls the OS leadership spot with 78.7%, while Windows Mobile ranks second with 17%. Read on for the full report.
Growth in the EMEA smart mobile device market in Q3 rose slightly from the previous quarter, but remains well below the 100%-plus rates seen for most of last year. Nokia's lead, achieved largely through shipments of its consumer-focused Symbian S60 devices, remains comfortable. With new UIQ models shipping last quarter, fellow Symbian-based vendor Sony Ericsson re-entered the top five (in fourth place) after a long absence, helping take Symbian's market share up to 78.7% from 76.6% a year earlier.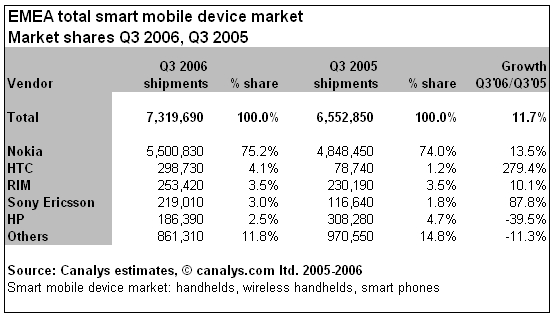 HTC, in second place, was by far the fastest growing of the leading vendors and remained narrowly ahead of third-placed RIM for the second quarter running (note: HTC shipment estimates shown include Qtek-branded devices, but not those branded by network operators or other hardware vendors, which are tracked individually). HP filled the fifth slot, suffering a year-on-year unit decline partly as a result of the continued shrinking of the handheld segment. It did, however, manage to increase shipments and share sequentially from Q2 2006. Canalys estimates that shipments of unconnected handhelds in the region fell to below half a million – a level not seen since Q3 2002 and a far cry from the million units seen in some quarters over the past two years.
"The shift in demand for consumer GPS navigation, away from handhelds to dedicated PNDs, can really be seen in these numbers," commented Chris Jones, Canalys director and principal analyst. "It would not be surprising to see some vendors scale back their efforts in the handheld market within the next couple of quarters if the trend continues. Q4 will be pivotal, as it is typically the biggest quarter by far for this class of device and underperformance may cause vendors to re-evaluate their positions."
The handheld's decline has also had an impact on Microsoft's overall share of the smart mobile device market. In Q3 2006 it is sitting at 16.9%, down from 18.0% a year ago, despite shipments of Windows Mobile based converged devices (smart phones and wireless handhelds) increasing by almost 80% year-on-year. In the converged device space, it is not only the HTC/Qtek-branded products that are generating growth, but also those branded by operators such as O2 and Orange. The new Palm Treo 750v available through Vodafone in Europe is also expected to make a significant contribution over the coming months.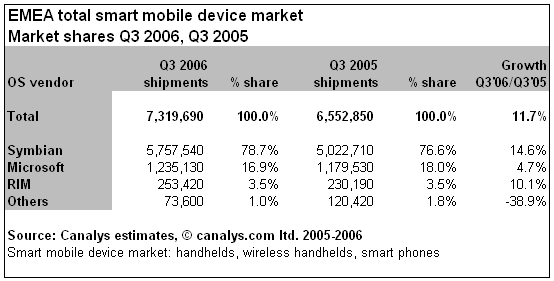 "I'd be surprised if the Treo 750v did not exceed the volumes achieved by its Palm OS based predecessors in EMEA," said Canalys analyst Pete Cunningham. "Windows Mobile is gaining traction with network operators and with enterprise customers looking at applications such as push e-mail. While RIM is still the vendor to beat in this arena, the competition is improving with each generation of devices. What vendors must ensure, however, is that they can go to the operators with not just one or two devices, but a portfolio that can address a range of customer segments, and a clear proposition behind each. One of the key benefits of an open operating system for device vendors is the ability to tailor their propositions and add value through software and they must make the most of this opportunity to differentiate."
Article Comments
(2 comments)
The following comments are owned by whoever posted them. PalmInfocenter is not responsible for them in any way.
Please Login or register here to add your comments.