3200mAh Seidio Extended Treo Battery Review
By: Kris Keilhack
January 26, 2007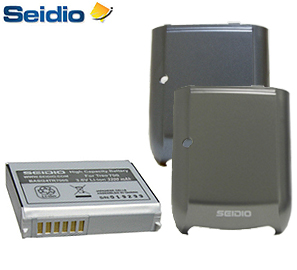 Seidio are quickly making a name for themselves in the high-capacity Treo battery market. Beginning with their earlier Treo 650 2200mAh and 2400mAh batteries back in 2005, Seidio have quickly brought larger batteries to market for every subsequent Treo device. Yet even 2400mAh is not enough for many Treo power users, especially with the 700p's mysterious battery drain that many users are experiencing.
Short of a major ROM update from Palm, a higher capacity battery is the only way around this problem. Enter the Seidio 3200mAh battery, boasting 77% more power than the stock Treo 700 series batteries.
Compatibility and Initial Impressions
After being announced last month, this monstrous Seidio battery (AKA "Rumpshaker") is now finally available after a brief delay for the Treo 650 and 700 series.
Unfortunately, Seidio have removed the Treo 680 and 750 from the device's compatibility list. My own battery arrived with the "750" section on its label marked out with a Sharpie. Not an encouraging sign for users thinking about upgrading to one of the new slimmer GSM Treos but are worried about battery life!
The battery came in a small cardboard box with minimal cushioning. It was shipped via USPS. Seidio, as usual, did not update the order status on my online account page nor send an e-mail confirming shipment or with a tracking number. The package just showed up one day, approximately 14-16 days after placing my order. The extra money I paid for expedited shipping was completely wasted.
The fit of the battery door as well as its paint was much improved over my earlier standard size battery door. I was also impressed by the extra grip afforded by the thicker battery. It really makes my slippery Treo a bit easier to hand onto as well as improves the comfort level when I am furiously typing out e-mails on the Treo's keyboard.
Testing Methodology and Real World Usage
I haven't had time to run any legitimate battery rundown tests yet but after doing the usual li-ion battery conditioning routine, I can safely say that at the end of the day I always have at least 50% of battery life remaining. This is with VersaMail polling the server every hour on the hour and with heavy web, e-mail and mp3 usage while the LCD is set to maximum brightness. Due to its poor voice calling performance I very seldom use my Treo as a phone but keeping the backlight cranked up likely compensates for this. Seidio promises 10.7 hours of talk time but I'd wager it's more likely half that figure. Regardless, this is a strong battery. ?
In comparison, my 700p's stock 1800mAh Treo battery was usually exhausted before the end of a standard workday and the 2400mAh Seidio battery was getting quite low (~20% or so) at the end of a busy workday.
Unsurprisingly, this battery makes my 700p a bit too thick to fit on its Palm cradle. Losing the functionality of my Treo cradle was a huge bummer but at least the cradle's charge pocket can accommodate this larger battery with ease.
My Smartphone Experts Treo pouch case is becoming increasingly worn and stretched out. While this thicker battery is only going to exacerbate the case's stretching problem, for the time being it gives my Treo a more snug fit, which suits me just fine.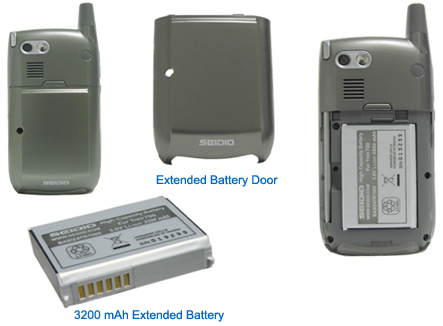 Pros:
Fantastic runtime for power users
Comes bundled with a larger battery door with integrated reset button opening
Fits in the charging slot of a standard Palm Treo cradle
Thicker battery door actually improves the feel of the Treo in-hand
Fit and finish of this battery door is considerably improved over the 1st generation 700p door I purchased in June '06
Seidio's 3200 & 2400 mAh batteries are a good value in relation to what Palm charges for their "genuine" 1800 mAh battery
Cons:
Adds even more size to the already chunky Treo 650/700 formfactor
Relatively pricey, although the bundled battery door w/ reset opening mitigates this issue slightly
Treo cannot be used n the Palm OEM cradle with this battery installed
Increased thickness can create problems with many Treo cases and, with thin form-fitting cases, even permanently stretch them out
Incompatible with Treo 680 and 750
The usual slow Seidio order confirmation + delivery process in addition to the poor customer service
Conclusion
This is the first time in my eight months of 700p usage that I've been able to grab my device and head out for a full twelve hour + day without having to ever worry about being near a charger.
After assessing my needs and main gripes with the 700p, I figured that a bit more thickness wouldn't make a huge difference in my daily usage of the device, especially in wintertime when I carry my Treo in a jacket pocket. The extra power is certainly nice to have while traveling or when Bluetooth is on for GPS navigation and plugging into a car charger is not convenient.
While Seidio might eventually be able to cram a higher-capacity battery into the dimensions of a stock battery, my Treo power needs required immediate addressing. Taking all of that into consideration, this battery fulfills my needs perfectly but its extra size and relatively high price tag might not sit well with some users.
My Rating:

4 / 5
The Seidio 3200mAh battery is available now for $54.95 plus shipping. It is compatible with the 700w, 700wx, and 700p.
Article Comments
(6 comments)
The following comments are owned by whoever posted them. PalmInfocenter is not responsible for them in any way.
Please Login or register here to add your comments.