3200mAh Seidio Extended Treo Battery Released
Tuesday, December 5, 2006 2:05:06 PM
The latest addition to Seidio's excellent line of extended Treo batteries is now listed for sale on their website. A huge (in both capacity and physical size) 3200mAh battery is now available for $54.95. This new battery is the highest capacity Treo battery, surpassing the previous 2400mAh version by 33.3% and offering 77% more capacity than a stock 1800mAh Treo battery. It even comes with its own extended battery door. Seidio claims 10.7 hours in talk-time and 533 hours in standby-time with this new battery but does not break down talk and standby times by specific model.
While the site's item description claims the battery is compatible with Palm Treo 650/680/700w/700p/700wx/750 models, the device drop-down menu currently lists only the Verizon 700w and the Sprint 700p/WX. Since all of the 700 models use identical battery doors, regardless of OS, this is likely just a color issue, as Verizon's Treos are a charcoal grey color and Sprint uses a bluish-grey casing.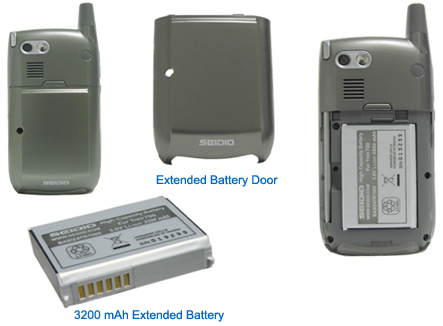 This battery becomes a better value for Treo 700-series owners after examining the photos on Seidio's website. It appears that the battery door supplied with this new battery is Seidio's modified version with the integrated reset button opening.
Presumably, battery doors for the sleeker formfactor Treo 680 and 750 series will be available soon. Since these new GSM Treos lacks a reset button, Seidio will likely provide a solid battery cover for these devices.
Article Comments
(17 comments)
The following comments are owned by whoever posted them. PalmInfocenter is not responsible for them in any way.
Please Login or register here to add your comments.