TreoMemo Review
By: Tim Carroll
March 18, 2007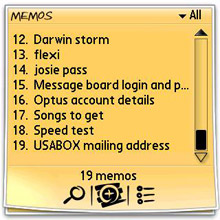 Continuing their line of replacement Treo applications, Gx5 has released TreoMemo, a substitute for the standard Palm Memos app. Developed by Gx5 - creators of the eye-catching DialByPhoto - itís an attractive enhancement both visually and functionally, with swish graphics and some clever new features. But is it worth paying to upgrade one of the Treoís most basic applications?
It Makes Memos Look Interesting!
As weíve come to expect from Gx5, TreoMemo is a visual treat. The boring old black-on-white look of the built-in Memos app is but a distant memory. TreoMemo gives you a nice selection of colourful skins to choose from, with more available on Gx5ís site for free. (Iím particularly fond of the Crimson one; it matches nicely with my Treo 680.) In addition to the jazzier colour palette, the memo titles themselves have alternating background colours that make it easier to distinguish one line from the next. The scrollbar and category picker have also been revamped for easier thumbscreening, which is something Iíve always appreciated about Gx5ís designs.
Apart from the visual upgrade, TreoMemo also offers some helpful new features that can greatly enhance your memo usage. To start with, TreoMemo offers a handy Search function that makes it a snap to quickly find that snippet of information youíre hunting for. Just tap the magnifying glass icon on the main screen and youíre presented with a simple search box and a big fat search button. Easy as pie. (Iím not sure what makes pie easy, but there you have it.) You can also just start typing from the main display and it will narrow the list down by title.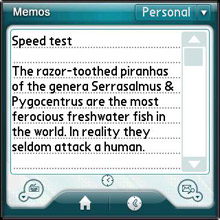 Other excellent additions include:
A small indicator to show how many memos are currently displayed;
Alarms: you can attach mp3 alarms to memos along with the usual system sounds and vibrate options Ė perfect for quick reminders.
Mass highlighting Ė just like any desktop word processor, you can hold down the Shift key and use the 5-way to select whole words or lines of text at once.
Quick SMS and emailing of memos: in the lower right-hand corner of the memo screen is an envelope icon that takes you to a Memo Details form, where you can designate the category, Private status, which mp3 alarm youíd like to use and also quickly copy the contents into an SMS or email message.
An onscreen virtual keyboard: thereís a keyboard icon in the lower-left of the screen that when tapped will bring up a soft keyboard. Iím a little mystified as to the point of this particular feature: the Treoís exposed keyboard makes it somewhat redundant, although it does provide quick access to character symbols that would require you to press the Alt key otherwise.
Very Few Criticisms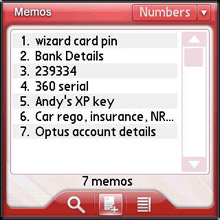 Iíve been racking my brains trying to think of any negatives of TreoMemo, but the truth is that itís very hard to get a simple text editor wrong and Gx5 have hit all the right notes. The one nit I could pick would be that the standard blue ďhaloĒ used in the Treoís one-handed navigation system doesnít apply to all of TreoMemoís interface elements. Itíll appear around the category picker and the list of memos itself, but not the search, new or sort buttons along the bottom of the screen.
Conclusion
TreoMemo is an excellent enhancement to the standard Palm Memo app and well worth the price. It adds useful new features and improves the graphical experience without making it any more difficult to use its primary function: quick note-taking. Highly recommended!
TreoMemo version 1.1 is available from the PIC software store for $9.95, and is currently on special for $7.95. There is a free trial available.
Article Comments
(5 comments)
The following comments are owned by whoever posted them. PalmInfocenter is not responsible for them in any way.
Please Login or register here to add your comments.