New Accessories for New Handhelds
Monday, May 14, 2001 7:32:21 AM
Several Palm powered handhelds have just been released or announced. For many people, the actual handheld is just the beginning. A complete setup requires accessories, like keyboards, modems, and cases. The handheld manufacturers themselves and third party companies are already rushing to produce these peripherals for Palm's m500 series and Sony's N710C. The HandEra 330 has the same shape as Palm's venerable III series so there are already dozens of add-ons for it.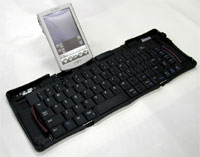 Probably the most anticipated peripheral is Think Outside's Stowaway folding keyboard. Rachel A. Wild, Think Outside's Marketing Communications Manager, said that an m500 series version of their keyboard will be out on June 4. She also said a version for the N710C should be available in the U.S. in late June. The company hasn't yet released prices but their keyboards typically sell for about $100.
There have been rumors circulating that the m505 version of the Stowaway wouldn't be available until August. Ms. Wild said, "The 'rumor' you've heard might possibly be for the German version of the m500/505 keyboard which will be available this summer."

Another highly anticipated item is the Kodak PalmPix digital camera for the m500 series. A spokesperson for Kodak said it would be available in early June. It should cost $130.
Wireless users will be happy to hear that Novatel Wireless is developing a Minstrel modem for the m500 and m505 which will be on the market in June. While it is possible to buy modems directly from Novatel, generally they are bought from wireless ISPs and come at a discount with a service plan.
Many people feel their handhelds are naked without a good, solid case for it. RhinoSkin already makes several soft cases that will fir the m500 series and, according to Claudia Dragonette, they are developing hard cases for it, too, which "should be on the market within the next month or so". However, they aren't planning on making any for the Sony N710C.
Portsmith is developing an Ethernet cradle that will allow the m500 and m505 to HotSync over a corporate network without going through a PC. These should be available in June for about $200.
The m500 series ships with a catalog of peripherals, including the PalmModem, the Travel Charger, and a HotSync Cable. Several calls to Palm's sales number at different times always got variations of the same answer: Palm is expecting to have these in stock in the next week or two.
Both the N710C and the m500 series have expansion slots. Eventually, users will be able to plug peripherals like Bluetooth modules and digital cameras into these but none are ready yet.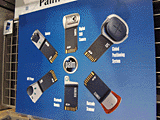 The models from Palm use the SD standard and the SD Card Association hasn't yet finalized the specification needed to let input/output devices work. This will delay any SDIO devices until at least this Fall.
Palm has been showing an array of mock-ups of SD slot peripherals for months but all appear to be non-functional and none of them has even a projected release date or price.
Sony has plans to release several Memory Stick expansion modules this year. In addition to the Bluetooth Infostick expected to be available in June, they have also developed working prototypes of digital camera, GPS and fingerprint recognition modules which are planned for market introduction in 2001.
Related Articles:
On the Web:
Article Comments
(52 comments)
The following comments are owned by whoever posted them. PalmInfocenter is not responsible for them in any way.
Please Login or register here to add your comments.

Comments Closed
This article is no longer accepting new comments.

Only the first 50 comments are displayed within the article.
Click here for the full story discussion page...