Sony PEG-SJ20 Review, Part II
By Ed Hardy
News Editor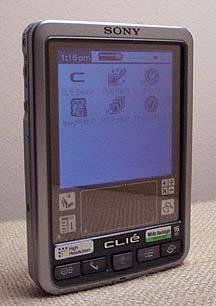 The SJ20 is Sony's new entry-level handheld with a backlit monochrome screen, 16 MB of RAM, Palm OS 4.1 and the same shape as the previously released SL10.
This is the second part of my review. Part I was published about a week ago, after I had only had the SJ20 for a few days. In it, I covered my opinions of the SJ20's screen and shape and I don't see a need to go over those again. If you haven't read Part I yet, I strongly urge you to do so.
Battery Life
The most significant feature of the SJ20 I didn't cover in the first review was its battery life. This is because I hadn't had it long enough to do a realistic test.
You can't get a good idea of the battery life of a handheld by just keeping it on continuously until the battery runs dry. Handheld batteries aren't designed to perform well this way. People use their handhelds intermittently and their batteries perform best when they are allowed to rest.
To get what I believe are real numbers for battery life, I installed an application called UpTime. This tracks the amount of time a handheld is on. Then I used the SJ20 normally. This means I used it as my address book, read AvantGo, HotSynced a couple times, played some games, and that sort of thing.
As I said in the first part of this, I think the SJ20's screen pretty much requires using the backlight so that's how I tested it. There is no way to adjust the backlight besides on or off so it was on at full strength the entire time I ran this test
I got the first low-battery warning after 7 hours and 30 minutes of use. A few minutes later the backlight cut off and wouldn't turn on again until I recharged the handheld. At 8 hours and 20 minutes, the SJ20 gave its final warning and shut down.
One of the advantages of monochrome screens is they use much less power than color ones and it is good to see that the SJ20 follows this thumb-rule. As a comparison, the T665C, with its hi-res color screen, gets just over 2 hours of use with its backlight on full.
I was going to perform the same test with the backlight off but after some preliminary tests, I decided it wasn't possible for two reasons. Like I said, I think the SJ20's screen is just too dim to use without the backlight and I couldn't take using it for a long time without ever turning the backlight on. Also, the backlight appears to be the major user of power on the SJ20. With it off, its battery will last for weeks. I don't think you would be willing to wait until late September for me to run this review.
Motherboard
The SJ20 runs a 33 MHz Dragonball processor, which is what you'd expect from an entry-level model like this. It gets a BenchMark 2.0 score of 207%, which is just what it should get considering BenchMark uses a 16 MHz processor as its standard.
It also has 16 MB of RAM, which is the maximum you can get on a Palm OS device at this time. This is probably more storage that a majority of people who will buy this model need. Combined with the Memory Stick slot, the SJ20 owners will able to store even very large files and applications.

Memory Stick Slot
Being a Sony model, of course the SJ20 has a Memory Stick slot. I applaud Sony for including this on even its entry-level models. It allows the handheld to store a tremendous amount of information and applications.
However, when I was using the SJ20, its Memory Stick slot seemed to be quite slow. I tested it with VFSMark and it got a score of 32 out of a possible 100. Some operations were extremely slow. In its worst example, it is 2% of the standard speed for writing to files on the Memory Stick. Fortunately, the most frequently used function, reading from the Memory Stick, gets a decent score of 70% of the standard.
This doesn't cripple the handheld or anything but doing backups takes a while. There is a noticeable lag opening applications and eBooks from the Memory Stick but, like I said, this is more of a minor irritation than anything else. I chalk this up to the sort of thing you have to expect from a $200 handheld. You just aren't going to get the same performance you get from a $400 one.
Buttons
Another nice touch in the SJ20 is that it includes both a Jog Dial and Back button. Previous entry-level Sonys lacked the Back button. Working together, these two let you control most of the functions of the handheld with just your thumb, but not all. This isn't Sony's fault; many developers still haven't added Jog Dial support to their applications. The one that is most frustrating to me is AvantGo. Still, many applications are Jog Dial-enabled and let you do many things with one hand. For example, it is fairly easy to look up a phone number just using the Jog Dial and Back button.

The buttons on the SJ20 are good, though not perfect. For most users, they are fine. It is really game players that are more demanding and it is this group who will find the SJ20's buttons to be adequate, though not great.
The buttons are a good size and are comfortable to use. However, there is no space between the Date Book button and the Address Book button. On the other side, the To-Do List and Memo Pad buttons also touch. This can make it difficult to distinguish between buttons in fast-paced games. The Rocker switch is kind of small, which makes it not as easy to use as it could be.
The Power button is on top. It is small and sits flush with the casing. This makes it not very easy to push but I think preventing accidental pushes is probably more important when you are talking about the Power Button.
Accessories
The SJ20's flip cover is black and clips to the back then stretches over the top and then down the front of the handheld. This allows it to give some protection to the Memory Stick slot and Power button.
The stylus is the Sony standard one, which I'm not fond of. It's just too thin. However, I don't hear a lot of complaints from other people about this stylus so maybe I'm carrying out a one-man campaign. The SJ20's stylus is black and silver to match the handheld's casing. Unscrewing the top reveals a Reset Pin.
The SJ20 doesn't come with a cradle; instead it has a cable that is plugged into the wall for power and another that hooks to the USB port of a desktop to HotSync. The HotSync cable doesn't carry any power, though the USB port provides a bit. Turns out USB ports don't provide very much power and trying to recharge a handheld through one is a slow process. Both the SJ20's cables run together into a single adapter that plugs into the HotSync port, so you can recharge and synchronize at the same time.
It looks like Sony has standardized on a single HotSync port design, as all three of its product lines now use the same one. This means the SJ20 can use many of the same peripherals designed for the T-series, including the new KB11 folding keyboard.
Conclusion
The SJ20 offers a very good monochrome screen and great battery life. Its Memory Stick slot is a bit slow but I don't think that is too big a flaw. All in all, I think it is a very good handheld for its price and a worthy replacement for the S360 in Sony's lineup.
Article Comments
(89 comments)
The following comments are owned by whoever posted them. PalmInfocenter is not responsible for them in any way.
Please Login or register here to add your comments.

Comments Closed
This article is no longer accepting new comments.

Only the first 50 comments are displayed within the article.
Click here for the full story discussion page...