Sony Developing Bluetooth Memory Stick
Wednesday, April 4, 2001 8:02:42 AM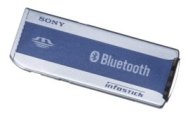 Sony Corp. is developing a new type of Memory Stick called "Infostick" with built-in Bluetooth capabilities for its Clié handhelds. They have already finished the hardware and are currently developing the software.
The project has been going on since 1999. According to Yasushi Fujita, part of the Memory Stick Division at Sony, "With this easy-to-carry-around Infostick, any terminal turns into a device for sending/receiving e-mail messages. "
Update: It will be available in Japan in June for about $125 (15,000 yen).
Update 2: Months past this date, the InfoStick still hasn't been released.
He went on to say, "It began with a basic concept of a Memory Stick to access the Internet just by being attached to any terminal. We wanted to create something that can be a (communication) device by itself, if it is attached to a terminal. So we integrated a network ID, a service ID, communications settings, application settings, and all other necessary information into the Infostick. "
Naturally, the Infostick will work with any of Sony's devices with Memory Stick slots. Those are what Mr. Fujita refers to as "terminals".
The company isn't concerned at this point about the Bluetooth standard's slow progress. Hiroshi Matsubara, part of the Mixed Device Group at Sony, said "There's no denying that Bluetooth hasn't been as prevalent as its standardization organization initially expected. But entirely new technologies often can't be transplanted easily, in real life. On the contrary, we are satisfied that the development process so far has been steady."
He went on to say, "We pushed the development of the Infostick ahead of commercialization because we wanted to be trendsetters in Bluetooth technology. We hoped to demonstrate our initiative in deploying Bluetooth, both within and outside of Sony. "
They considered a IEEE 802.11b Memory Stick but decided it would cost too much to develop, would be too large, and draw too much power from the Clié.
Related Articles:
Article Comments
(7 comments)
The following comments are owned by whoever posted them. PalmInfocenter is not responsible for them in any way.
Please Login or register here to add your comments.

Comments Closed
This article is no longer accepting new comments.