Sony PEG-SJ30 Review, Part I
By Ed Hardy
News Editor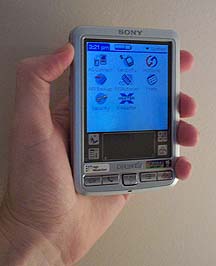 Introduction
Sony has been revamping its entry-level and mid-range models. As part of this, it has created the $300 PEG-SJ30, the first color, mid-range model it has ever released.
With the introduction of the SJ30, Sony is shuffling its handheld series around a bit. For most of this year, it has had the very high-end NR series, the high-end to mid-range T series, and the entry-level S series. The SJ30 is the first S-series device to debut at over $200, and quite a bit over $200 at that. Therefore, Sony's Clié line is currently made up of the very high-end NR series, the high-end T series, and the mid-range to entry-level S series.
I haven't had a chance to fully test the SJ30 so this will be part one of a two part review.
The Screen
One area Sony didn't scrimp on with the SJ30 is the screen. As near as I can tell, it is the same screen as on the T665C. In short, it is beautiful.
It is 320 by 320 pixels, of course, and has none of the ghosting that the new monochrome S-series models have. It reproduces colors very well and doesn't have the muddy reds from the T615C.
It is not, however, perfect. Its whites are slightly blue. Not as blue as they look in the image with this review, but a touch blue. And one of the reasons I think it is the same screen as on the T665C is it has the same flaw: small, wavy shadows right along the bottom edge.
This screen looks best indoors but is usable outdoors, even in direct sunlight.

Shape
At 4.1 by 2.9 by .7 inches, the SJ30 isn't super slim but it is shorter than most color handhelds. It fits well in a pants pocket. That brings up an interesting point. I think a thicker handheld fits better in my hand than a very thin one. So, to me, it is a matter of tradeoffs. Very thin models ride better in my pocket but not as well in my hand, while thicker models sit well in my hand but not as well in my pocket. I'm happy there are both kinds available.
At 4.9 ounces, it is a bit heavy for me to put in a shirt pocket. Like I said, I generally carried it around in my front pants pocket.
The casing is all plastic. It is white and silver, rather than black and gray like the SL10 and SJ20. It think it looks pretty good, if not very stylish.
All of the members of the newly redesigned S series, the SL10, SJ20, and SJ30, are all exactly the same size. I don't care what some Sony websites say, I've put all three of them side by side and I know. The SJ30 even has the slight bulge the SL10 needs in order to fit its AAA batteries in. This means that all these models will be able to use the same cases.
Memory Stick Slot
One of the hallmarks of Sony's handhelds is the Memory Stick slot. This allows users to store large amounts of applications and files. They make 128 MB Memory Sticks now and Sony has laid out a timetable that has them reaching 5 GB over the coming years.
I know this sounds odd, but there are non-memory Memory Sticks. Shows that you need to be careful not to be too specific when you name your products. Anyway, you can get a camera that plugs into the Memory Stick slot and you can even order a Bluetooth module, though this sells for over $200.
Like the rest of the new S-series models, the SJ30's slot is a bit slower than average. I tested it with VFSMark and it got a score of 41 out of 100. Still, that's a bit better than the SJ20's score of 32. This means that loading applications and files off of a Memory Stick is going to be a bit slow. However, this doesn't appear to affect Kinoma; that app has no problem playing movies off Memory Sticks.
Accessories
The SJ30 uses the same HotSync port that it first debuted on the T-series. Since then, it has become universal across Sony's whole line. This means that this handheld can use many of the same accessories and cables designed for other models.
What It Doesn't Have
Because the SJ30 is debuting at the same price the T615C is currently selling for, comparisons between the two are inevitable. The SJ30 lacks the enhanced speaker and enhanced infrared port of the T615C. One thing people need to accept with this model is that it isn't a successor to the T615C. The T615C started out as a high-end device and has a lot of high-end features. Only after it had been available for many months did it work its way down to a mid-range price. The SJ30 was made to be a mid-range model and doesn't have all the high-end features of the T615C. In a few months, SJ30 will be available for less than $300, while the T615C will be gone.
Conclusion
I hope I've given you enough info on the SJ30 to at least whet your appetite. So far, I think it stands up well against its competition, the other mid-range color models: Palm's m130 and Handspring's Treo 90.
Update: Part II of this review is also available.
Article Comments
(82 comments)
The following comments are owned by whoever posted them. PalmInfocenter is not responsible for them in any way.
Please Login or register here to add your comments.

Comments Closed
This article is no longer accepting new comments.

Only the first 50 comments are displayed within the article.
Click here for the full story discussion page...