Input Showdown
By: Dan Royea
,
PalmEvolution.com
October 21, 2002
ON YOUR MARKS...
During the PalmSource Open House in late September, I had the opportunity to check out some of the Clie Gear accessories at Sony's demo booth. Out of curiosity, I did a quick speed comparison between Graffiti, the Mini Keyboard (PEGA-KB20) and the Compact Keyboard (PEGA-KB11).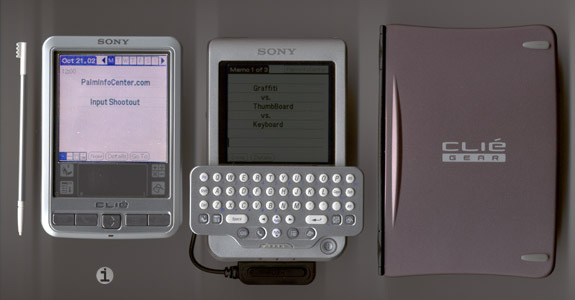 While the KB20 and the almost identical Palm Portable Keyboard have already been reviewed on PIC, the initial "input speed-test" results were interesting enough to warrant a full-scale showdown.
...GET SET...
The mid-range Clie SJ30 was used for the tests, but these accessories will work with all Clies that share the second-generation connector (i.e. SL-, SJ-, T- and NR/NX-series handhelds).
Graffiti
I'm a firm believer in screen protection, and decided to try the Clie Gear Screen Protector (PEGA-SP60) for the "Showdown". The SP60 is remarkably similar to the Brando screen protector: adhesive-backed, removable/washable, and with a slight texture that reduces both glare and the clarity of the display by a minute amount.
As with every screen protector I've tried, installation is a bit tricky, particularly if you're after a perfect result! It's important to start with a spotlessly clean screen and work in a dust-free environment. I was able to apply it with good alignment and without air bubbles or anything else trapped underneath, but was a little disappointed to see that while it was flush at the bottom and sides of the screen frame, there was a 2mm space at top.
ThumbBoard
Having previously used a RIM950 pager and currently using a Treo 180 smartphone, I've found that thumbboards can be a surprisingly effective method of input. The KB20 Mini Keyboard clips securely onto the Clie over the Graffiti and button area and uses a connector plug which attaches to the bottom of the handheld. Install the Mini Key app, select "Enable Keyboard" and it just works. While it is simple to set up and comfortable to use, the KB-20 layout takes a little getting used to, particularly "control" keys like Shift, Fn etc. as well as the location of the alternate characters (e.g. ! @ # $ % etc.) which are quite divergent from typical qwerty keyboard positions. Still, the feel of the keys is very good, with a solid tactile click with each key press. I give it two thumbs up ;-)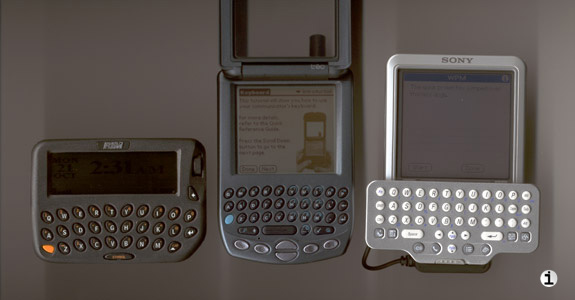 [RIM950; Treo 180; SJ30 with KB20 attached]
Keyboard
Like several other companies, Sony offers a rebranded ThinkOutside Stowaway folding keyboard. The KB-11 has the Clie-specific connector and is finished with gun-metal grey exterior emblazoned with the Clie Gear logo. The design is truly a modern-day classic: in a few seconds, the 5 x 3.5 x 1" package unfolds into a full-size keyboard with the "feel" of a high-end laptop. The Clie-specific version 1.8s Keyboard application enables the keyboard and provides a number of configurable settings.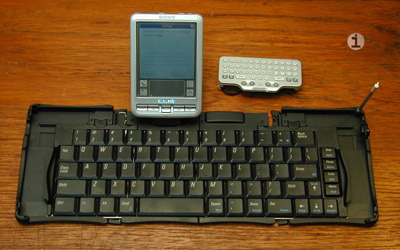 Words per Minute
With all the hardware set up, one more item and we're ready. WPM is a great little freeware utility from DDH Software (the HanDBase guys) that uses a standardized method for measuring words per minute. Here's how it works: tap the Start button, input the default phrase "The quick brown fox jumped over the lazy dogs." (which contains all 26 letters of the alphabet), tap the Done button, and WPM calculates a corrected WPM result. It also tracks top 10 scores, which is helpful for this comparison.

OK, a little warm up practice and let's...
...GO!
| | | | |
| --- | --- | --- | --- |
| Method | Graffiti | Mini Keyboard | Compact Keyboard |
| Average WPM | 28.2 | 32.7 | 59.1 |
| Std. Dev. | 2.5 | 2.6 | 6.4 |
| Max. | 33 | 36 | 69 |
| Min. | 26 | 30 | 50 |
For the "Input Showdown", I did a total of 20 runs for each input method and discarded the 5 slowest results. The results show that I can pretty consistently get almost 30 wpm with Graffiti and over 30 wpm with the thumbboard. With the full-size keyboard, I averaged almost 60 wpm. Because I've had a fair amount of practice over the years, I'm reasonably proficient with all three methods. As they're fond of saying on infomercials: "Individual results may vary". ;-) I'd be willing to bet that many people would find thumbboard speeds to be quite a bit faster than Graffiti.
Raw speed numbers only tell part of the story, and other factors are equally important. I've been a big fan of Graffiti for a number of years and particularly like being able to input while looking away from the screen. While great for short text entry, I find that my writing hand gets pretty tired when doing lengthy input (heh, or "speed-Graffiti" tests for that matter!). A thumbboard is a good alternative for longer input; email replies being a primary personal example, and the compact size adds to the convenience. People who aren't particularly fast or accurate with Graffiti often find that a thumbboard is a much better alternative than the "on-screen" keyboard. For extended text entry such as conference notes, nothing beats a full-size keyboard. It's a little bulkier to pack around and pretty well requires a flat surface to be usable, but the performance boost is worth it and many people find this combo to be an effective laptop substitute.
The bottom line is that with a little practice, all three methods can offer reasonably fast data entry, and each method definitely has it's own advantages. Try them for yourself, and let us know what kind of speeds you get!
All the above products are available from
SonyStyle.
Article Comments
(43 comments)
The following comments are owned by whoever posted them. PalmInfocenter is not responsible for them in any way.
Please Login or register here to add your comments.

Comments Closed
This article is no longer accepting new comments.