PIC Closer Look: The Handhelds of CES
Tuesday, January 28, 2003 4:30:39 PM

A number of handhelds made their debut at the Consumer Electronics show this year and many others were on display. PalmInfocenter Editor in Chief, Ryan, brings us pictures and details in this closer look at the Palm OS handhelds shown at CES.
PIC Closer Look: The Handhelds of CES 2003
by: Ryan Kairer, Editor in Chief
Jan 28, 2003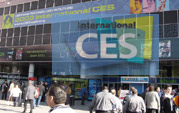 When I started PalmInfocenter over 4 years ago, there was primarily only one company making Palm OS devices and that was Palm Computing. Flash-forward to today and it is truly amazing to see the expansive variety of shapes and forms that the Palm Operating System has taken since that time. The OS that started from a brick of balsa wood can now be found in mobile phones, laptops and even wristwatches. The following is our overview of the latest Palm OS devices shown at the Consumer Electronics Show (CES) 2003. You can click on any of the images for a larger photo.
Sony
Sony has raised the bar yet again with its latest flagship handheld, the Clie NZ90. The NZ90 takes the large (320x480) screen and clamshell form factor and adds a 2 mega pixel digital camera and flash. The NZ90 is the most advanced integrated multimedia handheld on the market today. It can take digital photos in up to 1600x1200 resolution and can record audio and video. Built in Bluetooth and a WiFi card slot give you a choice of wireless options.
Additional new features found on the NZ90 include a new folding cradle that can folds behind the handheld and connects at the top underneath the camera unit. It has a usb "a" port that allows the clie to directly connect to compatible printers and other devices. There is also a power and AV out port, which lets you display photos on a television with a AV cable.
Sony was also showing the bright orange flavored Clie t665 Special Edition, reviewed previously. Right next to that was the Sony Ericsson Symbian powered P800 smartphone and the T300 camera phone.
Fossil Wrist PDA
Fossil had prototype models of the upcoming Palm OS wristwatch on display. It is amazing to see the palm os running on something so small, it?s almost like Dick Tracy?s timepiece realized. The WRIST PDA features an illuminated (160x160 grayscale) touch screen, 33mhz Dragonball, 2MB of memory, rechargeable battery, Rocker(TM) switch and IR port. The stylus is integrated into the watchband allowing you to enter Graffiti on the screen. Fossil says the watch will provide roughly 5 days of battery life between charges. It will be available in mid-2003, final pricing is still unknown.
Palm Solutions Group
Palm SG was showing off the Tungsten T and Tungsten W. The Tungsten W features the same high-res (320x320) screen found on the TT, GSM/GPRS wireless voice/data abilities, an integrated keyboard and a long lasting battery with over 10 hours of talk time.
Palm had some interesting accessories for the W on display. The Tungsten W features wireless voice abilities, yet lacks a speaker and microphone to do this. You are required to use a headset in order to make or receive phone calls. Jabra was showing their FreeSpeak Bluetooth headset, which includes a Bluetooth receiver that clips into the headset port. Ternary Tech had another solution in mind for the headset issue, an innovative cover/headset combo. The cover works much like the flip cover found on the V and m500 series, but has a speaker and microphone built in, very cool. Revolve Designs was also on hand showing their Unimount hands-free auto mounts that work with handhelds.
Garmin iQue 3600
The Garmin iQue 3600 is Palm OS 5 GPS enabled handheld. It has a vibrant 16bit 320x480-pixel transflective TFT display, 32mb of RAM and is powered by Motorola?s new DragonBall MXL microprocessor. The product integrates Garmin?s new Que Technology. Garmin has integrated GPS functions into the handheld, simply tap on a contact?s address in the address book and the iQue can show you a map with turn by turn directions and even give you audible turn by turn directions. It will retail for $589 and is expected to be available in the second quarter of 2003. Stay tuned for a full review.
Samsung
Samsung has formally introduced the SPH-i500 at CES. The SPH-i500 is a CDMA 1XRTT wireless smartphone. The i500 runs Palm OS 4.1 and sports a 66 MHz Dragonball, 16MB of RAM, a 160x240 TFT screen. The phone is strikingly small, 3.4 by 2.1 by .85 inches when closed and weighs 4.5 ounces. Unfortunately, the i500 lacks an expansion slot and an external LCD to check the caller ID when closed. Toshiba also had an interesting prototype mobile phone with an SD slot on display.
Kyocera 7135
Last but certainly not least, the Kyocera 7135 smartphone attracted plenty of attention on the floors of the LVCC. The 7135 features a small, lightweight clamshell design and CDMA2000 1X wireless technology. It is the only smartphone on the market to offer a 16bit display, Assisted GPS (A-GPS) technology, an SD expansion card slot and an onboard MP3 player. It runs Palm OS 4.1, has 16mb of RAM and a replaceable lithium ion battery provides up to 3.5 hours of talk and up to 160 hours of standby time. It retails for $499. You can read more in our preview.
Article Comments
(72 comments)
The following comments are owned by whoever posted them. PalmInfocenter is not responsible for them in any way.
Please Login or register here to add your comments.

Comments Closed
This article is no longer accepting new comments.

Only the first 50 comments are displayed within the article.
Click here for the full story discussion page...