Quickies: Tapwave, palmOne, SugaTris, SSH and More
Monday, August 25, 2003 12:52:11 PM
Tapwave has released a bit of more information about the upcoming Zodiac handheld. palmOne has secured a new $18 million equity investment, SugaTris is a new Tetris like game that has been released for multiple platforms at once, Warfare Inc a new RTS games is being previewed and much more in todays quickie update.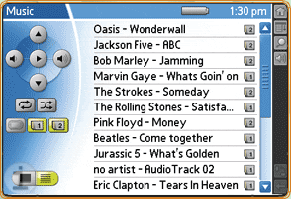 More Tapwave Zodiac Info
Tapwave has released another section of it's teaser campaign on the Zodiac website. The comany has announced they will begin taking pre-orders in mid-September, confirming earlier information. The device will be based on Palm OS 5.2 and will feature a 3.8 inch diagonal 480 x 320 pixel screen, analog joystick and game buttons, 3D graphics acceleration, stereo sound and Bluetooth. There will be two versions. A mainstream model with 32 MB of RAM, will cost $299 and a higher end, with 128 MB, will sell for $399. The company has also released a new screenshot of the built in audio program.
$18 Mil Palm Equity
Palm, Inc. announced that it has completed an $18 million equity offering for 1.2 million shares of Palm common stock at $15 per share. The shares were issued to an institutional investor through Palm's existing $200 million shelf registration on file with the SEC. The proceeds will be used for general corporate purposes by the Palm, Inc. Solutions Group. Palm negotiated the transaction itself. The price represents a nominal discount over a 15-day volume-weighted average price. Palm had approximately 29.3 million shares outstanding as of July 25, 2003.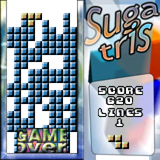 SugaTris, multiplatform
SugaTris has been released from iNDUSTRY Entertainment. SugaTris is logic game based on the classic Tetris game. It offers classic game mode and advance game mode with additional shapes to play with and wonderful graphics and sounds. The game is available for $7.50 for all platforms.
It has been developed using the SHARK development kit from MobileWizardry, which allows a single code base to be recompiled natively onto multiple platforms. the application comes in three varieties, 160x 240x and 320x resolutions, which are chosen based on the device the game is implemented onto.
Palm OS 5.3
Seeding versions of the OS 5.3 Simulator and OS 5 Release 3 SDK are now available for download in the developer seeding area at PalmSource (Dev login required).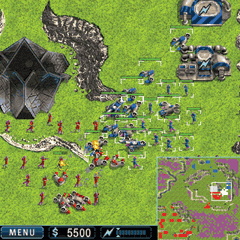 Warfare Inc
Handmark is showing off a new game currently under development. Warfare Incorporated looks like a real time strategy game along the lines of Command and Conquer and Warcraft.
AEGIS Security for the Tungsten C
Meetinghouse has announced that AEGIS Wireless LAN Security now provides enterprise-class security for the Palm Tungsten C. The security software product is the result of a new relationship with Palm, Inc. The new solution provides enterprise-class wireless LAN (WLAN) security for the Palm(TM) Tungsten(TM) C handheld.
TuSSH terminal
TuSSH is a new SSH client for Palm OS devices with a 320 by 320 screen. This is a early alpha release of the software.
PUG user meeting in London
3-Lib, the UKPUG and various sponsors (below) are proud to announce the next PDA user meeting, in London (near Paddington Station) from 6pm to 9pm on September 26th 2003. It's all free. Free drinks (for the first hour or so if all goes according to plan), free door prizes, free admission and masses of good chat, gadgets, demonstrations and expertise. Open to all! More details here.
Last Bell
Varibyte introduced Last Bell in time for back to school shoppers. LastBell is a schedule program. It allows students to schedule their classes for each day of the week. Information entered is automatically sorted by the program. LastBell also goes to the current day of the week. It is compatible with HW Diary another Varibyte product. It sells for $9.95.
FlyZip XR 2.5
?Elegant Algorithms has announced the release of FlyZip XR 2.5 with ARM-native support and unique functionality of memory card usage. Powerful compression engine can be used also by any third party application through FlyZip XR 2.5 SDK. FlyZip XR 2.5, allows programs to be compressed giving more space on the extension memory card, but also allows currently running applications fully function from the memory card unlike Palm OS built-in memory card support.
Article Comments
(8 comments)
The following comments are owned by whoever posted them. PalmInfocenter is not responsible for them in any way.
Please Login or register here to add your comments.

Comments Closed
This article is no longer accepting new comments.