PalmSource Completes Acquisition of China MobileSoft
Thursday, February 3, 2005 9:25:08 AM
PalmSource today announced the completion of its acquisition of China MobileSoft (CMS). CMS is a leading Chinese mobile phone software company with business operations headquartered with its wholly owned subsidiary, MobileSoft Technology (Nanjing), in China.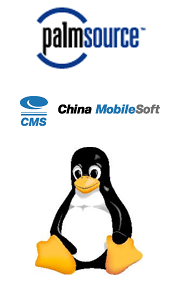 CMS provides mobile device manufacturers and original design manufacturers (ODM) complete, integrated software platforms and user-friendly applications for the Chinese market. CMS currently has 10 licensees shipping CMS software on over 30 phone models in China.
Jiping Wang will continue as CEO of the acquired company and will report to David Nagel, PalmSource president and CEO. In addition, Madeline Duva, CEO of China MobileSoft, joins PalmSource as vice president, silicon and ODM partners, and John Ostrem, founder, chairman and CTO of China MobileSoft, joins PalmSource as lead scientist.
PalmSource acquired CMS as part of its strategy to further extend the Company's leadership as a software provider for phones and mobile devices worldwide. The combination of Palm OS and CMS's software products is expected to enable PalmSource to provide one of the broadest lines of mobile software in the industry, powering mobile phones at all price points in all regions of the world. Over time, PalmSource expects to leverage the work CMS has done with Linux to provide a new version of Palm OS based on Linux. The Company will continue to support the Palm OS(R) Garnet and Palm OS(R) Cobalt operating system software lines.
"This acquisition of China MobileSoft is part of our strategy to expand our focus and provide software to a much wider phone and mobile device market than we have addressed previously," said David Nagel, president and CEO of PalmSource, Inc. "This is the next stage in our growth and a major milestone for the mobile phone industry. We plan to offer the ease-of-use and flexibility that Palm OS(R) is known for to all mobile phones and devices."
Financial Terms
PalmSource issued approximately 1,570,000 shares of PalmSource common stock in exchange for the outstanding equity and rights to acquire equity in CMS for a total purchase price of approximately $16 million. In connection with the acquisition, PalmSource's compensation committee approved the issuance of restricted stock, with a two year vesting schedule, and stock options, with a four year vesting schedule and exercisable at fair market value, totaling 219,966 shares to a total of 141 employees and consultants as part of the incentive plan to retain their services following the acquisition.
Related Articles:

Article Comments
(12 comments)
The following comments are owned by whoever posted them. PalmInfocenter is not responsible for them in any way.
Please Login or register here to add your comments.