Palm Pre 2 Has Native CPU Scaling
Wednesday, November 17, 2010 2:52:47 PM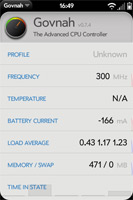 One of the most severe complaints lodged against the Pal Pre and Pre Plus to date has been weak battery life. By utilizing the same legacy 1150mAh battery design as seen in the Palm Centro and 800w across the full Pixi, Pre, and now Pre 2 lines, Palm has had to resort to OS and hardware tweaks in order to achieve longer run times.
Thanks to a few Tweets from WebOSinternals and Markus Leutwyler, a Govnah screenshot indicates that the new Pre 2 dynamically scales its clock speed between 300Mhz when idle and 1Ghz when under full load. This wide range of CPU speed stepping is done natively without any additional patches or hackery on the part of the users, which is why a stock Pre 2 can not only outmuscle its older siblings but also outlast them even when powered by the exact same battery.
While this change is presumably due to the newer TI OMAP 3630 CPU architecture in the Pre 2, it is not confirmed if WebOS 2.0 will bring any sort of tangible battery life improvements to older WebOS devices when it is released in the coming months.
Leave a comment...

Click on the
Start New Comment button
below to begin a discussion.
You must be
registered
and
logged in
to add comments.