Epocrates Ends Support for WebOS
Tuesday, December 21, 2010 11:49:20 AM
In a fateful day not only for WebOS users in the medical field, but to the platform as a whole, Epocrates recently announced plans to terminate support for WebOS entirely. Citing "...the relatively low interest level among our user base", WebOS is terminating the app after fielding one last clinical update sometime in mid-December.
This move may come as a surprise to some, considering the company's long and glorious history with Palm OS devices, as evidenced bythis PIC feature on Palm OS handhelds in the medical field back in 2001. Even in the lean recent years of Palm, the company supported their Palm OS app on WebOS through Motion Apps' Classic (another recently-departed app) before launching the native WebOS version in February of this year.
The final date to install or update the product will be February 1st. On that date, the app will be removed from Palm's App Catalog. Afterwards, the app will continue to function until an unspecified time in May, upon which the app will be remotely terminated and cease to function entirely.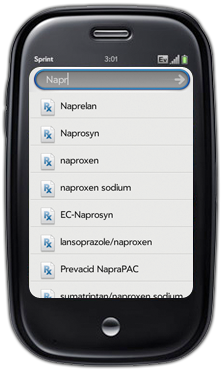 As alternative measures, Epocrates is encouraging users to access their online site, which is formatted to be mobile browser-friendly. Additionally, they recommend users consider migrating to the iPhone/iPod Touch, and Android versions of the Epocrates app.
Somewhat surprisingly, the announcement for the cancellation of the WebOS version of Epocrates is nowhere to be found on the Epocrates web site, as news of this move came via email to registered users. The full text of said e-mail is below:
Due to the relatively low interest level among our user base, Epocrates has decided to discontinue support of the Palm® webOS™ platform for smartphones.

There will be one last clinical update in mid-December and we will notify you as soon as it is available. If you need to install or update the product, please do so by 2/1. On that date, we will remove the application from the App Catalog.

You can keep access to Epocrates content through our online site , which is optimized for your mobile device. Please note this will require Internet access. Also, if you are in the process of deciding on a new device, we encourage you to look at Epocrates products on iPhone® and iPod touch® and Android™ devices — with quick access to all you need at the point of care.

The Epocrates Rx® for Palm webOS application will cease to work in May. At that time, the app will not open and will cease to function.

Please see our FAQ for additional information.

Sincerely,
The Epocrates Team
Leave a comment...

Click on the
Start New Comment button
below to begin a discussion.
You must be
registered
and
logged in
to add comments.