HP Holding a Refurbished TouchPad Sale Dec 11
Thursday, December 8, 2011 6:05:27 PM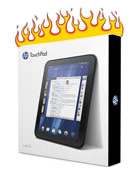 Just when you thought it was safe to start your holiday shopping for an Android or iOS-based tablet, HP has announced a curious return of the fire sale TouchPads, albeit as a slightly less attractive offering than what was offered during the original August blowout.
Beginning December 11th at 7PM Eastern time, HP will make a limited quantity of refurbish 16GB and 32GB TouchPads available through their eBay store. In addition to the two tablet SKUs at the previous $99 and $149 price points, HP will be offering a bundle consisting of a case, TouchStone charging dock, and Bluetooth wireless keyboard for $79.The timing for this clearance sale is new especially intriguing in light of the announcement expected for Friday, December 9th on the fate of WebOS. Thankfully, the purchase of a companion HP PC is not required.
Additional terms of the deal include a maximum of two units per customer and PayPal as the only form of payment, a restriction certain to cause some grumbling. Unlike the new TouchPads previously offered during the fire sale, these devices are factory-refurbished and carry only a 90-day guarantee unlike the full year of warranty offered by the new TouchPads. All sales are final unless defective.
Finally, in a nice nod to their staff, HP employees will be offered first dibs on this refurbished stock before the general public.
Additional details can be found in the full text of the HP announcement below:
To: U.S. HP Employees

HP employees will have a chance to purchase a refurbished HP TouchPad via eBay before the sale is announced to the general public. Specifically, the TouchPads will be offered through one of HP's newest marketplaces for close-out and refurbished HP products, the new HP eBay Store.

This product will NOT be available through any other HP stores, such as the Home & Home Office store, Small & Medium Business store, HP EPP or the HP Business Outlet. PLEASE DO NOT CALL ANY OF THESE CALL CENTERS BECAUSE IT DISRUPTS REGULAR SALES ACTIVITIES AND THEY'RE UNABLE TO PROCESS AN ORDER FOR THE TOUCHPADS ANYWAY.

In an effort to give HP employees first chance at a very limited supply of refurbished TouchPads, there will be a short delay between when the product is posted live for sale on eBay and when the general public is notified of the sale. Refurbished HP TouchPads, both 16GB and 32GB versions, will be posted for sale through the HP eBay store at: 6:00 p.m. (Central Time), Sunday, December 11th. If you are interested in purchasing a refurbished TouchPad, please make yourself a reminder to log-on to eBay a few minutes before the sale starts to make your purchase. The TouchPads will be available for sale here (under "Laptops"): http://stores.ebay.com/hewlettpackard

Important information about this sale:




There will be both 16GB and 32GB versions available, selling at a fixed price of $99 and $149 respectively…while supplies last.



There is also an optional 3-piece Accessory bundle with a Case, Charging Dock & Wireless Keyboard for $79 (est. value $199.97).



Purchases must be made through the HP eBay store via PayPal only. If you do not have eBay or PayPal accounts, create your accounts before the sale begins to avoid delays.



The product offer will be announced to the general public on Monday morning and is expected to sell-out quickly thereafter, so don't delay.



There will be a limit of two (2) TouchPad SKUs per eBay member, sold on a first come, first served basis.



This sale is not associated with any HP-sponsored employee purchase program and there are no additional discounts for HP employees off the HP eBay store price.



All sales are final. There are no returns unless product arrives defective.



The refurbished TouchPad product comes with a 90-day limited warranty.



Please note that eBay orders only allow one ship-to location per order.

Thank you for your cooperation, good luck to you and don't forget to mark your calendars for 6:00 p.m. (Central Time), Sunday, December 11th.
Article Comments
(1 comment)
The following comments are owned by whoever posted them. PalmInfocenter is not responsible for them in any way.
Please Login or register here to add your comments.