Opinion: Sony to US Market: Sayonara?
Wednesday, March 14, 2001 5:04:03 PM
Although Sony today announced the most advanced PDA running the PalmOS, there is still pessimism in the air about Sony bringing it to the U.S. Why? This article speculates on the possible beginning of the end for Sony.

It's just gorgeous. The new Sony PEG-N700C is a marvel of design and engineering. It contains the fastest Motorola Dragonball processor, a custom DSP for ATRAC 3 compressed audio playback, Memory Stick/Magic Gate slot for storage and media, audio jack with headphones and remote control, plus a killer 320x320 pixel screen. There's even provision for video playback! What's not to love?
What's not to love is that this is a device that will probably never see the light of day outside of Japan.
For many years, we Americans have looked goggled-eyed at products created and sold in Japan which have never arrived here in the US. The most prominent example is Sharp's Zaurus line of color PDAs. Long before Microsoft's "palm-sized PCs" had color, Sharp was flogging a TFTed active-matrix color Zaurus in Japan. They even displayed it at PC Expo one year, attracting a large crowd that was ready to fling cash at them for the unit. Yet it never made it outside of Japan.
A similar fate seems to be in store for Sony's new PEG-N700.
Why?
Let's review Sony's Clié actions to date.
The PEG-300 is Sony's monochrome Clié. It was introduced first in Japan, then released in the US. Just this week, it was finally released in the UK.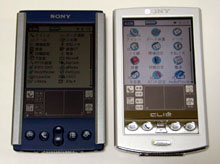 The PEG-500 is Sony's (first) color Clié. It was never sold outside of Japan, despite the clamor here in the States for a Clié with color. This was actually a good move by Sony because the color screen was inadequate in many respects. Unlike our generally-accepted idea of a color screen having a bright backlight (or transflective with sidelighting), the Sony color Clié screen was a moribund technology that seemed to resemble a standard PalmOS monochrome screen with colors added by crayon. No crisp white background; it had an ugly greenish-tannish background. It would have never sold here. It is quite remarkable that it sold in Japan at all.
Now Sony has introduced the startling PEG-N700. But without any clear-cut plan to sell it in the US.
Why?
Sony is obviously committed to their Memory Stick standard. They had the first mass-market PalmOS device with mass storage built-in (although the folks at TRG were the first with mass storage, they were not marketing to the general public, instead concentrating on corporate solutions; and Handspring, although offering storage, actually provided a new interface slot). The Clié fit into Sony's overall Memory Stick strategy, in which Memory Sticks are used in their digital cameras (still and moving video), audio players, notebook and desktop computers. But outside of Japan, Memory Stick has not had much of an impact. This was Strike One against Sony.
Strike Two came very shortly (in fact, within days!) after Sony introduced their first mono Clié. Palm Computing announced that all future Palms would standardize around the Secure Digital (SD) card standard for expanded memory. This was a blow to Sony's aspirations, no doubt, but it was also history repeating itself -- VHS vs Beta. Because the prime mover behind is SD is none other than Sony's old nemesis, Matsushita, which beat Sony into the ground in the great VHS-vs-Betamax VCR wars.
Earlier today, in exchanging email with Jeff Kirvin (who runs the excellent Writing On Your Palm website), we hit upon the possible reason why Sony will never introduce the PEG-N700 here in the States. And while this is very bad news indeed for Clié afficionados (who are many and vocal), it is perhaps the best possible news for Palm owners and makes perfect sense as the Strike Three that takes Sony out of the American market.
Strike Three is that it is entirely possible that the new color Palm m505 will itself contain a screen with 320x320 resolution as found on the new Sony Clié PEG-N700C.
This makes perfect sense. If the m505 were to still contain a standard 160x160 pixel screen, Sony would be mad to keep their new Clié in Japan. And yet this time I think Sony knows something the rest of us don't: that aside from being beaten in the storage war (SD vs Memory Stick), it will find itself more than matched in terms of screen technology. And what's even worse, for Sony, the brand name on that new screen will be Palm, a name known by millions of PDA owners (whereas the usual response of people towards Clié in retail stores is, "I didn't know Sony made a PDA...").
All of this explains Sony's past lack of enthusiasm in supporting even the mono Clié in the US. There is, for example, no comparison between Sony Japan's website for Clié and Sony America's website for Clié. One could in fact argue that Sony America doesn't even have a website for Clié. Sony Japan's site provides tutorials, user experiences, and detailed explanations for their software upgrades. Sony America's site is a pathetic, anemic creature that is near-autistic in its responsiveness to customers who have invested their time, money, and passion in their Cliés. It is, bluntly, a disgrace.
Concommitant with this lack of web presence and customer support is the lack of even basic peripherals for existing Sony Clié owners. A modem has never been released, either in serial port clip-on form nor in Memory Stick form factor. Even something as basic as hard shells, something designed to catch the eye and make people ask Clié users, "What is that?!", have never been released outside of Japan. Until very recently, Sony Japan's website touted blue and red translucent flip covers for the benefit of Japanese Clié owners. American owners have been up the creek.
Word has even now come from Targus that they have no plans to support the existing Clié with their folding Stowaway keyboard. Like the recently-dumped Compaq Aero 1550 Pocket PC, Clié owners must make do with the non-foldable (yet still useful) iBiz KeySync keyboard.
And even with the enthusiasm surrounding today's introduction of the new Clié PEG-N700C, Sony has been strangely silent on the subject of the existing monochrome Clié. Do they plan to add a faster Dragonball to it? Or will the new PEG-N700C, if it does indeed wend its way to our shores, be accompanied by a monochrome "N700"?
The weight of these actions on Sony's part can only lead to an awful yet inevitable conclusion: The Clié is most likely destined to be abandoned by Sony here in the US. The current monochrome version is most likely it and we will never see the likes of the PEG-N700C on these shores. Spend your money accordingly and carefully.
(c) Copyright 2001 by Mike Cane. All Rights Reserved.
Article Comments
(58 comments)
The following comments are owned by whoever posted them. PalmInfocenter is not responsible for them in any way.
Please Login or register here to add your comments.

Comments Closed
This article is no longer accepting new comments.

Only the first 50 comments are displayed within the article.
Click here for the full story discussion page...