A Deeper Look at the HandEra 330
Wednesday, April 25, 2001 11:05:06 AM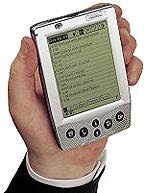 Now that the first rush of excitement is over with the release of the HandEra 330, it is time to take a longer look at some of its features.
The device's 240x320 pixel screen is possibly its most important new feature. Rather than simply use pixel doubling, the 330 takes the raw output an application is sending to the screen and totally reformats it using higher resolution fonts before displaying it. Applications may a require a bit of modification for this to work but it means the same app that runs on a 330 can run on a 160x160 Visor or other Palm.
The 330 will ship with Quickoffice 5.1, which has been modified to use the new screen. This suite will perform two functions most business users want their handhelds to perform out of the box: access Microsoft Word and Excel files.
For applications that haven't been modified to take advantage of the 330's screen, HandEra offers three options. First, it can do something like pixel doubling, except that each pixel becomes 1.5 pixels, stretching the display from 160 to 240 pixels. The other two options are to display the application at the old resolution in a small window, either in the middle of the display or in the upper left hand corner. Because the 330's pixels are smaller than those of other Palm powered handhelds, apps displayed like this will be smaller than they appear on other devices. Take a look at the image on the right for an example of this. (Thanks to Mike W for the screenshot.)
The downside is the 330 isn't likely to be a great platform for playing games. Increasing the resolution slows down screen refreshes slightly and, if the other options are used, few gamers will be interested in playing even smaller versions of their favorites. Add in the lack of color and hard-core gamers will almost certainly be looking elsewhere for their next Palm.
That brings up the issue of target market. HandEra designed this device with the business user in mind. They plan to primarily sell it directly companies seeking to give them to their employees for some specific business task, like salesforce automation. However, they are aware that plenty of consumers will like the 330 so they are offering them in retail stores. But notice that they will mostly be sold in office supply stores rather than consumer electronics stores. HandEra is mostly unconcerned about its limited game-playing ability; this is a business-oriented handheld.
Another major feature is the expansion slots, of which it has two: an SD slot and a CompactFlash one. HandEra's primary plan with this was to have one for memory and one for hardware expansion. The SD slot at this time is good only for memory expansion. The Secure Digital Association is still working on the Input/Output specification needed to allow SD modems, cameras, and other peripherals to work so these aren't likely to appear before Fall. However, there are plenty of CF I/O devices already on the market. HandEra's plan is to allow users to use both simultaneously. Apparently, one of the frequent complaints from users about the TRGpro's single expansion slot was the need to remove a memory card before plugging in a modem, for example.
Some CF peripherals, especially the microdrives, require quite a bit of juice to run. To handle this increased battery drain, the 330 uses either four AAAs or a lithium-ion battery pack. This satisfies users who prefer the convenience of not being tied to a wall plug and those who prefer to not have to frequently buy new batteries. Also, this means the 330 has one of the most flexible power options of any Palm. Even if a user has the li-ion pack, if they run out of power in a place where they can't recharge, they can just remove the pack and put in some AAA's and keep going.
It should be noted that even at its heaviest, with all four batteries installed, it still weighs less than the Palm IIIxe, which is the same size. Getting the li-ion pack shaves half an ounce off. While we're on the subject, the li-ion pack can be charged from the cradle or from an external AC adapter.
A discussion of batteries leads easily into one on a major feature than the 330 does not have and for which many have immediately attacked it: the lack of a color screen. HandEra examined the possibility and eventually decided to hold off on a color model because they were determined to have the high-resolution screen. They determined that a full-color, high-resolution screen would have given the 330 an unacceptably short battery life. As discussed earlier, they are targeting the 330 towards business users who are frequently away from places where they can charge a handheld for long periods of time. Also, they were trying to keep the device as inexpensive as possible and a color screen would have increased the price considerably. However, HandEra hasn't totally dismissed the idea of color. As screens become more efficient and battery technology improves, they may someday have a model with a color screen.
Another feature they passed on is USB. This is another decision made based on their target market: business users. Many companies are far behind consumers when it comes to technology and the business world is full of computers with no USB support. This includes all computers that run Windows NT and the USB support in Windows 95 is questionable.
While this may seem amazing to some who don't work in large, conservative companies, it is true. As a quick example, let's take a look at the usage statistics for this site. Today, just over 15% of readers are running Windows NT and almost 6% Windows 95. HandEra simply couldn't ignore about 20% of their potential market. This is especially true when considering that USB doesn't add any additional capabilities over a serial connection besides speed of HotSyncing.
Also, adding USB would have required them to redesign the serial port, which would have removed one of the 330's most useful features: its backwards hardware compatibility. The device can use all clip-on peripherals designed for its predecessor, the TRGpro and the Palm III series. For companies that have already invested in large amounts of expensive equipment, like wireless modems, this can be a major selling point. This can also be a selling point for consumers who would like to keep their investment in III series peripherals and were irritated by Palm's abandonment of the Palm III form factor.
Finally, HandEra has donated a 330 to #palmchat, the Palm IRC channel on the OpenProjects network. It will be given away tonight, April 25, at 9:30 pm EDT (6:30 pm PDT, 2:30 am GMT). To win, you must log onto #palmchat between 8:30 and 9:15PM. You must also be present at 9:30 pm when the winner is announced.
Article Comments
(41 comments)
The following comments are owned by whoever posted them. PalmInfocenter is not responsible for them in any way.
Please Login or register here to add your comments.

Comments Closed
This article is no longer accepting new comments.