What I Saw at PC Expo 2001
Monday, July 2, 2001 5:32:28 PM
While we've had a report from the PC Expo already from Ryan, he concentrated solely on the Palm products. This report from Mike Cane covers not just Palm-related products but a whole host of others, including laptops, peripherals, electronics, and even some Pocket PC products that were at the Expo..
What I Saw at PC Expo 2001
By Mike Cane
© Copyright 2001 By Mike Cane. All Rights Reserved.

I'm beginning to despair for PC Expo. Two years ago, it was a massive show, spanning three floors. Last year, it was an exciting show on two floors. This year, it was on life support barely filling one floor. What has happened?
What was sorely missing was that second floor filled with the single-table booths of the "little guys" from all points showing off their nifty little gadgets and accessories, as well as the dealers offering an assortment of items at discount prices. I can't tell if this shrinkage was a conscious decision on the Expo's part or if this year reflected just how bad the economy actually is (and if the economy is that bad, start putting cash under your mattress!).

What follows is a report of the Expo that covers PalmOS as well as several non-PalmOS items. Let me start with the things that made me say WOW! when I saw them:

PalmOS (Handspring): Ryan and Palm Infocenter have previously mentioned the SnapNType mini-keyboard for the Visor. I actually tried it and was very impressed. It balances very nicely in the hand, is very comfortable to hold, and I was able to type on it immediately using opposite thumbs without any typos. Although it covers the Power and Application Buttons, and Silkscreen Icons, all of these functions are replicated on the unit itself, so nothing is lost. In fact, you gain an advantage by not having to pull out the stylus at all! Cursor keys are active not only for moving through a document, but for pulling down and selecting items from menus too. This company will make a ton of money with this. I cannot wait for a m5xx version. This is perfect for typing when you're on a bus or subway or just sitting in a doctor's office. It's easily pocketed and comes with a snap-on top that protects the insides from dust. Power is drawn from the Visor. Also impressive (but less interesting to me personally) was the SnapNPlay accessory for playing games; it really does vibrate when actions take place in games. No special APIs are needed to be used by developers for this device to work with existing games. It is powered by a AAA battery.

PalmOS (all units): Blue Nomad is incorporating FineType technology into the next version of WordSmith. I saw a full demo of the next version of WordSmith running on a Handspring Visor Prism. I don't like the Visor (or the IIIc) screen, so I wasn't that crazy about seeing this on such a "griddy" screen. But then I was shown FineType on both a m505 as well as a very early alpha of FineType on a Clié N710C. My jaw still drops recalling the smoothness of the type on the m505! WordSmith with FineType will be to the Palm m505 what VisiCalc was to the old Apple II: the one application that will make people run out and buy the m505. With FineType, the m505 (when using DOCs and Memos) has fonts that rival, if not actually exceed, those of the higher-resolution Clié. The combination of WordSmith with FineType and PrintBoy delivers the Holy Grail of pocketable computing: having a formatted resume that can be beamed to an IR-capable printer.

PalmOS (all units): Bachmann Software, best known for their excellent PrintBoy utility (which is made even better when combined with Blue Nomad's WordSmith running FineType!), demonstrated a beta version of their FilePoint file management system. This is an incredibly useful and much-needed utility that is akin to Windows' File Explorer. Files can be placed into their own folders; new folders can be created; folders can be nested within folders; files can be easily moved between folders -- Drag-and-Drop is due to be incorporated! Initial support for FilePoint will provide support for several (unnamed as yet) DOC readers, the QuickOffice suite, WordSmith, Documents to Go, MiniCalc, thinkDB, TinySheet, and the native MemoPad app. I'd like to see support for MGI PhotoSuite make it in there too! A beta version is currently available free for testing.

PalmOS/Pocket PC (all units): ZFrame was mentioned in an earlier article. I got to see it in action on a Visor Prism with a wireless connection. I was astonished to see this website pulled up in a miniature version (and much faster than I've had it come up on some wired connections at times!). Tap on an area and the text pops up in a box for easy reading. If there's a link in that box, tap on it and the full text (without formatting) is speedily displayed. This is a very appealing solution for accessing formatted web content without, for instance, the painful scroll up/down left/right demanded by current PalmOS and PPC web browsers. A beta version is available; however, the prior article published here mentioned a fee for use. This is possibly for the wireless version. A HotSync version (ala AvantGo) is also supposed to be in the works and I'd be very surprised if that came with a fee. Any company interested in delivering legacy web content to wireless devices would do well to investigate this solution.

Windows (all PCs): Dynamic Karma made a deep impression upon Windows users by demonstrating Power Drawers, a utility that takes the frustration out of using Windows. The many things it does could fill a website of its own and I suggest you read all the details there. But let me just say this: After trying this (there's a trial version available), I doubt you will ever want to go back to using Windows without its assistance. It works with Win 95, 98, NT 4.0, ME, and Win2K. It requires a paltry 2MB of drive space and costs just $34.95. Trust me, this is something you will want to have.

Continuing in no particular order...

Sony showed their two new Cliés, the monochrome S320 and the 65,000-color capable 610N. Details of these units have already been spread around the web. What you might not know is that a new program called MS Import is included with both. This software will allow the Clié to become a Memory Stick reader/writer on its own, for transferring files back and forth from your PC and MStick. (Current N710C owners must launch Audio Player and go to the Menu and select Transfer.) Both units run PalmOS 4.0. And the N610C is a full 65,000 color capable unit. Someone beamed McColors over; this is a program that allows bit depths and colors to be toggled through on a PalmOS device. It proved that all 65,000 colors are in the new N610C.

Sony also displayed their eVilla "internet appliance." It resembles an original Macintosh on steroids. It has a great keyboard and despite initially offering Web access via a built-in 56K modem, there's actually a Network Interface Card already built-in, so when Sony can find a nationwide broadband Net provider, users can enjoy access via DSL or a cable modem. As for the functionality of this device, I used it several times to access the Net for news and to read/send e-mail and it worked fine. Interestingly, when I used the Address Book in YahooMail, I did not get a second window opening (which is normally the case); instead, the screen split in half with the Address Book appearing in the lower portion. There is no internal storage on this machine at all. And the only interface to external storage is via a Memory Stick slot. This might be a useful device for Clié owners or owners of Sony cameras (viz, easy to send photos over the Net), but it will be a difficult sell for those of us who are already experienced in using the Net. Good luck, Sony!

WizCom Technologies was again displaying their terrific pen-OCR, the QuickLink Pen. This time they were also showing their incredible Memory Extension Kit, which includes a 4MB flash memory card, a serial cable, a CD with updated QL Pen applications, and a variety of language dictionaries: Spanish*, Italian*, Danish, Swedish, Japanese, Portuguese*, German*, Chinese (both Simplified and Traditional), French*, Hebrew, and Korean. (Asterisked languages have bi-directional options; all other languages translate from English to the destination language.) I have been using the QL Pen for over a year, have scanned close to two megabytes of text with 98% accuracy and could not live without this. Anyone who deals with text should have one. It beams text to a Palm (and to a Pocket PC using Peacemaker Pro) flawlessly. (Regular readers will know that I have promised a full review of this. Soon!)

eGrabber was demonstrating their AddressGrabber program which makes it easier than copy&paste to import contact information from e-mail and the web into a PalmOS device using an omnipresent floating toolbar. Their are two versions: the $49.95 AddressGrabber Deluxe for individuals and the $89.95 AddressGrabber Business version. A fully-featured 15-day trial version can be found at this link.

Electric Fuel displayed their Instant Power chargers available for a wide variety of cellphones and PDAs, including the Cassiopeia Pocket PC series, the iPaq Pocket PC series, Visor Edge, Prism and VisorPhone, Palms V, Vx, m500 and m505. These are disposable zinc-air batteries that are being carried by many retailers. When you first buy one, it costs about $20 and includes a cable specific for your device. Depending on your device, it can deliver from one to several recharges. When the battery is emptied, throw it away. But save the cable! The next purchase will cost just $10 for a battery, without any cable. Although Palm itself will be releasing a Travel Charger, and several third parties offer travel chargers for a variety of devices, this is great fail safe for those times when you forget to pack that travel charger and need the peace of mind that comes with easily portable power -- hop into a major retailer and the odds are they will have them for sale.

Kodak was demonstrating the new PalmPix for the m5xx series. Previous reviews of prior versions of the PalmPix found on the Web have been very critical of its picture quality, which is ironic given that Kodak is to photography what IBM was to computing. The latest PalmPix is an improvement on past efforts but it still won't take the place of a dedicated camera. However, at its price and for its convenience, it is very compelling. On an m505, the screen acts as a mono(!) viewfinder. Once a picture is snapped, the on-board software displays a low-resolution proxy of the image. The complete picture information cannot be seen until the image is HotSynced back to a computer and then loaded into an album program, such as MGI PhotoSuite (bundled with the new m5xxs). Kodak's Product Manager said they chose to do things this way because it made no sense for them to duplicate software already available. I tend to agree with this line of reasoning. The other advantage of not showing full picture information immediately is that this lower-res file can be beamed to any Palm; this is to maintain backward compatibility. While I was seeing a demo, the president of MGI Software stopped by to investigate how this new PalmPix could be better integrated with PhotoSuite. I imagine that at some point it won't be necessary to HotSync and then transfer photos into PhotoSuite to see them in full. I expect everything will be done on the Palm itself.

Still on the subject of photography, Aiptek displayed three models of their PenCam, a camera that looks like, well, a fat pen. Unfortunately, none of these were connected to a computer for a live demo, so picture quality is unknown. These might be a good alternative for those who do not wish to get a Kodak PalmPix -- with the caveat that there is no way to get a picture into a PalmOS device without first moving the pictures back onto a PC and then HotSyncing them. The Aiptek people were insistent that people should look for their brand name on cameras that are pen-sized. They stated there are many similar units on the market, some of which fall far short of the kind of quality they are producing.

At the higher-end of cameras, Panasonic demonstrated their two models of iPalm digital cameras, the PV-DC3000 and PV-DC3010. Both use Secure Digital media and offer 3 levels of resolution, maxing out at 2,048 x 1,536 pixels. What makes these of interest to m5xx owners is that the SD card can be transferred from the camera to the Palm and photos can be displayed immediately.

Coming full circle back to the Kodak booth, SkipWire was demonstrating their wireless service which allows photos taken with a PalmPix to be immediately sent over the Net with a wireless connection. It also allows wireless HotSync and, when storage is at a premium (on an m5xx device with a slot?), the ability to move software off the Palm onto their network for safekeeping.

Microtech introduced a version of the CameraMate peripherals that offers a Compact Flash read/writer combined with a Memory Stick read/writer. MSRP is $69.95. Clié owners who have both types of media (Jeff Kirvin!) will probably find this very useful. Requires a USB connection.

Two PalmOS software publishers I had questions about came to display at PC Expo!

First was Global Star Software, which produces several packages I have seen in several NYC retailers: "100 Great Games," "50 Great Utilities," "Vegas Casino," "Chess Checkers Reversi," "Storm Front" and (my favorite!) "Mahjongg." They are expanding their catalog considerably with titles such as the full line of Eruptor's PortaPets (Pam! Bush!), Austin Powers Pinball, Action Bass, Jetfighter, Shooting Gallery, Serious Sam, Mad Gar, Grand Theft Auto, and (my favorite!) Mahjongg Volume 2. They will also add a productivity title, Day Planner.

Second was Cosmi Corporation, which markets under the SwiftWare label the following programs for both PalmOS and Pocket PC devices: Portable Journal, Casino Games, Bible to Go, Books to Go, Street Maps & Vacation Planner, Super Game Pak, and Trivia Deluxe & Quizzler Pro. All of these are original programs created by or for the company. Whenever I have seen packages from Global Star or Cosmi in stores, I've always wondered if these were legitimate or somehow second-rate. I've been assured by both companies that they are serious about addressing the handheld market and buyers should be confident enough to try their products.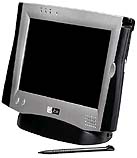 Qubit was demonstrating its Orbit webpad. (Although it is marketing it as a "Web Tablet," it is actually more Pad-sized.) Pop over to their site for full specs; I will simply concentrate on what it was like to use this 802.11b-connected device. The main problem I see with these devices is getting used to tapping on an on-screen keyboard. Although I tend to do this quite a few times on my own PalmOS device (despite being Graffiti-literate), I found myself being overly-cautious in tapping on the Orbit's screen. It's a device that costs over $1K! I managed, of course, to come across a nasty bug in trying it out: when I accessed my YahooMail account and click on the Address Book to send mail, the second screen did not work properly. Initially, it would not accept input. A second time revealed the prior AB window had not closed (despite tapping Done) and the new one did not display any addresses! It seems there are still some issues to be worked out with this device before it can head to everyday users; currently it is marketed strictly to corporations.

frontpath was also displaying a webpad, called the ProGear. This was running a Transmeta TM3200 400MHz x86 chip. Very similar in design was a webpad from ViewSonic, called the ViewPad 100, running on a 206MHz Intel StrongARM SA-1110 chip. ViewSonic also had a Tablet PC, the ViewPad 1000, running on a 800MHz Intel Mobile Celeron. None of these devices are yet ready for everyday users and are all targeted at corporations.

In more conventional hardware, Casio was showing its two new FIVA mini-notebooks PCs, the MPC-205E and the 206E, which are distinguished as 96MB RAM vs 128, 10GB HD vs 20, and a 500MHz Crusoe vs 600. Both models are a svelte 9-1/6" x 7-7/8" x 7/8" and weigh 2 pounds. What's also notable are the number and types of ports: 100BaseT, IEEE 1394 (FireWire!), USB, CompactFlash, PC Type II, a v.90/K56 Flex modem, and an RGB video-out port. Both over a 8.4" TFT SVGA (800 x 600) display.

Topping that to some extent was NEC, with its slightly heavier (3.3 lbs) and slightly larger (10.4 x 8.3 x 1.2") NEC Versa Daylite and Ultralite models. The first is the most noteworthy as it offers a reflective screen of the type used by the Compaq iPaq Pocket PC and the Palm m505. NEC claims an incredible eight hours of battery life (the indoor model, five). Both displays are 10.4" 24-bit color (Daylite is only SVGA, 800 x 600; while the Ultralite is XGA, 1024 x 768). Both models offer two USB, DC in, RJ-11 jack (no internal modem), VGA-out, IR, stereo out, and mono mic in ports.

In unconventional hardware, there were several items of note:

A Korean company Duocomtech was offering the first-ever twin-LCD PCs ever made. These are available in a variety of models listed on their website. What is striking is the price: $2600 for a PC that basically has two SXGA (1280 x 1024) TFT LCDs built-in. These are being marketed to corporations and to companies that specifically deal with the public (think of going to a company or entity where they have the ubiquitous CRT and access info about you; this setup would allow them to give you a view of the data they're accessing while they do it).

Atek was showing off its Super Mini Optical Mouse. I don't know about most people, but I really dislike "pointing nubs" and touchpads on notebook PCs. This is an incredibly tiny mouse that can be easily be used on the handrest of virtually any size of notebook PC. It's just 1" wide and 2.5" long.

Two very strange devices...

PC-EPhone was showing its device of the same name, a device that brings together the features of a cellphone and PDA in a unit that does not retain the portability or easy pocketability of each! Running on an Intel StrongARM SA-1110 with WinCE 3.0, it has a full 640x480 VGA screen that offers fonts too uncomfortable to read on a 4" 256-color TFT that is not reflective. It resembles an iPaq Pocket PC that's been stretched from side to side.

An even stranger device was on display from Interactive Imaging Systems, the iCOM Personal Internet Browser. Although pocketable at 4.65: x 2.5" x 1.4", its actual practicality is questionable. Not wireless, it's actually a one-eyed viewer for Web pages that have been downloaded into it! Integrated MP3 and digital voice recording are not enough to find this device a mass market, I'm afraid. And not even I'm so paranoid that I need a single-eyed viewing device!

Last in line with an unusual -- but actually practical device -- was Keyspan, with its Mini 4-Port USB hub. According to the brochure, it is "credit card sized and just 1 cm thick." I didn't have a ruler with me, but it is incredibly tiny. It has four 12 Mbps USB ports, supports both bus-powered and self-powered modes, and includes a built-in USB cable. Perfect for traveling.

At this point, those of you who own PalmOS devices and like to engage in religious wars might want to stop reading, because this report is now briefly venturing into The Pocket PC Zone...  

URThere was publicly displaying its long-awaiting @migo-600C Pocket PC. With 32MB of on-board RAM, a Type II PCMCIA slot, an outdoors-viewable 65,000-color screen powered by the popular Intel StrongARM SA-1110 running at 206MHz, this is a machine that might cause some potential iPaq buyers to consider it as an option. The sore points for me are the ones that bug most PalmOS device owners: size (it is rather thick!) and buttons (too many; all along the left side). URThere was passing out copies of its booklet, "Mobile Solutions for Pocket PC," which turned out to be written by none other than Jason Dunn.  

Conduits Technologies publisher of Peacemaker Professional (which allows Pocket PCs and Palms to beam back and forth easier), Pocket Watch, Pocket Artist, and Timekeeper (all for the Pocket PC) was debuting its new Pocket Slides program, which is certain to be a hit among the PowerPoint crowd. PowerPoint presentations can be downloaded onto a Pocket PC for on-the-fly presentations. Limited editing is also possible. It is still surprising that Microsoft itself never included a Pocket PowerPoint as part of the installed Pocket PC suite. Conduits have filled that gap.

Casio introduced its strange new PDA, BE-300. Running on the prior version of Windows CE, it's neither a Pocket PC nor a PalmOS device -- nor is it bound to be a hit, either. Details can be found on Casio's own site. Suffice it to say that this device seems to fall under the "Fool and his money" category, with potential owners winding up with a device that can't use any existing software for the two major PDA platforms: PalmOS and Pocket PC.

It was unfortunate that aside from URThere and Casio, no other Pocket PC-related announcements were made. I had hoped to see a new Hewlett-Packard PPC. Maybe a sneak preview of the enticing Toshiba PPC. Or maybe even a slimmer iPaq! Alas, no.

Let me end this report by giving the final snippet to one of the "little guys" who was at PC Expo. This is a website that is best seen to be believed. Workers of the World, Unite!
Article Comments
(12 comments)
The following comments are owned by whoever posted them. PalmInfocenter is not responsible for them in any way.
Please Login or register here to add your comments.

Comments Closed
This article is no longer accepting new comments.