PC Expo 2001 Report
Wednesday, June 27, 2001 8:23:29 PM
Once again, handhelds and wireless devices took over the convention floor at the PC Expo. Generally, this year's expo was a little more subdued than last year, with most of the dot com's out of the picture and IT firms tightening their belts. Though there weren't many new earth shattering announcements or products, there was plenty of new and existing Palm accessories and solutions on display. Read on and take a look.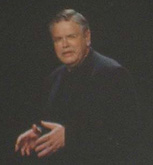 I started the day off attending Palm's CEO Carl Yankowski's keynote speech. He spoke on the numerous enterprise handheld solutions and benefits and the maturation of the handheld market. He also announced alliances and partnerships aimed at making the Palm Platform more attractive to corporate customers. Mr. Yankowski invited a few guest speakers onstage to demo new products and showcase solutions. The MoveIt! SDIO card from MotionSense was demoed. It combines memory with and accelerometer to allow you to tilt a palm forward/backward and right/left to navigate maps or control games. Panasonic showed off a new digital camera with an SD slot, that when inserted into a handheld, pictures taken on the camera would show up on the Palm.
Onto the Products...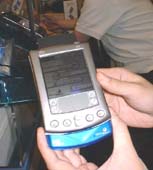 RealVision was showcasing their upcoming CarpeDiem GSM phone sled for the m500 series. The CarpeDiem enables dual-band GSM voice communication, e-mail, SMS, and mobile Internet connectivity. It is expected to start shipping in the fourth quarter for around US $400. Shown here is their prototype m500 PCMCIA adapter with a wireless card. The prototype was a bit bulky at over an inch and a half thick; however, the final product will be a slim half-inch. No word on price or availability just yet.
One of the most interesting devices I came across was being shown at the Sanyo Electronics booth. It's a Palm Powered handheld called the Sera that will only be available in Japan. It's essentially an m505 in a different casing with support for MP3's via a headphone jack and a wireless antenna for use on the NTT DoCoMo I-mode network. Sanyo was not showing off the devices but rather a secure wireless content authentication server for use with licensed material such as digital music files. I had a hard time getting my questions answered, as the rep did not speak too much English. I've tried searching the net for more info without luck. If anyone has any leads, please drop us a line.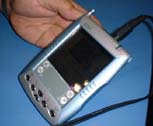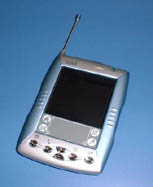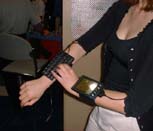 Matias Corporation had its Half keyboard Wearable Kit for Palm handhelds on display, which includes: a Wearable Half Keyboard, all necessary cables, wrist straps, and software. It will sell for for $300. It's rather interesting to see the keyboard in action. You type the left hand keys normally and you hold the spacebar down to switch the keys to the right hand ones. Both sets are labeled on the keys. They claim that after roughly 15 minutes of practice you can type up to 88% as on a full keyboard.
I walked on over to the Blue Nomad booth to check out a demo of WordSmith 2.0 running on an m505. Let me tell you their new FineType font technology is nothing short of amazing; it makes a huge difference in quality and ease of reading. I think this technology will position WordSmith as an excellent eBook reader as well. It not only makes the fonts much more smooth and clear but goes a long way to improve the appearance of italics and other forms of rich text.
After checking out the FineType I went over to the PocketPC booth to check out MS ClearType on an iPaq. Despite the standard 160 Palm resolution the new version of WordSmith was just as good, if not better than the MicroSoft ebook reader with similar technology.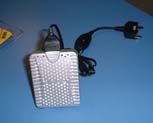 A company called Electric Fuel has a new and interesting charger for rechargeable devices called Instant Power. It's a small little box, which is replaceable, with a cord that can charge a Palm, PocketPC device, or a cell phone. The box or PowerCartridge contains a zinc-air fuel cell that when exposed to atmosphere starts to oxidize thus recharging your device. Each PowerCartridge provides about twelve full recharges to a Palm or three full cell phone charges.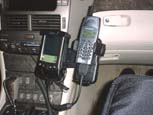 Delphi Automotive parked a Lexus in the middle of the Designed for Palm Handhelds Pavilion to show off the hands-free Communiport MPCpro system. The MPCpro features voice interaction with a Palm V/Vx handheld computer and Ericsson R280/1228 phone. Using your voice the system can look up and dial phone numbers, check and read back e-mail, news, weather and traffic information. It works off a standard auto auxiliary power outlet that can charge both the phone and Palm and relays sound through the car's speaker via a cassette adapter.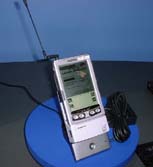 Here's a shot of the recently announced wireless modem for monochrome Cliés. The modem is quite bulky and adds considerable weight to and otherwise slim Clié. Service for the modem is called MYLO for MY Life Online. It will be available for unlimited access for $40 a month from GoAmerica. In a move that is sure to be controversial, the two companies are only releasing a wireless modem that fits the just announced PEG-S320 and the first-generation PEG-S300. At this time there is no way for the top-of-the-line PEG-N710C or PEG-N610C to use the service.
Here's a few pictures from around the show floor to leave you with.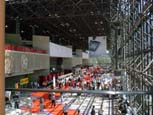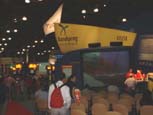 Article Comments
(36 comments)
The following comments are owned by whoever posted them. PalmInfocenter is not responsible for them in any way.
Please Login or register here to add your comments.

Comments Closed
This article is no longer accepting new comments.