Astraware Announces Five New Games
Monday, March 4, 2002 1:45:26 PM
Promising to halt personal productivity gains, Astraware Ltd today has announced the release of no less than five new game titles. These are a mix of puzzle, action, and strategy titles, including Nisqually, Astro Defence, Eye of Horus, RoundUp and Big Money. While these new games differ in style of game-play, they are all optimized for both color and grayscale screens and are compatible with all of the latest Palm OS hardware.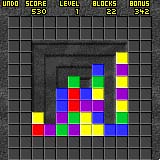 Nisqually is an online version of GameHouse's online game by the same title. Nisqually is a puzzle game which is easy to learn, but increases with complexity to complete each level. Gamers aim to clear a screen full of blocks by sliding them to make groups. The challenge is to arrange the blocks to be left with just the right amount of each type to complete the level.
"Nisqually is a deceivingly complex game that is consistently ranked as one of the most popular games on the Web," said Ron Powers, GameHouse's Director of Business Development. "Astraware's handheld version will rock your world just as our online version has done!"
Astro Defence gives arcade fans the opportunity to take out their frustrations by blasting asteroids and alien spacecraft while protecting a space colony with turret-mounted cannons.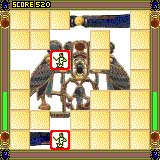 Another original game created by Astraware for Palm OS handhelds is Eye of Horus, a tile matching game that tests the players' memories and wits. Astraware has added an "Egyptian flair" to the game, including features such as spells and other magical effects that can earn bonus points for the player.
Those players with a knack for employing logic in their game-play will enjoy RoundUp, a game licensed from independent game creator, Marc Silver. The objective for the game is for players to guide colored marbles back to their 'home' positions, one move at a time.
"RoundUp's themes are creating order from chaos and getting everyone home safe," says Mr. Silver. "It is an incredibly simple, yet totally compelling and addictive game."
Big Money is the game for people who are always on the lookout for a fast buck. The game requires fast reactions and good coordination as the player frantically attempts to clear coins from the screen and grab as many money bags as possible. Skillful players will work their way up to become a "millionaire." This is a handheld version of a game from PopCap Games.
All of Astraware's new games work with handhelds running Palm OS 3.0 or higher. They cost $15 each, except for RoundUp, which is $10.
"We have been extremely busy at Astraware, developing the games that our customers crave the most and working with the online game industry's leading developers to move the best arcade and online games to the most popular handheld platforms," said Howard Tomlinson, Astraware's CEO. "We are always looking to partner with the best game designers to create licensed games for both Palm OS and Pocket PC handheld platforms."
Article Comments
(43 comments)
The following comments are owned by whoever posted them. PalmInfocenter is not responsible for them in any way.
Please Login or register here to add your comments.

Comments Closed
This article is no longer accepting new comments.