First Impressions of the Kyocera 7135 Smartphone
By Barton Gellman
I spent about an hour with a Kyocera 7135 yesterday morning at TechX NY. I found a lot to like and very little not to like. If it holds up to real-world testing, this is easily going to be the strongest offering, for my money, to hit the market this year. I won't repeat the published specs. Here's what I learned that was new, along with my subjective impressions.

Screen
To fill the biggest gap in the official marketing pitch, which speaks only of a "high resolution" screen: it is a standard 160 x 160 color screen -- identical in size, 2.5 in. on the diagonal -- to the Kyocera 6035. That said, it is a very bright, well-saturated color transreflective screen. 16-bit, 65,000 colors.
Without doing precise measurement, I'd say it is indistinguishable from the Palm m130 screen in brightness, sharpness and size. In indoor lighting, it is terrific. I took it to the great glass atrium of the Javits Center, which gets a lot of filtered sun, and it was also quite readable. Outside in direct 11 am sunlight, it washed out pretty badly. There, and only there, my Kyocera 6035 had a strong edge.
Motherboard
Another gap: the processor is a Dragonball VZ running 33 Mhz. It has 16 MB of RAM.
The operating system, as published, is Kyocera's heavily tweaked Palm OS 4.1. It will never run OS 5, nor does it need to as it does not run on an ARM chip.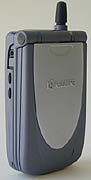 Casing
The hardware has a solid, precision feel, very comfortable in the hand. It's injection-molded plastic with a brushed aluminum swoosh on the front with the Kyocera logo. The Kyocera PR guy said the hinges feel like a Mercedes car door. I don't know about that, but it is a very well made piece of iron. The flip has a lock-open position but holds stably at any angle you choose.
Mobile Phone
Kyocera is not in a position to announce carriers, but sources tell me Sprint and Verizon, among other smaller vendors, will sell it. Likely retail: $499.
Kyocera considers the phone to meet 3G standards, with immediate support for Verizon Express at up to 153 kbp/s. It will support Sprint's forthcoming high speed data.
The LCD at the top is indeed for Caller ID. It will display the name of the caller, as the main screen does, if the caller is in your Address book. When no call comes in, the LCD is always on, showing battery and signal strength and the time.
A new feature: you can optionally set the flip cover to answer and hang up the phone.
Speakerphone, voice activated dialing work like the 6035's. The voice memo may -- this was a point of uncertainty in the booth -- be able to write to the SD card. If so it would allow much longer voice memos.
Because it is GPS ready, it will take immediate advantage of Enhanced 911 services when they roll out. Commercial location-based services will also be supported, but no carrier appears to be close to announcing one.
The phone will come with an earbud/mike. The optional stereo earbuds also have a mike -- they're used for MP3 music and phone talk as well.
Battery
The battery is user-replaceable on the road, which Kyocera holds out as a major advantage over the competition. The battery life of 3.5 hours talk and 150 hours standby, loses something to the world champion Kyocera 6035's respective ratings of 5 hours and 180 hours.
MP3 Player
I tried the MP3 player with the optional stereo earbuds. It sounded good but not as good as my Nomad II. Even in a noisy conference hall, it was capable of painful loudness at top volume. The Kyocera booth had external speakers plugged into a demo unit, with a polished multimedia presentation running on the 7135, and the sound was remarkable.
Rick Goetter, marketing director for the 7135, said he has used the MP3 for 4.5 hours, with telephone off, and still had half his battery left. I find that remarkable if it holds up.
There is a proprietary Jukebox app, which toggles instantly with a Playlist app. There's a separate Downloader used in the cradle for transferring MP3s from your Desktop. This is controlled from the Palm, not through HotSync.

SD Slot
The 7135 has an memory card slot on its right side. This can use both SD and MMC cards. It supports SDIO, which means that it can use non-memory Input/Output cards, like Palm's Bluetooth SD card.
It comes with File Manager, an app which gives hierarchical folder/file access to the SD card and the 16 MB of native memory. I own a 128 MB SD card, and Goetter said the 7135 will have no trouble addressing that. The File Manager supports copy, move, delete. I can't recall whether it supports rename or beam.
Buttons
The jog dial of the 6035 is gone. In its place are up and down buttons that control only phone volume. There will be an SDK released with the phone, without delay, but it's not clear whether it is capable of addressing these buttons for Palm OS functions.
What replaces the jog dial is an OK button in the center of the Palm OS up/down rocker (at center between the four standard hardware buttons). So you can scroll down through the address book, for example, then push the OK button for choice of numbers to dial. I liked it.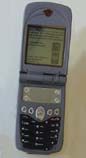 Keypad
Kyocera has taken advantage of a design that makes the 7135's phone keypad available during Palm OS operations (with flip open) -- as the 6035's was not.
So: the phone's hardware keypad can be used for text search and text entry. With the Address Book open, pressing phone keys runs "predictive search" algorithms similar to those used in the terrific TakePhone software product. Pressing 4355, for instance, will bring up people named Gellman in my Address Book.
The phone keys can also be employed, perhaps less usefully in my view, for text entry in standard Palm apps such as the Memo Pad. In this case, though, the text is not predictive -- you press 2 for A, 22 for B, 222 for C; then 3 for D, 33 for E and so on. There is a SPACE key, and CLEAR works as backspace.
Oddly it is quite difficult to use the phone keys to enter numbers in the Memo Pad. The # button will put the keypad into numeric mode, so that pressing 2 gives you a 2 instead of an A, but it drops out after a pause of well under a second. I found it impossible to enter a whole phone number that way, which was a pity.
Goetter said they considered a Blackberry style keyboard, and he couldn't comment on whether it might come later. He did note that Kyocera is a phone-centric company.
Software
It ships with Eudora 2.1.1, the current version on the 6035. Each carrier will decide on an HTML browser. It also ships standard with Open Wave's WAP browser. It appears that it will ship with Workstyle's Palm client for MS Exchange or Lotus Notes email. This, the Workstyle folks told me, will cost $70/year for an individual license. It will also ship with no-extra-charge support for Palm web clipping apps, as did the 6035.
The pre-release software supports two-way SMS, which didn't come until later versions in the 6035. Beta units were running on Verizon networks at the show.
Another bundled app is PhotoSuite, which has native support for JPG, TIFF, BMP and TNG. Also plays AVI and MOV video, but I did not get to preview that. The photos looked good enough to bother carrying, which they didn't on the 6035, but certainly no match for Sony's hi-res screens.
Accessories
The HotSync cradle improves on the 6035's excellent design. It allows the AC charger to be detached for travel. The improvement: the cable terminates in a serial AND a USB connector.
The Stowaway keyboard will be available immediately on release. For those who bought the 6035 version -- good news. You'll need only a new cable. There will be no cradle required for the keyboard with the 7135, so there's less to carry. The compromise this time is that the phone is simply laid on the table, and you adjust the screen angle to suit you. I did not get to try it but it seemed likely to work pretty well. The disadvantage will be in really confined spaces, like an Amtrak tray table.
The Competition
I asked Goetter for his points of comparison with the competition. He named: tri-mode phone (for more coverage), expansion slot, user-replaceable battery, MP3, and 65k color screen. He acknowledged his phone is an ounce heavier and a bit thicker than the Treo.
Availability
The phone will be available in Q4. Goetter said "November, maybe earlier." For Q4, it doesn't get earlier than October.
Kyocera is offering direct sales to retail and corporate clients, bundled with carrier service. No announcement of which carrier.
Article Comments
(162 comments)
The following comments are owned by whoever posted them. PalmInfocenter is not responsible for them in any way.
Please Login or register here to add your comments.

Comments Closed
This article is no longer accepting new comments.

Only the first 50 comments are displayed within the article.
Click here for the full story discussion page...