First Impressions of the Sony PEG-SL10
By Ben Combee
Guest Reviewer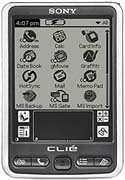 I saw my first SL10 yesterday at a local CompUSA, and I spent a few minutes playing with the device.
It was surprising how short the device was. While the screen is slightly smaller than the Clié T615C, all of the remaining vertical space from the T series has been removed, making at about an inch shorter. The thickness of the device was slightly more than the T series, mostly due to the two AAA batteries that power it. The width was the same as a T series, but the shell was plastic, not metal.
The stylus is similar to the thin stick used in the T series, and had a metal shaft and black plastic pieces. The metal was similar to the shiny steel used in the Visor styli, rather than the duller metal in the T series styli.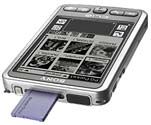 The face buttons were all easy to press, with the up/down much better than the version from the T series. The jog wheel and back button worked just like other Sony devices. The power button at the top is very small, placed right next to the Memory Stick slot.
Finally, there's the screen. It is hi-res, and when powered off, it stays black, rather than the usual grey. Text was clear and well defined, and I could see several shades of grey.
However, the screen has a major problem, in my opinion, and that's switching speed. It seemed to take half a second for a black pixel to turn white again, leading to lots of ghosting for any application that changed its display a lot. I beamed over Montana Solitaire from my Kyocera QCP-6035, and the effect of cards fading off the screen when picked was pretty distracting. I can imagine trying to use this with an autoscrolling ebook reader would be frustrating.
I wasn't able to test the backlight on the unit, as the store was too bright to see how it worked. The 320 by 320 screen may help some, but with the fading, I found it harder to read Sony's thin fonts than to read a similar 160 by 160 device.
With Palm and Handspring's recent price reductions, there's a lot of choice in the low-end monochrome market. The m105 at $100 beats this device on price and screen quality, while the m500 at $200 wins on styling, and screen quality as well. A Visor Edge, selling for $130, also competes very well.
Ben Combee is the Technical Lead for Metrowerks, the maker of CodeWarrior.
Article Comments
(70 comments)
The following comments are owned by whoever posted them. PalmInfocenter is not responsible for them in any way.
Please Login or register here to add your comments.

Comments Closed
This article is no longer accepting new comments.

Only the first 50 comments are displayed within the article.
Click here for the full story discussion page...