Palm Tungsten T Review
By: Dan Royea
PalmEvolution.com
October 30, 2002

Introduction: Palm Inc.'s new flagship model is the Tungsten T, their first device running the new Palm OS5 on an ARM-architecture processor. Also referred to as the m550, the "TT" has an intriguing compact design, a vibrant high-resolution screen, advanced multimedia capabilities and integrated Bluetooth wireless technology. With an advanced feature set and a $499 price tag, it's aimed squarely at executives and power users.
Design: The Tungsten T has clean lines and a nicely sculpted, and surprisingly compact shape. The display dominates the front and is housed in an elegant grey anodized aluminum body with textured black plastic accents. Because usage studies have indicated that users are looking up information the majority of the time, Palm implemented a transformable design that facilitates one-handed lookup and keeps the size to a minimum.
The key (and most controversial) design feature of the unit is the sliding lower section which can be extended to expose the Graffiti area for text entry, and then be retracted again to maintain it's compact form.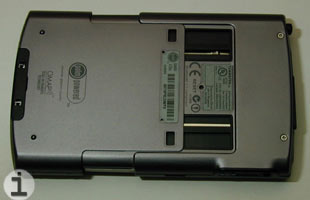 The slider action is very smooth, and it locks positively into place in either configuration. The feel is plesantly solid, thanks to six points of contact. These include twin channels in the back, side bars, plus a pair of slider pads on the front. Palm realizes that this design decision is a potential source of failure (and therefore costly warranty issues) and has taken pains to ensure that it will be very reliable. Part of their design criteria included passing a 100,000 open/close test cycle. (To put that in practical terms, even if you open and close the device 3 times an hour, 16 hours a day, the slider should provide at least 6 years of faithful service.) My only question is whether the design is self-cleaning, or whether there is a risk of accumulated pocket lint and grunge fouling the slider. Only time will tell.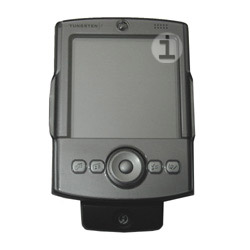 The rear of the sliding section extend two thirds of the way up the back and include the back attachment points for the Universal Connector, so these accessories will function in both the compact and extended configurations. The T's slider can also be configured to turn the handheld on and off.
The second key feature is the new D-pad which replaces the former up / down buttons. This control provides 4-way navigation with a press-to-select domed center button. Its front-and-center location requires a grip adjustment, and while some people will prefer a side-mounted jog wheel, once you've adapted, the extra utility of two-dimensional control is absolutely great. The feel of the D-pad is superb, with very positive action and is much nicer than any similar control I've tried.
The standard four application buttons lie on either side of the D-pad in standard configuration. They have a slightly convex shape raised just above the case surface for good fingertip feel, however this style isn't exactly stylus-friendly. A nice design detail is the tiny black plastic frame that surrounds each button.
A colored Palm logo behind a transparent "lens" is found centered on the upper edge, and it's only known function is to look cool. It is flanked by the "Tungsten | T" logo on the left and a 2x5 grid of speaker holes on the right. While there is a green charging LED in the top left corner, it doesn't provide charging status indication, and there is no LED indicator for Bluetooth.

A small Voice Recorder button site just below a small port for the microphone on the upper left side. Because of their proximity, you have to be careful not to cover the mic with your thumb when recording! Above these lies the stereo headphone jack which supports a standard 3.5mm plug (headphones not included).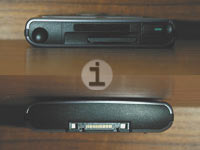 The bottom of the TT is a plain panel of textured black plastic with the "Palm Universal Connector" situated near the rear, and the top is cleanly laid out in basic black-on-black. The power button is on the left side, which is a little awkward if you're holding the device in your left hand. In the center is an infrared transceiver window, and the SD card slot (fitted with a plastic blank to keep dust out) behind that. The stylus silo is on the right, with the sylus end projecting out slightly from the surrounding surface. A push-and-release and the stylus extends by half an inch to allow it to be withdrawn from the silo.

And what a stylus!



The polished steel body has an inset plastic writing tip - it looks good, it feels good and the tip can even be used for the reset button on the back. The stylus docks securely back into the silo, and with a second push-and-release it compacts back out of the way.
The Tungsten T has the smallest footprint of any Palm OS device to date, edging out the m515 and even the SJ30. While not the thinnest or lightest, it is very comfortable in the hand and the "pocket-ability" factor is very high.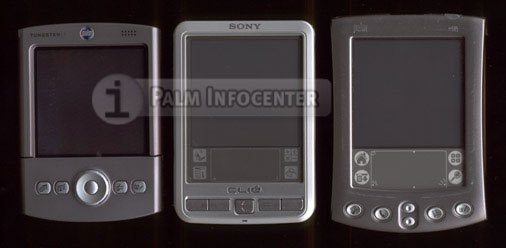 [TT; SJ30; m505]
Overall, it is an beautifully thought-out and well executed design.
Hardware: At the heart of the Tungsten T lies the dual-core Texas Instruments OMAP1510, which incorporates both an ARM925 processor and a C55x DSP (digital signal processor) to distribute the load between operating system tasks and "heavy-lifting" such as security and multimedia tasks. The OMAP1510 also incorporates controllers for the LCD display, USB and SD card interfaces, and Bluetooth. All of this computing power does not have the expected electical power penalty, as the chip is optimized for power efficiency. From figures supplied by Palm, at 432 MIPS (millions of instructions per second) the processor consumes 46 mW/MIPS, or about 200 mW. On a 3.7V system, this translates to 53mA power consumption, which is extremely good relative to the less capable Dragonball processors.
Memory specs are 16MB RAM and 4MB flash ROM (8MB for international version). The SD bus is 1-bit slot (not the newest 4-data line configuration) but card access seems much faster than on an m515 (which may be due to the OMAP?). It will support the largest capacity SD and MMC memory cards available, and is also SDIO-compatible for peripherals.
The TT's screen is a 320x320 pixel, 16-bit color reflective display, with front-lighting adjustable over a broad range. It is very bright, good color balance, and no "grid lines" - in a word: superb. It compares extremely well to the reference-standard Clie T665.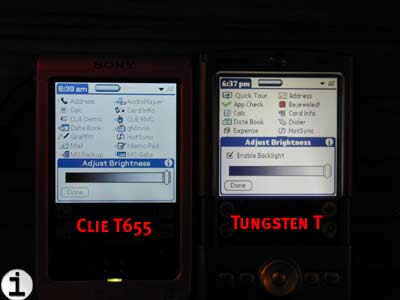 The digitizer, which uses a glass element, has a great low-friction surface, but is slightly "puffy" with obvious deflection when touched. The Graffiti area silkscreen print includes little Clock and Contrast tap-icons and the newer star-shaped Favorites .
For audio, the TT has a front-mounted true speaker, which provides decently loud volume for alarms and listening to voice memos, though not as loud as the speakers on the Clie T- or NR/NX-series. Alternately, any stereo headphones with a standard 3.5mm plug can be used, and will be the preferred option for listening to music. An unpleasant surprise is that there is no MP3 application in the software bundle (apparently RealAudio for Palm was supposed to be included, but wasn't complete by the shipping target and will available "soon" as a free download from Palm's website).
As on the m515, in addition to audible alarms, vibration alert is included, as is support for blinking LED blinking alerts.
Power is supplied by a rechargeable lithium ion polymer (LiIon Poly) battery, nominally rated at 3.7V 900mAh. Palm's claimed battery life is 7 days under the following usage scenario: default brightness (40%); 30 minutes / day PIM application look-up and entry; and no use of SD slot, audio or Bluetooth. Unofficial test results from an unnamed video application developer: 3.5 hours battery life when streaming 12 fps video from an SD card with the display set at 50%.
Recharge time in the included USB HotSync cradle is approximately 2 hours for a fully discharged battery. It is truly unfortunate that with so many other great features, Palm didn't include a bi-color LED to indicate a full charge!
The TT supports a variety of connectivity options: the Universal Connector (for USB and serial), IrDA; SDIO and Bluetooth (v1.1 compliant).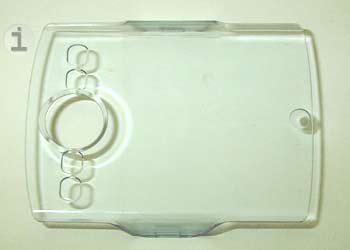 The included cover is made from transparent polycarbonate that clips into indents on the sides of the device. There is a hole to access the D-pad which is fine for looking up information. However, to use the touch screen or the TT in expanded mode, you have to remove the cover and this is somewhat inconvenient. The cover does clip onto the back of the device for temporary storage, which is a nice touch. The cover is absolutely clear, but is somewhat prone to scratching, and many TT owners will likely purchase an optional case. Palm Inc. is offering three optional cases: a leather "book-style", an interesting-looking slip case and an aluminum hard case.

SPECIFICATIONS

Size & Weight:
4.0-4.8" x 3.0" x 0.6"; 5.6 oz.
Processor:
OMAP1510 (ARM925 core + DSP); OS 5.0
Memory:
RAM: 16MB (14MB avail.); flash ROM: 4MB US, 8MB int'l
Expansion:
SD / MMC
Screen:
320x320 pixel; 65k color; reflective front-lit
Audio:
speaker; stereo headset jack, mono mic
Power:
LiIon Poly (3.7V, 900 mAh)
Connectivity:
UC (USB, serial), IrDA, SDIO, BT 1.1
note: My apologies to PIC readers who enjoyed my Zire "guts" image and were anticpating the same here - I was asked not to disassemble the review unit.

I guess I'll have to get a personal unit for a follow-up report ;-)
Software:

Palm OS5 includes a number of standard enhancements including support for 128-bit encryption (RC4 + SSL for internet applications); hi-resolution displays; 802.11b wireless (WiFi); and 16-bit audio. Because most of the enhancements are "under the hood", OS5 doesn't have many obvious enhancements over OS4 other than the more attractive application icons and sharper fonts. Heh, and the use of ARM processors - these speed up many applications, and most software seems very "snappy". (One strange side effect is that sometimes using scroll bars makes the displayed list go by *way* too fast!).
One of the most intriguing software features on the TT is the way the D-pad is integrated to support the one-handed functionality. For starters: with the device off, a short press of the Select button pops up the time and date for a couple of seconds then shuts down, or a double click and the device is on. Holding Select down for two seconds switches to the application launcher screen, and you can use the D-pad to navigate to your application of choice and launch it with another press of Select.
But there's other enhancements, particularly to the core PIM apps. The coolest example is in Address: a right press activates Look Up: and it's easy to quickly navigate to an entry, and then open it with another press of Select. If you then right press again, it opens the Quick Connect feature which brings up the list of contact options for that entry. If your TT is paired with a Bluetooth phone, you can then dial the number, or send an SMS from the SMS app, or send email from VersaMail. Now that's slick!
However, not everything is accessible with the Graffiti area hidden: for Menu access one can tap the app title bar, but there's no access to Find or backlight control. Clie JogDial menu extensions support this, and Palm Inc. should work on a solution.
This new D-pad functionality is Palm Inc.-specific and not a standard OS5 feature. Details of its use were provided to select 3rd party developers prior to launch, but are available to all registered developers now, so it wouldn't be surprising to see increasing support for this added to many applications. Games may benefit from this in a big way...
Other changes Palm has implemented include reworking the Preferences app. Instead of a category drop-down list of options; the options are broken out into four groups: General: Date & Time; Digitizer; Formats; Power; Security (which was a separate application); Sounds & Alerts; Communications: Bluetooth, Connection, Network, Phone; Personal: Buttons, Owner, Shortcuts; and Others: for third party additions (and perhaps the Keyboard preferences "application" belongs here?). This adds a much-need organization to the expanding variety of Preferences, and hopefully Palm will submit this to PalmSource and other Licensees will adopt it.
The Tungsten T ROM is preloaded with the core set of Palm OS PIM and System applications. Other applications in ROM include Expense (but you still can't define Expense type...) and Palm Inc.'s own World Clock (very basic), NotePad (*so* much better on hires!), and Voice Memo (good, alarm feature is cool)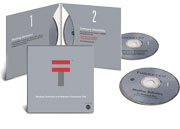 Going through the Installation process on the CD adds Quick Tour demo, and a number of phone-related applications: SMS, Dialer and Phone Link plus drivers for a number of Bluetooth-enabled cell phones. You can also install Keyboard (v1.9T) for the Stowaway (and the *very* interesting-looking new Palm UltraThin Keyboard from ThinkOutside) though apparently a newer version will be required :( The process is quite user-friendly, and even goes so far as to walk one through setting up one's business card.
Palm Inc. includes three of their own Internet applications as well: VersaMail email client (the successor of the venerable MultiMail SE) which features online and desktop syncing, attachment support, filtering, POP and IMAP support; WebBrowser Pro - a proxy-based solution that supports SSL, JavaScript, and downloading .prc files (but doesn't support .zip extraction); and WAP Browser.
Additional bundled applications include: Documents To Go (Pro), MobileDB, Acrobat Reader, Palm Reader; ArcSoft PhotoBase, and powerOne Personal. Also on the CD are the latest vesions of Palm Desktop for Windows and Mac, which includes plugins for Expense, NotePad and Voice Memo, as well as Chapura PocketMirror for syncing with MS Outlook.
PalmSource estimates that 80% of existing PalmOS applications are compatible with OS5, and Palm Inc. has provided a free AppCheck application and a compatibility reference page on their site. It is by no means complete, but shows that many of the most popular apps work fine. How? The Palm operating system is running in native 32-bit mode on the ARM processors, and there is a hidden application called "PACE" (Palm Application Compatibility Environment) which translates "Dragonball-formatted" system calls on the fly. As long as applications are properly written, they typically just work. Some applications are now being released which take advantage of the power of OS5/ARM: Kinoma Movie player is a great example of this, and there are more to come.

A final note:Bluetooth ("Bt") drivers and extensions are also in ROM, which opens various wireless possibilities: [1] interacting with other Bt PDAs, [2] HotSyncing and exchanging files with a Bt-equipped PC, [3] accessing a Bt Access Point for wireless internet access, [4] printing to a Bt-printer, and of course, [5] interfacing with a Bt-enabled cell phone, and in particular, using it as a wireless modem. To simplify set up for pairing with a Bt cell phone, Palm has included a PhoneLink application, which is essentially a Bluetooth Setup Wizard and there is also a LinkUpdater application to simplify updating services and drivers as they become available.
Interaction with other Bluetooth Palm OS devices is not restricted to just other TT owners, as both the Bluetooth SDIO card and Bluetooth Memory Stick peripherals are available. The latter, unfortunately, is only available in Japan at present, but should be released in Europe very soon, and we can hope that it will be available in North America before too long. Aside from simply sending files etc. (which is very similar to infrared beaming) a few sample Bt-applications are included: BlueBoard, BlueChat and three Bt-enhanced games from HandMark (Monopoly and Scrabble are only trial versions). There will undoubtably be more Bt-enabled applications available in the near future. Watch for a more in-depth exploration of Bluetooth here on Palm Infocenter in the days to come... ;-)
Summary: The Tungsten T is a very attractive high-end model that combine a great design, powerful features, and small size, and should prove very tempting to their target market of executives and power users. It is a more-than-worthy successor to the former flagship model, the m515 and a great introductory OS5/ARM device. There is a lot to like about the TT, and very little to criticize. Congratulations to the Product Team!

PROS

CONS

compact
excellent build quality
great screen
one-handed info access
integrated Bluetooth
good application bundle

somewhat pricey
no "full charge" indicator
no MP3 application
RATING: 9.2 / 10

Design:
compact, attractive, solid construction
Features:
powerful, enhanced UI, wireless
Screen:
crisp, bright, gorgeous display
Battery:
good for regular use, OK for multimedia
Value:
high-end features
The Palm Tungsten T is available now from the Palm.com online store. For a limited time until, 11/30/02 there is a FREE overnight shipping special if you use the promo code TMAIL
© 2002 Dan Royea, PalmInfocenter.com
Article Comments
(521 comments)
The following comments are owned by whoever posted them. PalmInfocenter is not responsible for them in any way.
Please Login or register here to add your comments.

Comments Closed
This article is no longer accepting new comments.

Only the first 50 comments are displayed within the article.
Click here for the full story discussion page...