Hands-on Review: RIFLE Slugs
By:
Pepper
November 12, 2002
Overview
Rifle slugs is an explosive slug-killing game based on the classic game Worms. It has a wide arsenal of weapons, a wide range of options, settings, and configurations, plus some humerous slug commentary.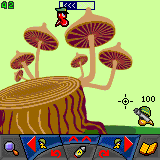 The Concept
You are a team of yellow slugs, set upon this planet to deffend your territory from the evil red slugs which have come to invade. In order to win, you must defeat them using your wide toolbox full of weapons. Of course, theres more than one way to die, and there is no mercy.
Shooting To Kill!
The selection of weapons is great and powerful. Just pick a weapon, aim, and shoot with as much force as you need. Your opponent is limitted to one simple tool, but you have many more choices. The basic weapon does a bit of damage when you hit right on, but it doesn't kill. Of course the dynamite is deadly though not too precise, and the rifle is exquisitly precise but without much power. You can also teleport, surrender your turn, jump fairly high, or perform another task to help in your quest to defeat the red invaders.
Of course you have to plan just how to kill. Not only is it impoprtant to choose the right weapon, but you must line up the shot just right. First, you can find the location of other slugs by using the magnifying glass to zoom out on the playing field and get a wider view. To make the perfect hit you may move left or right to the apropriate position, and you can jump to cross gaps or go higher on the terrain. Once you're in position, you adjust the angle of your shot and fire. The one complaint I have about this is that once you tap on the fire button there is no changing your mind, and if you're stylus slips off the button your shot is wasted. Of course, all of these actions can be done using either your stylus or your Palm's hardware buttons.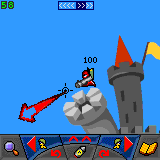 Graphics
Eye candy is not exactly the first thing that comes to mind when I think about Rifle Slugs. And of course the game is in no way lame in the graphics department. The scenery includes eight fairly random scenes, all of which hold a cartoonish accent. The characters them selves are also in the cartoon motif, right down to their speech bubbles. The designers also did an excellent job of including detail and shading into the game, and the end result is a nice visual with a surprisingly simple feeling. Even on a greyscale Palm the images are clear and easy to understand; an accomplishment often easier said than done.
Unfortunately, either the grapics or another component of the game cause it to run fairly slowly. Durring gameplay play seems to be fine, but starting a new game or re-entering the application can be a bit of a wait. You even have to wait for the application to quit and save its data, which can be quite frustrating when you need to get a quick peak at your datebook.
Customization
No game on earth would be complete without the ability to customize it to your individual needs. Everything from amunition and skill level to decisions regarding timing and sound settings can be toyed with. The most important selection is that of skill level. Although there are only three setting for skill, the choices allow for a wide range of people with differing ability levels to play this game and still enjoy the challenge without getting totally smashed by the Palm. You may also set the amount of time each player has to make a move, and the length the game will last until going into death mode. Death mode is the eng part of the game in which all remaining slugs are reduced to a single point of health and the slightest touch of a weapon will kill you. You may also customize the number of uses you may have from each weapon type, and the sound level. You may also select between one and two player mode, that latter of which may be played only via two users passing the same Palm back and forth. Overall the options are good and allow you to tailor the game to your level of fun.
Conclusion
Rifle Slugs is a good game for when you have some times to kill. Unfortunately, the slow speed requires a lot of time greater than just a few minutes if you really want to get into a game. But overall the graphics are good yet simple, the physics are consistant, the customization is great, the arsenol of weapons, and the witty talk-back make this game a fun choice for many.

PROS font>

CONS font>

fun
good customization
challenging without being too difficult

SLOW!
Concept seems old after awhile
RATING: 8.3 / 10

Graphics:
nice yet simple. Good in color or greyscale
Playability:
Fun game with many options
value:
pricing is very reasonable
RIFLE Slugs is available from Paragon Software for $14.75 USD. Paragon is currently working on a high-res version that will be compatible with Palm OS 5.
Article Comments
(29 comments)
The following comments are owned by whoever posted them. PalmInfocenter is not responsible for them in any way.
Please Login or register here to add your comments.

Comments Closed
This article is no longer accepting new comments.