2002: THE HANDHELD YEAR IN REVIEW
Tuesday, December 31, 2002 12:56:51 PM
It's that time again, Ryan, PalmInfocenter Editor in Chief, takes a look back at the year past. It was quite an exciting time for the Palm Economy as well as a year of many transitions. New handhelds, companies and controversies made 2002 quite a memorable year for PDA enthusiasts.
The year started with a lackluster Consumer Electronics show. Handspring created a stir when announced their Intentions to eventually stop making the Visor and phase out the Springboard expansion system they pioneered. Instead Handsping would focus on communicators and later in the year announced they would also only make models with small keyboards.
2002 saw an insane amount of new handhelds from Sony. Sony released a surprising, 10 new handheld models in 2002. The first of which were the T615C and S360. January also saw the long awaited replacement for the Palm VII the i705. While it was one of the first wireless models with an "always-on" connection and an expansion slot, readers criticized the monochrome screen, lack of voice and expensive data plans.
A few weeks later on the wireless front, Handspring started shipping the Treo Communicator line. EarthLink, which bought out OmniSky, started to offers CDPD Wireless Service for handhelds.

February was an exciting month with the PalmSource conference out in San Jose. PIC was there and has some exhaustive and detailed coverage of the event. Highlights from the conference include the final separation of Palm Inc and PalmSource into two separate companies, Palm OS 5 and the future direction of the Palm OS platform. PIC event went to far as to make a wish list of features Mike Cane thought should be included in future versions of the Palm OS, of which a few made it into OS5.

March saw Palm release the m515 and m130 as well as the Bluetooth SD card.

The PDA Clamshell
Sony created quite a stir the PDA world with its new PDA form factor debuting with the NR70 series. The new models featured a rotating flip screen design with an integrated keyboards large screen with virtual graffiti, digital camera and an MP3 Player in one device. This model was based on the prototype flashed back at PalmSource. Check out our full review of the NR70V here.
m505 SUDS
The ever vigilant PIC readers and members of our forums brought problems with the Palm m505 USB system to light in 2001 and 2002 saw Palm Inc trying to remedy the frustrating situation. Palm eventually started a cradle replacement program that aimed to prevent static build up, while users struggled to find a way to make their handhelds sync normally again. The problem was finally corrected to some degree with the m515.
The DateBk Controversy
Handheld Software publisher, iambic, found itself at the center internet controversy and protest when they registered domain names for a rival product and redirected them back to their own site. The move created an internet age grassroots protest against the company, as concerned netizens expressed their outrage over what they felt was an unfair competitive move. Eventually the ordeal was resolved by the community and all involved in an agreeable manner.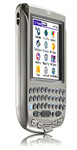 The summer of 2002 was pretty quite but saw a few notable hardware and software releases as companies prepared to release new devices in the fall. Handspring debuted itís small Treo 90 organizer. Former PIC News Editor Ed Hardy gave us an interesting piece on why he thinks the Palm OS is the inevitable winner. Apple released iSync which lets Mac OS X users sync a PC, Palm OS device, an iPod and a Bluetooth mobile phone with one application. One of the only significant things to come out of the TechXNY conference was the annoucement of the Kyocera 7135 Smartphone, which is just starting to come available.
The early fall saw Sony kick it into high gear yet again with 3 new entry level and mid range models. Palm Inc confirmed another problem first mentioned on PIC when they announced that the m130 did not in fact have a full 16-Bit color screen as first claimed.
October was a month of transition for the industry as well as PIC. We unveiled a long awaited site redesign with a new look and many new features. It also saw the departure of former news editor Ed Hardy; and yours truly taking a more active role in the daily news and editorial content. PalmInfocenter was invited to Microsoft's Campus to visit for the Mobius PDA conference. I had a wonderful time out in Seattle and learned much about the Pocket PC side of the market and got to meet many of the folks I've got to know so well on the net yet never met face to face. It was a very nice event and I hope Microsoft continues the tradition.
Tungsten and Zire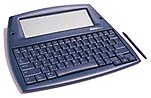 Palm unveiled its new Tungsten and Zire sub brands. The $99 entry level Zire is positioned at soccer moms and new PDA buyers as Palm feels that todays Zire buyers are future high end customers. The AlphaSmart Dana Palm OS Laptop aimed at the education market made its premier. And Finally the new top of the line Palm Tungsten T and the GPRS Tungsten W were unveiled.
Looking Forward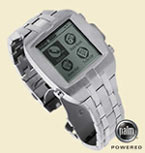 There is much to look forward to in 2003 and of course you can find a sneak peak at what's ahead at PalmInfocenter. We are most looking forward to the SD WiFi Card, whatever this may be, the Fossil Wristwatch, the Garmin OS 5 GPS device, and Sonyís TV Tuner components. 2003 may also bring us Palm OS 6 though it may be unlikely to see any devices running it. In the mean time check out our very detailed interview with one of the chief PalmSource programmers.
The end of the year saw Palm Inc's return to profitability as well as the announcement that over 25 million Palm OS powered handhelds have been sold to date since 1996. PalmSource announced a strategy and new partners to enter into the Chinese handheld market. We already have details and pictures of one of the first new devices for China, the Legend Palm 168.


2002 also saw the long awaited arrival of the much hyped Bluetooth technology. Products featuring the new wireless standard promise to replace the mess of cords we all have and bring about a new era of digital integration between different devices. So far we are very happy with Bluetooth (the Palm Tungsten T and t68 make a great pair) and look forward to more products and support for Bluetooth as there is so much potential.
PalmInfocenter will be in Vegas in Jan for in depth Palm OS coverage at CES 2003 and will continue to bring you the latest buzz in the Palm OS world. While this report takes a quick look back at the year past you can always find our back content in the PIC News Center. Remember you probably read about it here first!
HAPPY NEW YEAR
At this time all of us at PalmInfocenter would like to thank all our readers and contributors for a wonderful 2002 and hereís to a happy, safe and exciting 2003!!!
Article Comments
(17 comments)
The following comments are owned by whoever posted them. PalmInfocenter is not responsible for them in any way.
Please Login or register here to add your comments.

Comments Closed
This article is no longer accepting new comments.