iBiz Announces SDIO FM Radio and Card Readers
Friday, January 24, 2003 12:18:59 PM
iBIZ Technology Corp. has announced the PDA industry's first Secure Digital Expansion Card (SD), FM radio for PDAs. The Pocket Radio enables a standard PDA with an SD expansion slot to tune into FM radio stations. iBiz has also debuted new memory cards readers for handhelds and a new SD VGA camera.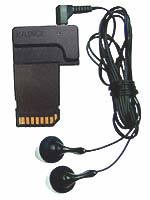 SD Pocket Radio
Ken Schilling, iBIZ President and CEO commented, "The processing power in PDAs today make it possible to port a variety of technology into a handheld computer. The SD Pocket Radio is multitasking so users can perform other PDA functions while the music plays on."
The software provides up to eighteen different preset stations, search and seek functions allow the user to tune to a desired frequency/station and then hold down one of the preset buttons to set a station into one of the presets. It also has the ability to output the signal to either headphones or external speakers.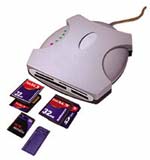 Memory Card Readers
The new 7 in 1 card reader will read SD, SM, MMC, CF type 1 and 2, MD and MS cards. This is the first card reader that is plug compatible with handheld computers as well as desktop computers. The reader had a Y-cable that will connect to a USB port or a Palm handheld with a universal connector.
The 4-in-1 Card Reader combines a 4 in 1 memory card readcer, a leather case, memory card holders and a hotsync cable all in one package. It will read SD, SM, MMC, and MS cards as well as sync and charge Palm without removing the device from the case. The case is designed to work with the m-500 series, I-705, and Tungsten series handhelds. The reader is embedded within the leather case, and can be accessed directly from the Palm or a PC via an integrated USB cable.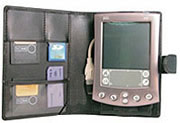 In addition, IBiz has also introduced a 2-in-1 Portable Card Reader. It is designed to work with the Palm V, m-500 series, I-705, and Tungsten series. The reader allows access to 2 additional cards at once in the SD and MMC formats. It allows Palm V users to add expansion memory capabilities to their handheld.
Finally, the Pocket Shot SD is a new digital camera option for SDIO equipped handhelds. it can take pictures in 640x480 resolution and stores them in internal memory as jpegs. It is powered by the handheld, iBiz is also working on a rechargable model.
Pricing or final availability for the above items has not been announced. The products were shown at CES and can only be expected "soon". More info is aviable at iBiz.
Article Comments
(47 comments)
The following comments are owned by whoever posted them. PalmInfocenter is not responsible for them in any way.
Please Login or register here to add your comments.

Comments Closed
This article is no longer accepting new comments.