Quickies: Bluetooth, WiFi MS, RealOne and More
Thursday, March 13, 2003 2:36:37 PM
The RealOne media player has finally surfaced, Sony is showing a WiFi memory stick at CeBit, AvantGo now supports high-res images, PrintBoy is now bundled with the Anycom Bluetooth printer module, and you can now Beam and Fly at the Toronto Airport. These stories and more in todays quickies.
Palm OS RealOne Player
The oft-delayed and much anticipated RealOne Player for the Palm OS has finally surfaced. The player can be downloaded here. RealOne Player Mobile, which is based on the Helix platform, delivers audio multimedia playback and storage for both RealAudio and MP3 files on the Palm Tungsten T. -skeezix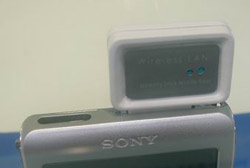 WiFi Memory Stick
PDAFrance has a picture of a WiFi (802.11b) Memory Stick being shown at CeBit. They are also reporting that it should be available sometime in July, but no word on pricing. -Mike Cane
AvantGo Beta
AvantGo has released another updated to it's Palm OS 5 beta client to build 46. The latest version adds support for high-res images, fixes bugs and speeds up loading content from memory cards. AvantGo is recommending users check the option to "Refresh all content at next sync" in the server sync settings after installing to avoid a potential issue.
Clie N & S series modem
SonyStyle now has the N & S series analog modem on sale for a low $24.99. Most sites still have it for over $100.00. Look for it in the Clie accessories section. -Mark Quering
Bluetooth Printing with Printboy
Bachmann Software announced that its PrintBoy application will be bundled with the Anycom Bluetooth? PM-2002 Printer Module to create a powerful new printing solution for customers who need to print from their handheld computers. The BTReady solution includes the Anycom Bluetooth printer module and Bachmann's PrintBoy mobile printing software for either the Palm OS or PocketPC environments. BTReady is available now for purchase from the Bachmann Software web site, and has an MSRP of $149.99 USD.
Palm OS Basics Training Class
Handheld Media Group is hosting a Palm OS basics training class. The class will take place Thursday, March 20th at 6pm to 9:30pm at the Silicon Valley Ramada Inn, Sunnyvale, CA.
Beam & Fly
Qvadis today joined Palm, Inc. and Air Canada in a world first for the travel industry, unveiling the first Beam & Fly station at Pearson International Airport in Toronto. Beam & Fly allows travelers to receive up-to-the-minute flight schedules, world news, sports briefs, airport maps and city guides, by beaming them into their Palm handhelds. Expected to become a travel standard in all Air Canada business lounges, Beam & Fly uses Bluefish Wireless beaming technology to provide users with applications designed specifically for the self-serve traveler. Other applications on Beam & Fly include news from The Globe & Mail and CyberPresse, airport maps, up-to-the-minute flight information and scheduling - including arrivals, departures, terminals, gates and delays - and a customer survey.
Article Comments
(49 comments)
The following comments are owned by whoever posted them. PalmInfocenter is not responsible for them in any way.
Please Login or register here to add your comments.

Comments Closed
This article is no longer accepting new comments.