Quickies: Shop, 32MB Ram, Zire 71 & More
Thursday, May 1, 2003 11:36:44 AM
PIC has launched a new shopping and price comparison service in partnership with PriceGrabber.com. The new service allows you to compare prices on PDA's, Electronics and many other products. If you're a fan of the service or need to find the lowest price on the new Tungsten C or Zire 71, the PIC price comparison service is a excellent tool and a great way to support PIC. The link to access it is in the left hand main menu under "Comparison Shop". Read on for more news.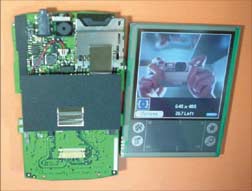 Zire 71 Insides
Tokio of la Palm Tech-Lab has posted dissection pictures of the internal "guts" of the Zire 71.
32MB RAM Upgrade
PalmPilotUpgrade.com is the first in the world to offer a 32 Mb RAM upgrade for DragonBall VZ-based Palm PDAs, which include the m500, m505/515, m125 and m130. The upgrade price is $99, previous clients who already upgraded to 16Mb will get a new 32 Mb upgrade for a low fee.
AllTime 4
Iambic has unveiled AllTime 4, a single-user time and expense tracking application for all types of consultants. The new version support palm os 5 and high res fonts and colors plus many more features. A 30 day trial is available, the full version costs $39.95.
Sprint Bluetooth Phone
Sprint PCS will soon carry the first CDMA phone with Bluetooth in the US. Sprint will offer the Sony Ericsson T608 in the second quarter of 2003.
PrintBoy Tungsten C Bundle
Bachmann Software announced that its PrintBoy mobile printing software is included with the in-box Software Essentials CD for the Tungsten C. PrintBoy, Standard Edition will allow users to print DataViz's Documents To Go documents, spreadsheets, and presentations as well as information from the standard Palm OS applications such as Memo, Date Book, To Do List and Address Book via infrared, Wi-Fi or other network connection.
Fitaly 3 for the Palm
FitalyStamp 3 is a new version of FitalyStamp, the keyboard overlay allowing 50 WPM on your Palm, and the fastest text input method with a stylus. The new version offers powerful custom slides and a new macro capability. In addition, FitalyStamp 3 offers convenient launcher features that are usable directly from the Fitaly keyboard.
UTS Weight tracking
UTrackSys.com has released a Weight tracking plug-in for thier Universal Tracking System. UTS Weight for Palm OS helps you track body weight and BMI (Body Mass Index). It offers various weight loss/gain plans, interactive charts, reports, and abilities to export data to UTS database and to MS Excel through UTS conduit. A trial copy is available here.
Audacity Digital Voice Recorder
Audio Storage Technologies has announced Audacity Digital Voice Recorder Software for the Tungsten|T. The Audacity DVR is a professional-grade recorder providing high quality audio suitable for transcription or speech-to-text processing. The robust program comes in three different feature set levels, a Basic, Premium and a Professional level. The Professional level includes security (both access control and encryption), enhanced edit capabilities, and several sophisticated compression choices. Prices start at $49.99, with a 30 day trial available.
Article Comments
(30 comments)
The following comments are owned by whoever posted them. PalmInfocenter is not responsible for them in any way.
Please Login or register here to add your comments.

Comments Closed
This article is no longer accepting new comments.