Quickies: Blue Zire, Powered Up Awards & More
Thursday, May 8, 2003 4:47:25 PM
Palm is now selling a Blue Zire and a UC battery sled. PalmSource has announced this years powered up awards, PalmGear and CellMania are partnering to bring over the air downloads, there is a new audio player that also does MPEG movies and more.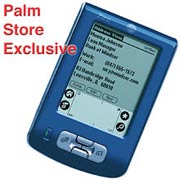 Blue Zire
The Palm Online store is offering a limited edition Blue Zire. It is only available from Palm.com and other than the blue casing; it shares the same specs as the standard Zire. Thanks Alfredo & Carguy
PalmGear & Cellmania Partner
PalmGear has announced a partnership with Cellmania to bring Palm OS software to Palm Powered Cellphone owners through wireless carriers. The agreement authorizes Cellmania to choose from thousands of possible cellphone-ready applications in PalmGear's catalog for distribution through wireless carriers, online retailers and the Cellmania website. Over-the-air download of Palm OS titles through wireless carriers will be a first.
The Powered Up Awards
PalmSource CEO, David Nagel honored four Palm OS developers with Powered Up Awards at the recent developer conference. The awards were created by PalmSource to honor innovative and original applications, 2003 winners included:
Best Productivity and Best of the Best Solution: SnapperMail, by Snapperfish, Ltd., which puts the power of a desktop e-mail client onto any Palm Powered device. The application includes groundbreaking support for native desktop format attachments and comes bundled with Zip, Jpeg, and Handwritten note taking software.
Best Enterprise Solution: Mobilefile (iGo), by Cutting Edge Software, Inc., offers anywhere, anytime access to desktop Excel, PowerPoint, Word and other files on any Palm Powered device.
Best Leisure and Entertainment Solution: NoviiRemote, by NoviiMedia, a universal learning remote for any Palm Powered device. NoviiRemote controls all home entertainment equipment with a superior interface, vibrant colors, easy installation and powerful infrared drivers.
Best Student Developer Solution: Wind Warrior, by Andrew Stout, Aerowyn Software, a fast-paced martial arts adventure game on your Palm Powered device. It features superb animation and an impressive array of environments and backgrounds.
MMPlayer
MMPlayer is a new media player for Palm OS 5. It is listed as a very early experimental release and is bit buggy, but shows good promise. Currently the app plays mp3, wav files and MPEG movie files.
TableTennis3D
TableTennis3D is an interesting new virtual ping pong game from Xavier Martin. It sells for $10, but you can get it for only $6 until may 16th by using coupon code "STARTPRICE" when purchasing from the developers site.

Palm Power to Go
Palm has released a new extended battery recharging sled, for handhelds with the Palm Universal connector. It can fully recharge a handheld once, and even twice with some models. It also includes a pass through hotsync port. It is $99.95 and is available from the Palm Store.
Article Comments
(24 comments)
The following comments are owned by whoever posted them. PalmInfocenter is not responsible for them in any way.
Please Login or register here to add your comments.

Comments Closed
This article is no longer accepting new comments.